So after my last post, I was still waiting for a couple more days – though it allowed me to get some stuff done that I really should have done earlier.
Like mounting my stainless steel grab rails I've had lying around for months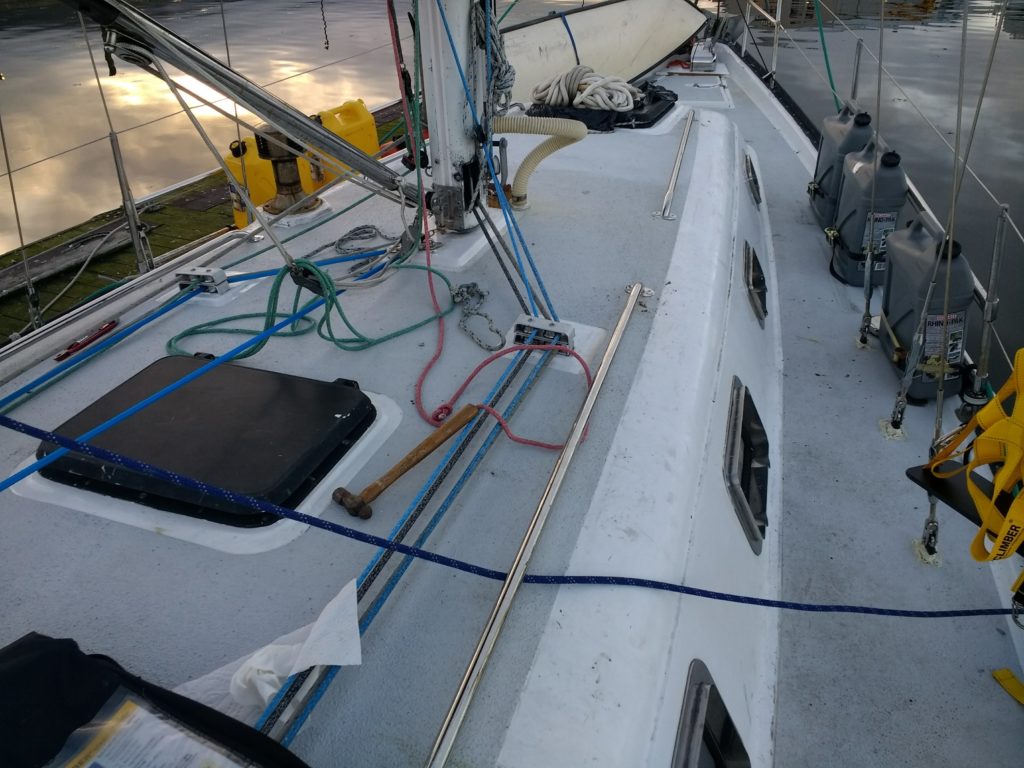 Mounting heavy latches on all my external lazarettes
and going up the mast to rerun the starboard flag halyard (which had come off a while back following an unfortunate incident involving a full and very heavy solar shower)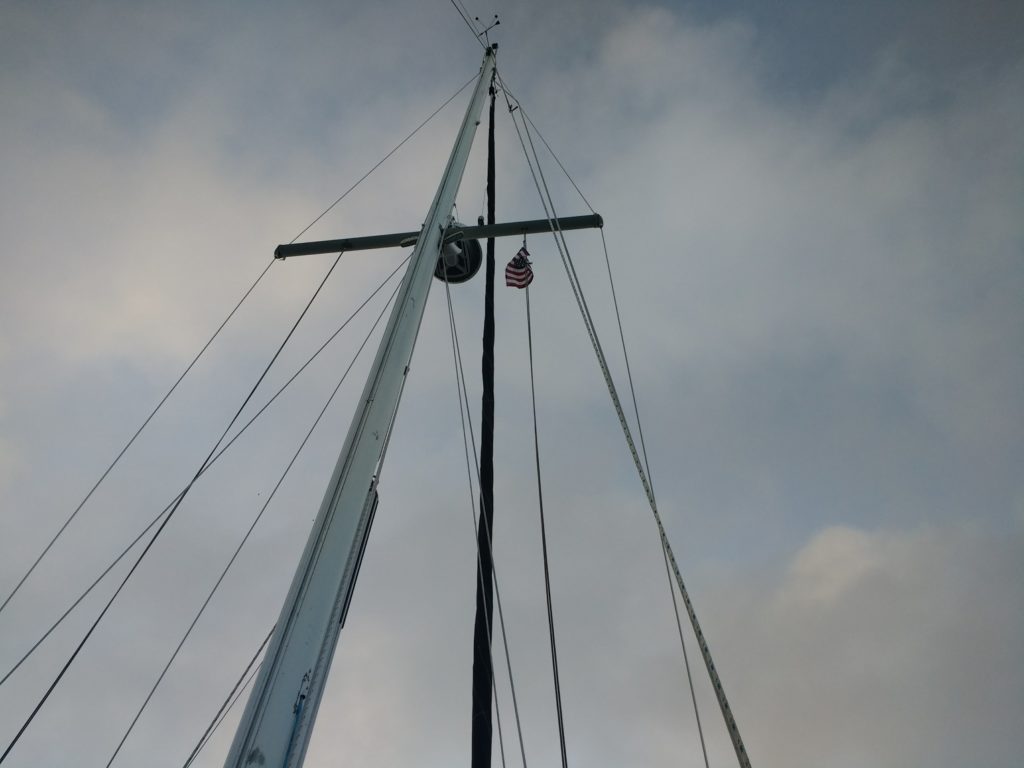 Another boat came to join us and to leave at the same time – Beckon, a home built wooden 30 footer, kinda similar to a Bristol Channel Cutter. She was gorgeous.
Had two older men on her who refused a piece of fresh fish from fisherman as 'their wives usually do the cooking'. And I thought I was a bachelor.
Finally, the next morning, it was time to leave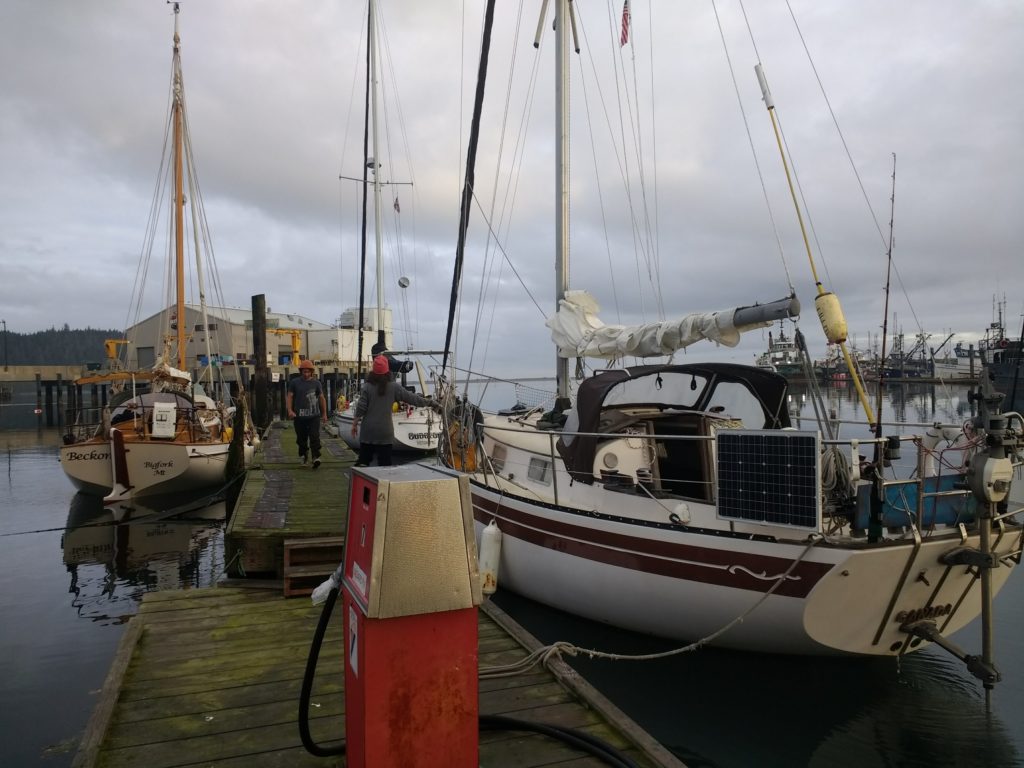 Heading off in the dawn to Cape Flattery and did the Big Left Turn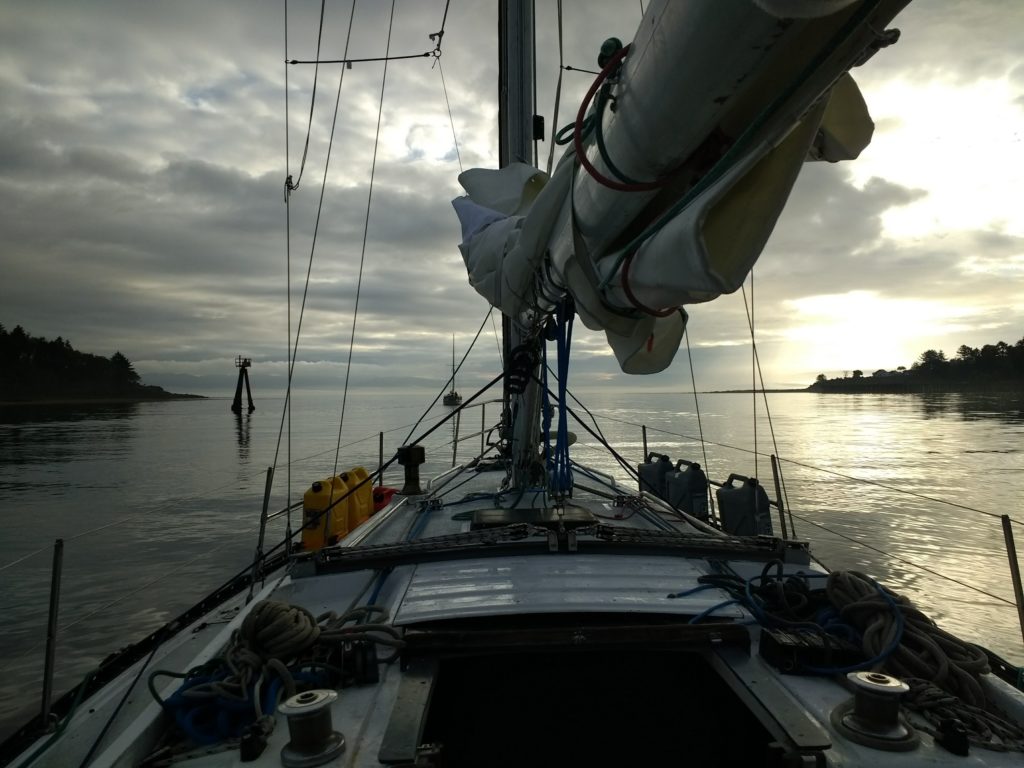 Into the ocean at last! And then began 36 hours of motoring, ughhhhhhh. Here is Beckon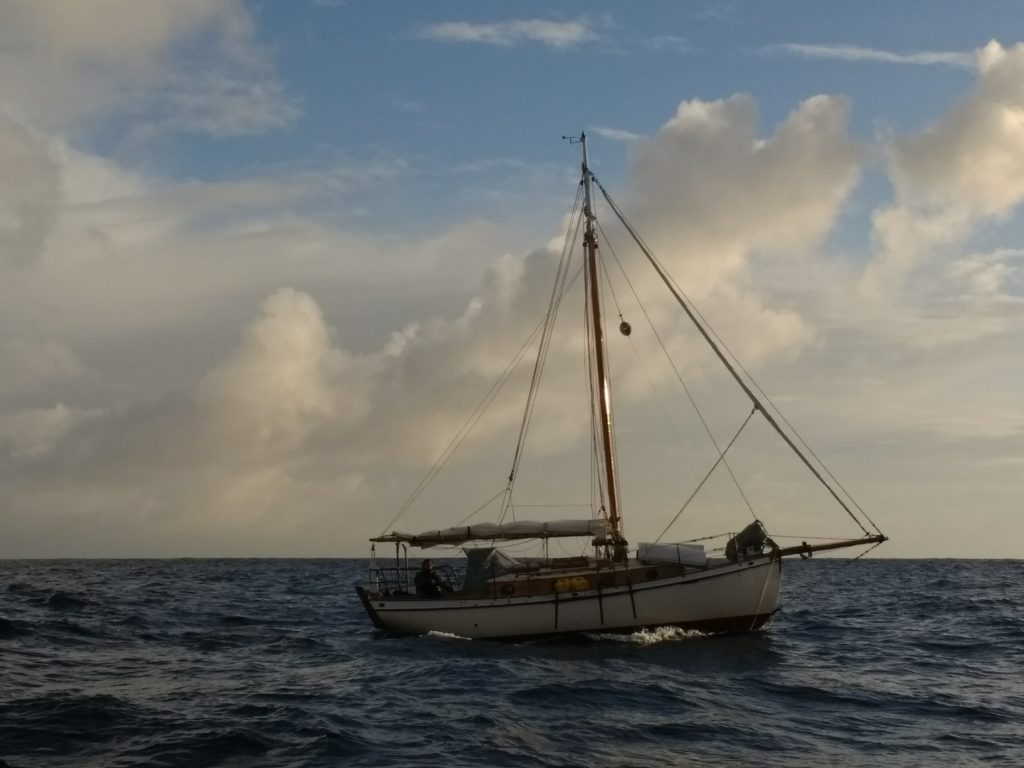 and Nanatuk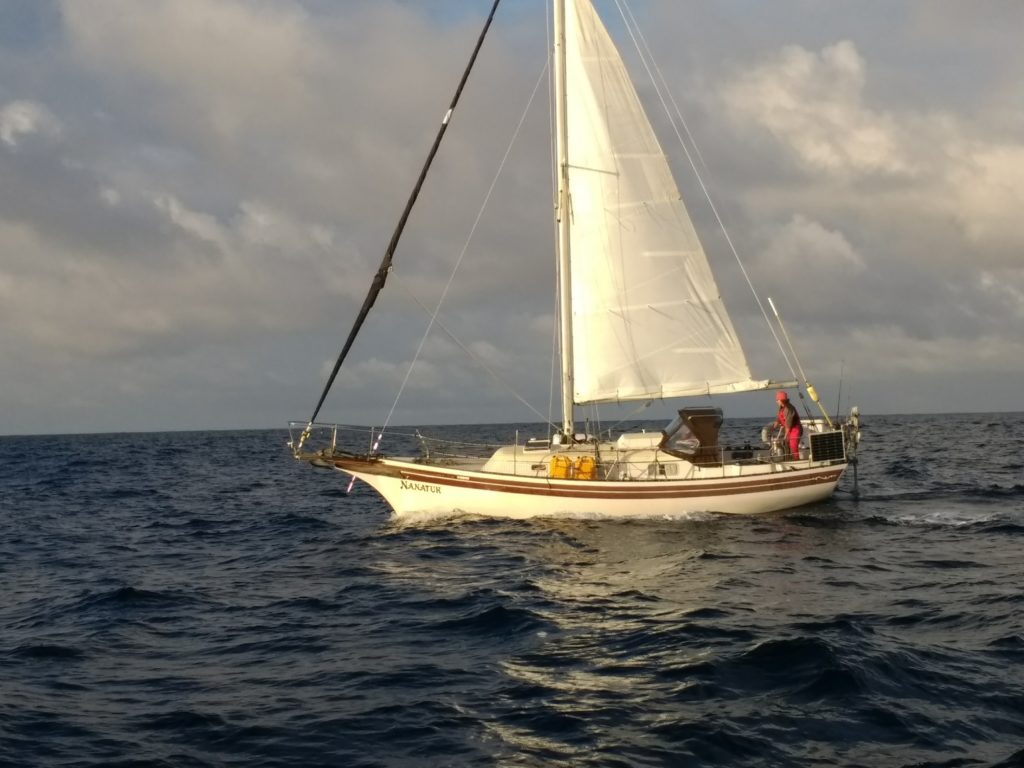 The swells weren't big which was nice, but I started feeling pretty grotty and uncomfortable, which soon became pretty miserable. Waaaaah.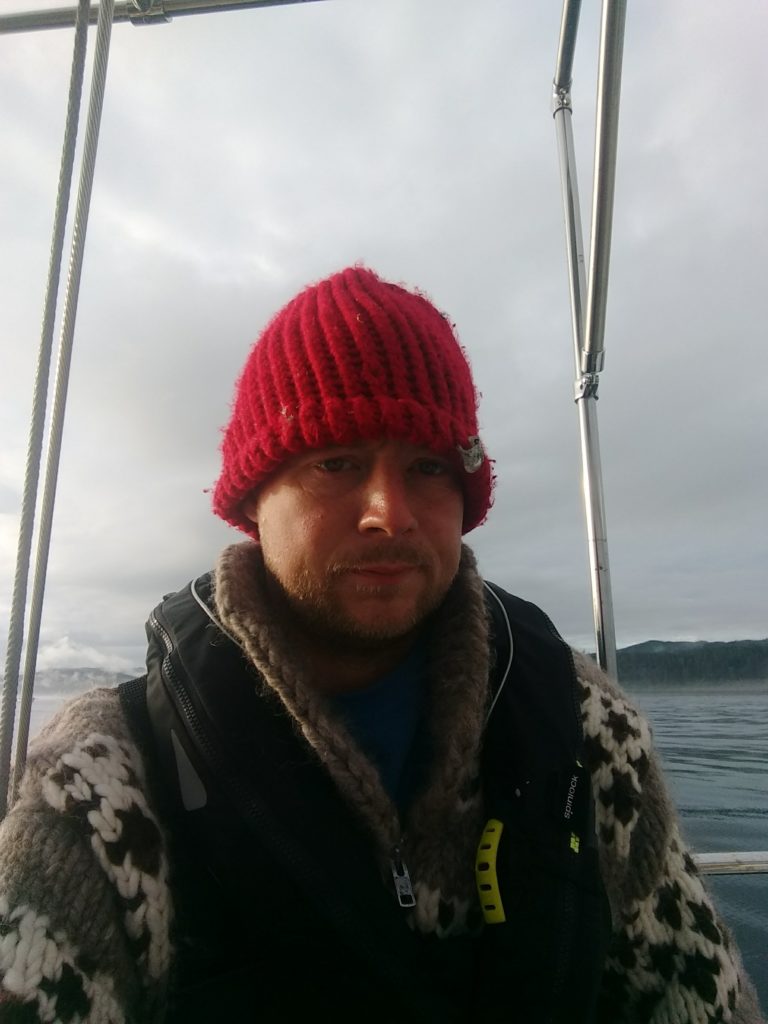 At around 30/40 miles out I started seeing new types of birds which was cool – I think they are Shearwaters? Looks a bit like small albatrosses. (still keep forgetting to get a bird book)
The three boats carried on motoring into the sunset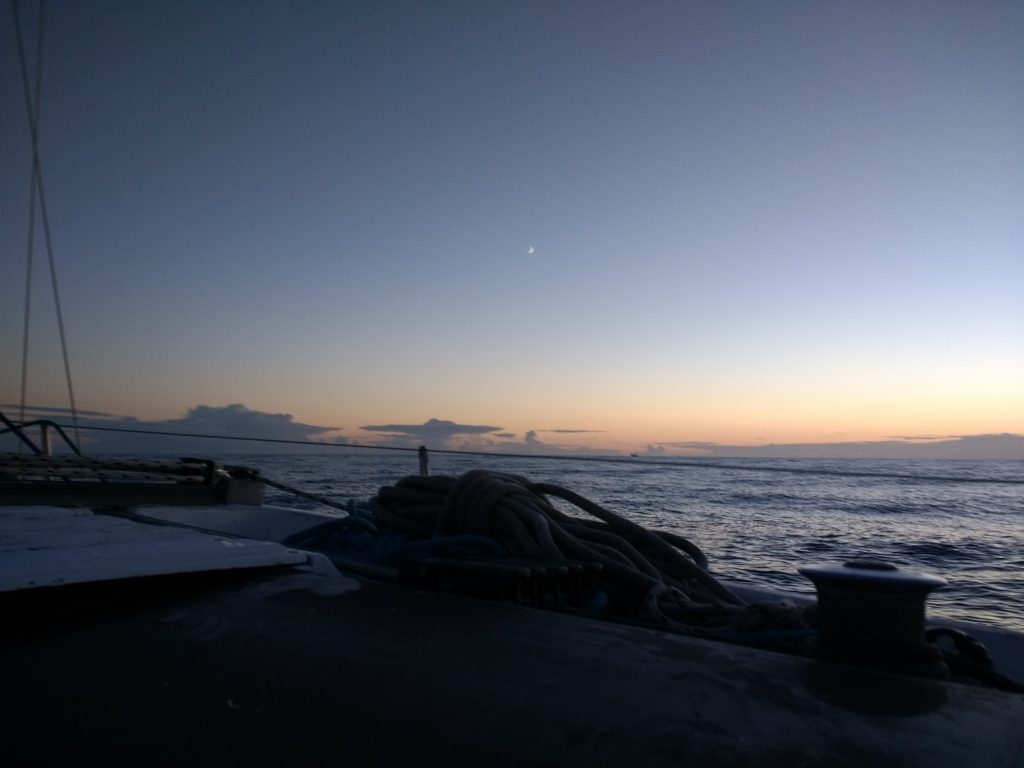 and all the while I felt worse and worse. I'd taken Stugeron which most people swear by but it didn't seem to do anything, and I made sure to keep myself hydrated. Eventually, I had to fix something on the windvane (which was folded up due to the light winds) and as soon as I put my head down, that was it. I ended up throwing up half in the water, half on the side deck and then felt slightly better, but not great.
At that point I noticed my bow running lights had stopped working which wasn't ideal timing. And it started to REALLY piss down with rain. Lovely. Wasn't really having a Great Time at this point.
My plan to nap was foiled by being too ill feeling to go into the cabin, and then there were a weirdly huge amount of fishing boats, all clustered together so I spent a lot of the night dodging these. Come the morning I hadn't been sick again but I was feeling pretty wiped, having only managed micro naps. I also hadn't been able to sail at all and had used up around half my diesel supply – and the winds didn't look better going forward, so I was unsure if I could make Coos Bay. So I decided to head into Astoria, over the Columbian River Bar. Beckon decided to come as well as they were having AP problems while Nanatuk decided to carry on.
The bar itself wasn't too bad, just some 6 foot sideways swell with the occasional breaker but the run up to the bar was pretty awful – the steepest wind waves I can recall seeing and I was bashing through them for almost 3 hours (still on no sleep and feeling sick). At least it washed all the vomit off the deck!
Eventually, I got to the bar (a bar is where it shallows up, going from hundreds of feet to a couple dozen in a short stretch which can lead to terrible seas) and another sailboat called me and asked if I wanted to follow them in as they thought I looked a bit lost. They lead me to the marina they were going to which was nice, although 10 miles up the Columbia river – which makes this the first time I've been on a river since I moved Gudgeon from her original home on the Fraiser River all those years ago!
AND the wind wasn't 5 knots directly on the nose for once so I actually got some GD SAILING in!
I thanked them profusely and gave them some booze (universal currency) – thanks again S/V Absolute! Then I slept. A lot.
The next couple of days were waiting for the weather – I heard from the other two boats (Nanatuk decided to go to Astoria after all) which had a bit of a rougher time at the bar than I did – they are both in a different marina. While I was laid over here I replaced the bow lights with a cheap set (I am going to try to fix the old LED ones as I like them a bunch)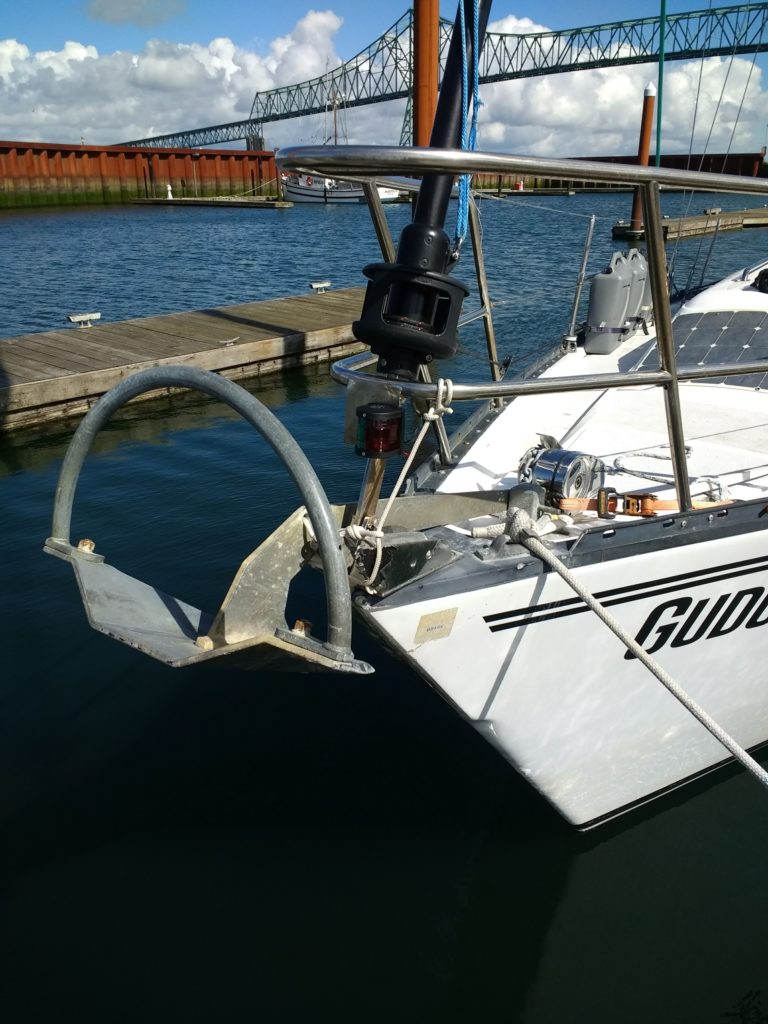 I also fixed the strop for the headsail which was coming lose, and I rigged up an alarm extension – so any alarms sound inside the cabin as well as from the chart plotter. I'm hoping this will allow me some kip, as I can set a radar guard zone, and I have my AIS.
Sooo after all that, it's time to leave tomorrow – looks like 3 days of N / NW winds of up to 20 knots which is about perfect. I hope to get to Coos Bay at the least, and hopefully Eureka – California! I got given a couple of scop patches which are apparently the nuclear option when it comes to sea sickness – they can have some strong side effects so I wore one on land for a couple of days and was ok, so I will use the other one tomorrow (they last for three days). They are over the counter in Canada but in the US you need a prescription, and the first doctors office was going to cost 150USD(!) and the second one was 200USD(!) – all for a prescription. Yikes. If it works and I don't feel sick then I'll have to try to get hold of some more, somehow – as the seasickness really means I am not enjoying myself at all!