After a few days rest and the odd bit of patching up done in Astoria I headed out early in the morning (at 6) in order to meet the other two boats at the bar at 8.
Everyone was there bang on time and we proceeded across the bar which was a lot tamer than the last time I went over it, having only 3 foot swells. Just outside it was pretty choppy and I kept the motor on for a couple hours until we were in a calmer patch, then in 10 knots from behind I went wing on wing, poling out the foresail. This was fairly tricky as the pole is a big 3″ aluminium monster (from a bigger boat) and quite a handful – I accidentally tripped the release at one point and the end dropped and cracked me squarely on top of the head – ouch!
Eventually, I got it all squared away and ran like that for a few hours.
After a while I noticed the wind picking up so I got rid of the foresail altogether (again, with much mucking around with the pole) and just left the main up – reefing down till I was eventually just under the double reefed mainsail.
At this point a pod of pacific white sided dolphins came and hung out for 30 minutes – amazing fun. They swam just under the bow or to the side and then as the boat went down a wave they all zoomed off, riding the compression. I ended up taking a lot of photo and video but I will restrain myself.
Night fell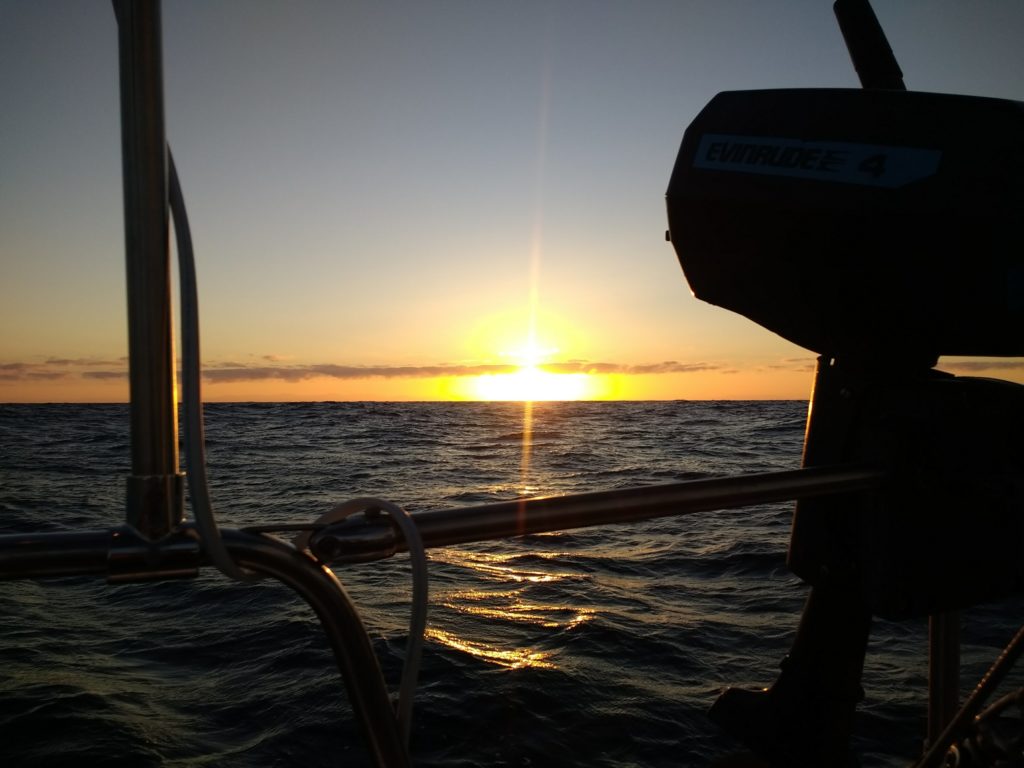 The wind picked up to a steady 20-25, with the odd gust higher, and the seas really picked up. I couldn't see quite how big as it was night (probably for the best) but I hit 9 knots surfing down a couple of them. Yikes!
At this point I was feeling fairly sick again, despite the scop patch (although nowhere near as bad as last time). I found that I could set up the radar with guard zones/AIS, and then retreat below with my tablet which has a mirrored image of the chartplotter on. I could monitor any traffic from a prone position in the cabin berth, and every 30 mins I'd stick my head up out the hatch to make sure I hadn't missed anything, though I'd been practising with the radar for the last week and got it pretty dialled in. The only thing I was worried about hitting were crab pots, but it was so dark I wouldn't have seen them anyway. Weirdly there was less traffic 10 miles offshore than there was 40, so I didn't have to dodge anything.
Anyway eventually it was daytime again and I ventured out, with a lot smaller seas and I was feeling a lot better. I also managed probably 2/3 hours in total that night, a lot more than last time. Heading for Coos Bay I got in at around 3:30, crossing the bar without any issues. I beat a 42′ ketch that left Astoria the same time I did by 4 hours or so which made me feel pretty good – and I had only run my engine a couple of hours the whole way.
Of the other two boats in our 'group', Beckon went to Newport and Nantukka pushed onto Crescent City, where they hit some weather.
I leave tomorrow as there is a 2 day window before 40 knot winds sweep in and shut everything down for a week. Hoping to make Crescent City or Eureka.