Painting Done
Well, title says it all – I finished painting. Finally.
It was a bit tricky as the kiwi-grip non-skid I was using takes over 3 days to dry hard enough to walk on with shoes – before that it appears hard, but standing on it with shoes leaves a dirty dent in it. My answer to this was to leave a small gap that I could step on and off the boat
I had to go to Ottawa for work for a week, so on the morning of my departure I 'painted myself off the boat', doing the cockpit floor, the lazarette lid and that square of side deck.
Here is the result!
It's not perfect, as it was a bit of a rush job so some of the white surfaces could have been smoothed down a lot better, and there are odd splashes of paint in various places.
The most improvement is probably the chimney which looks a million times better
compared to
as seen here Installing the heater Flue part a million – Finishing off the chimney install
The only thing I've really got left to do is finish screwing the last couple of bits and bobs onto the cockpit, and figure out how to cover the massive holes left by the broken speakers I removed.
Some quick thoughts:
Interlux Brightsides is really easy to apply, and roll/tip is pretty easy once you give it a go. It really shows up any imperfections though, so sand sand sand!
Kiwi-grip is also easy to apply, although the long drying time is a real pain. I also heard it retains dirt very easily and is hard to clean, but I guess we will see
That was a SHITLOAD of work and I never would have started if I had known how much. Ignorance is bliss.
Marina Move
In other news, I moved marinas.
The new marina saves me around 100 a month, and is RIGHT downtown, so maybe I'll be less of a hermit. I'll miss my neighbours at Fishermans though, and it was a bit weird moving as I'd been there three years – by far the longest I've lived anywhere!
Gudge in her new home: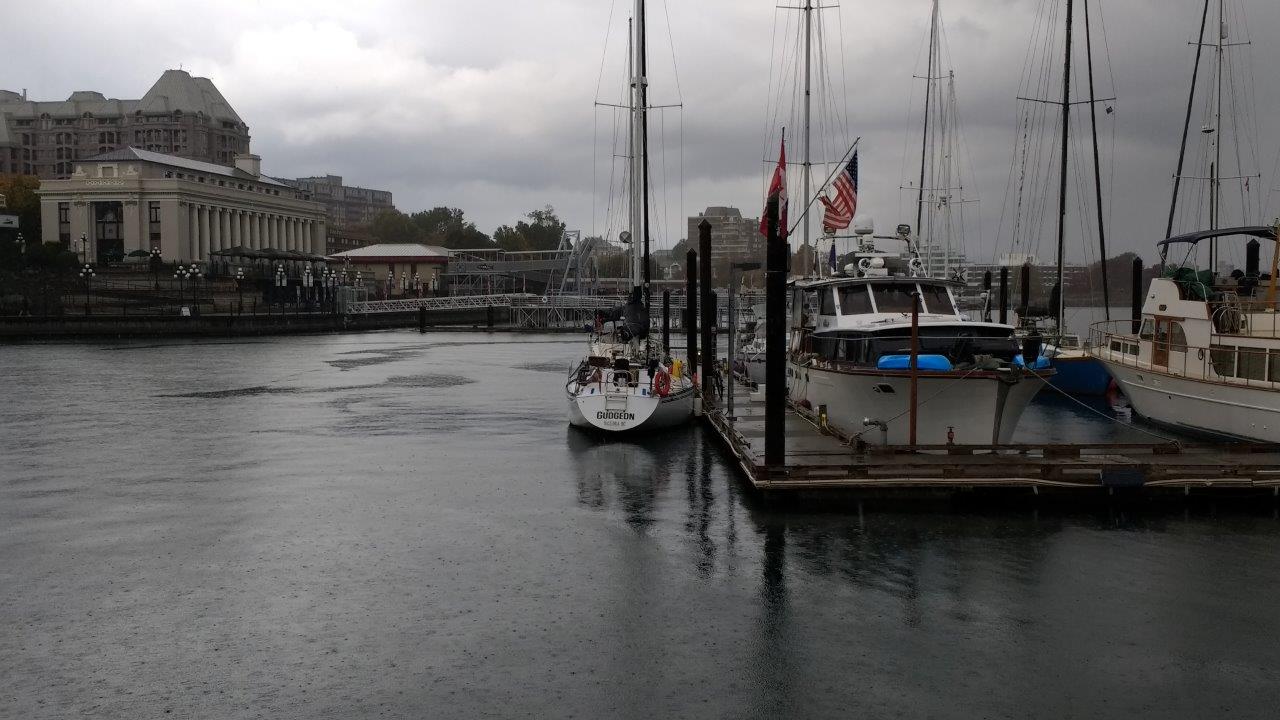 The washrooms etc are a lot further away which is a huge pain, and it's bull rails instead of cleats which don't lend themselves to single-handed docking too well but I'll manage. Last winter in Victoria! Eeeek!
New mobile view
I switched to a new view for mobile devices – if you look at this website through a mobile device, it should all be a bit clearer. Let me know if it breaks anything!