So after I got back from Ottawa, I had Friday evening to get ready for the trip to the dockyard, up in Canoe Cove. I gave the engine a quick test run, and tidied up a bit.
Trip to Canoe Cove
The next morning, I was up at 6:30 am (way too early for a Saturday morning) and met my friend Lizzie who was going to come along for the ride at 7. We managed to get away by 7:30 which was good – as I had a haulout booked for 12:30 and there was a nasty current against us the whole way. Leaving the marina was a bit strange as it was the last 'permanent' place I would live for quite some time – although I'd be back in a week or so for swiftsure.
We arrived pretty much bang on time and the haulout went fine, though it's always nerveracking.
She was then blocked up.
Motor Mount Replacement
I'd decided to get Vector Marine to do the motor mount replacement – however, it tuned out one of the engine stringers was rotten, meaning he couldn't tighten the bolts to secure the mounts to the stringer. Meaning there was no point in replacing the mounts. Now, I have several options here – I am going to try to bed up the stringer (which is fiberglass over a wood core) by a mixture of replacing the core material by cutting in from the side and doing epoxy fills. At least my old motor mounts look ok apparently. There is no danger of the motor shaking loose (at least for the short term) but I do need to fix it to make sure the engine doesn't go wandering. Anyway, this is what I'll be busy with for the next few days.
Rudder Stuffing Box
I was pretty certain I had to replace this as it kept leaking despite me repacking it a few times, but the Vector guy took a look and said it should be ok with another line of packing. So that is what he did. He also cleaned it up for me on some kind of magic machine. Look how pretty this is! I also replaced the hose while I was down there.
The first time I motored around after I reinstalled it it still leaked – but the second and third time afterward it hasn't. So we will see. It still has a bit of room to clamp it down a bit more if needed – it's just hard getting to the screws.
Redo cockpit drains
Since I had the steering system apart to get to the rudder stuffing box anyway, I figured I may as well replace all the cockpit drain hoses, which were really old, kinda leaky and just nasty. The external bilge pump was also teed into one of the drains which meant it blocked really easily, so I rerouted it to a separate throughhull on the side that I am going to install. These are the old hoses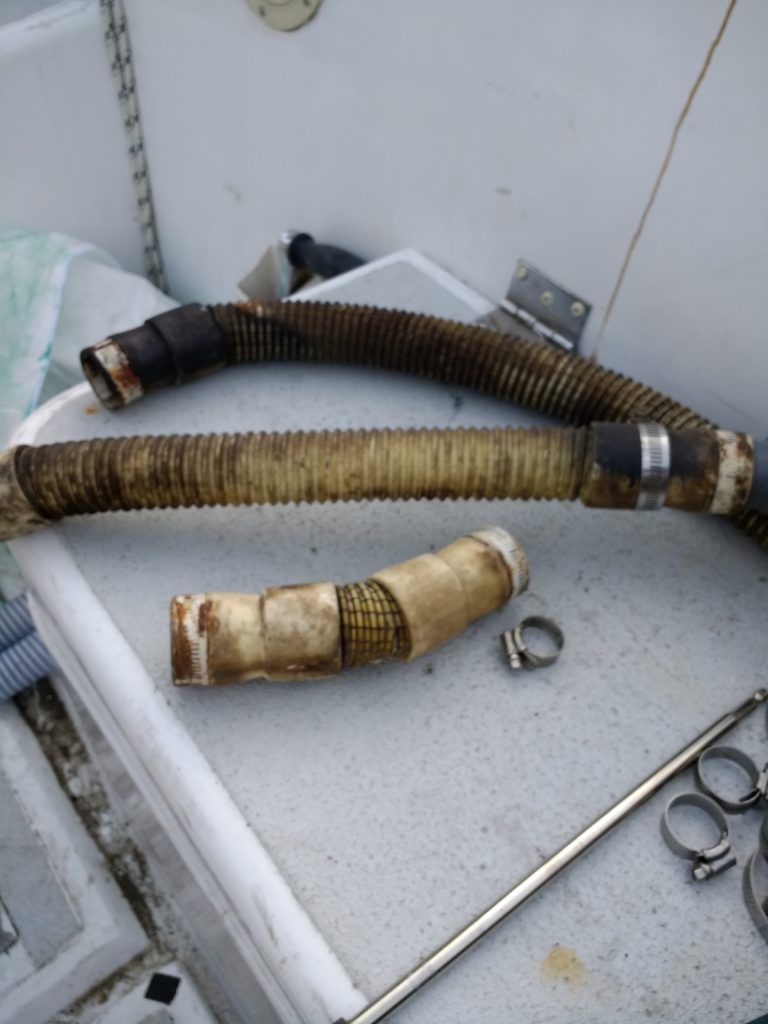 Redoing engine intake seacock/thru-hull and engine raw water strainer
So I was trying to remove the external engine strainer on the outside of the through-hull, and really wailing on it as it seemed to be stuck. And then it came off, and I discovered it was actually part of the seacock that I'd snapped off. Oops. At least it was just the thru-hull and not the expensive groco seacock. Here you can see it on the left (both parts) while on the right is the mushroom fitting I replaced it with.
I decided to replace it with a mushroom head instead of a strainer fitting after reading this website where he talks about how easily the external strainers get gunked up and how hard to clean they are. While I was down there mucking around I also noticed that the hose barb attached to the seacock was a) 5/8″ instead of the seacocks 3/4″ and b) made out of Brass. Now Brass does not like being attached to Bronze as when it is immersed in seawater bad things happen to it. Like this. Some pretty sweet corrosion there!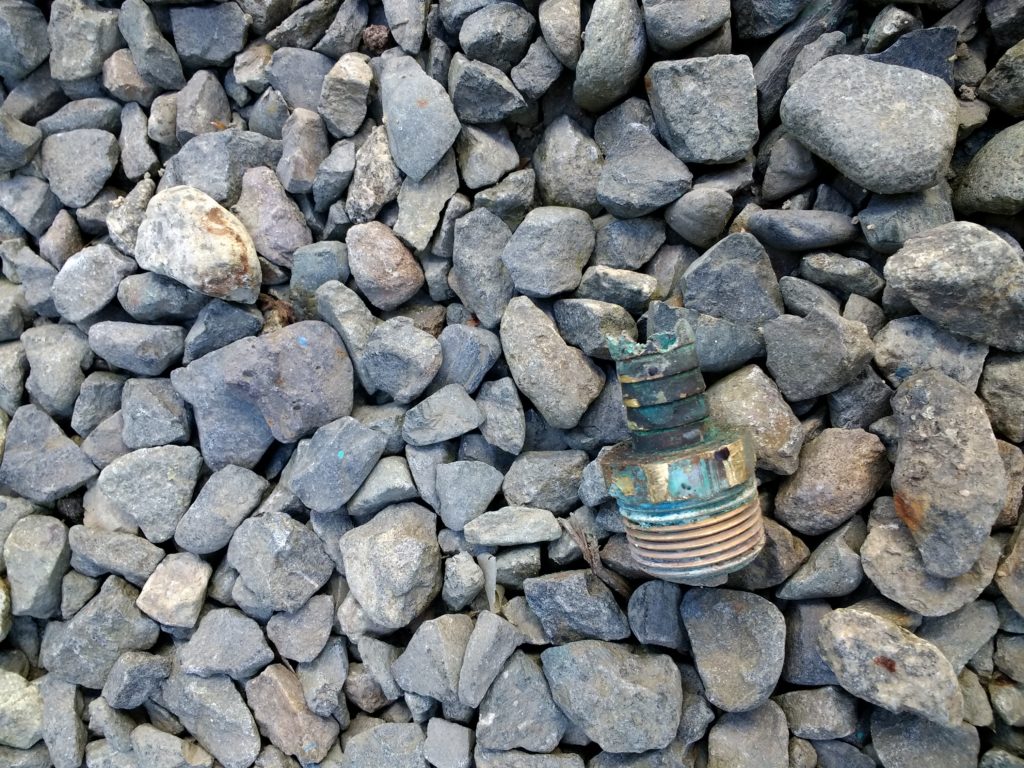 So I switched that out and checked my other seacocks as well, and then I turned my attention to the raw water strainer. My current one is a little plastic jobby, this one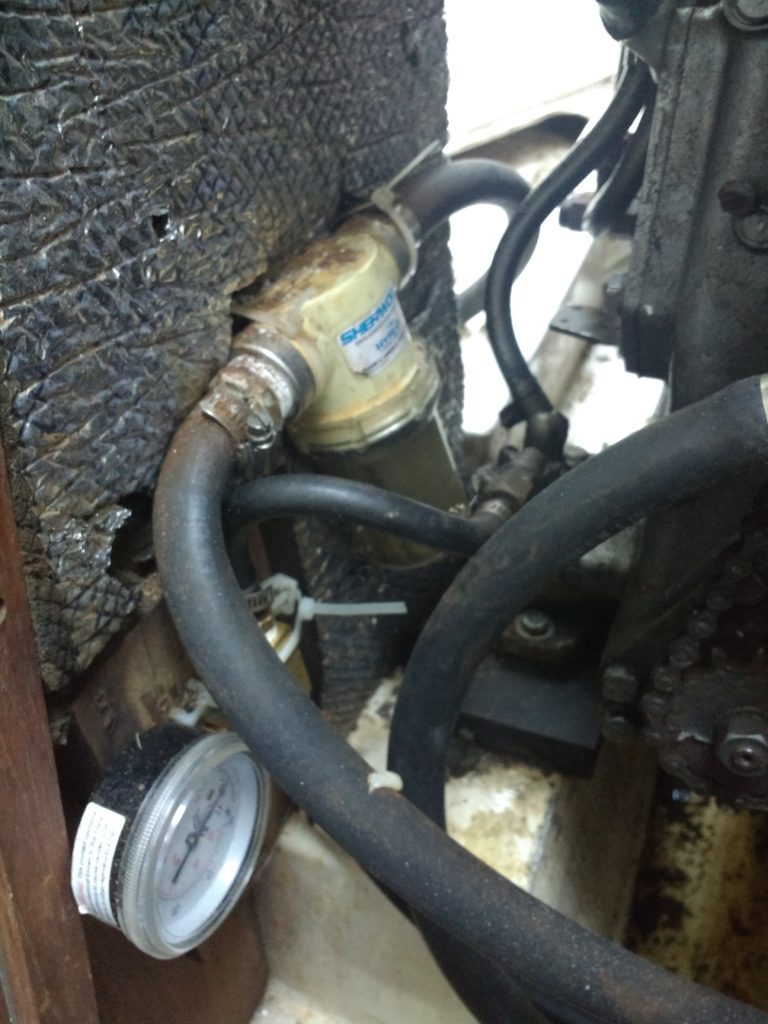 Now I don't have an external strainer, I decided to install a better, bigger one so I got a Groco bronze one
Look at the size difference!
Anyway in a serious of events that is familiar to anyone who does boat stuff, I couldn't fit it in the same place as the old one, meaning I had to buy more hose but the shop was closed and I was leaving the yard the next day, so I had to put the old one back and force the (now too small) hose onto the bigger hose barb, leaving it precariously fastened on there.
Anyway I got away safe and once at anchor, went and bought more hose (reinforced hose is real expensive 🙁 ) and mounted the thing and connected it up. And it also maybe has fixed the steam problem – the extra cooling flow is apparently cooling the engine better so I don't get ANY smoke at cruising RPMs anymore at all. Hooray!
Bottom Paint
The final thing I did was paint the bottom. Ugh. I hate doing this. First I had to wet sand the bottom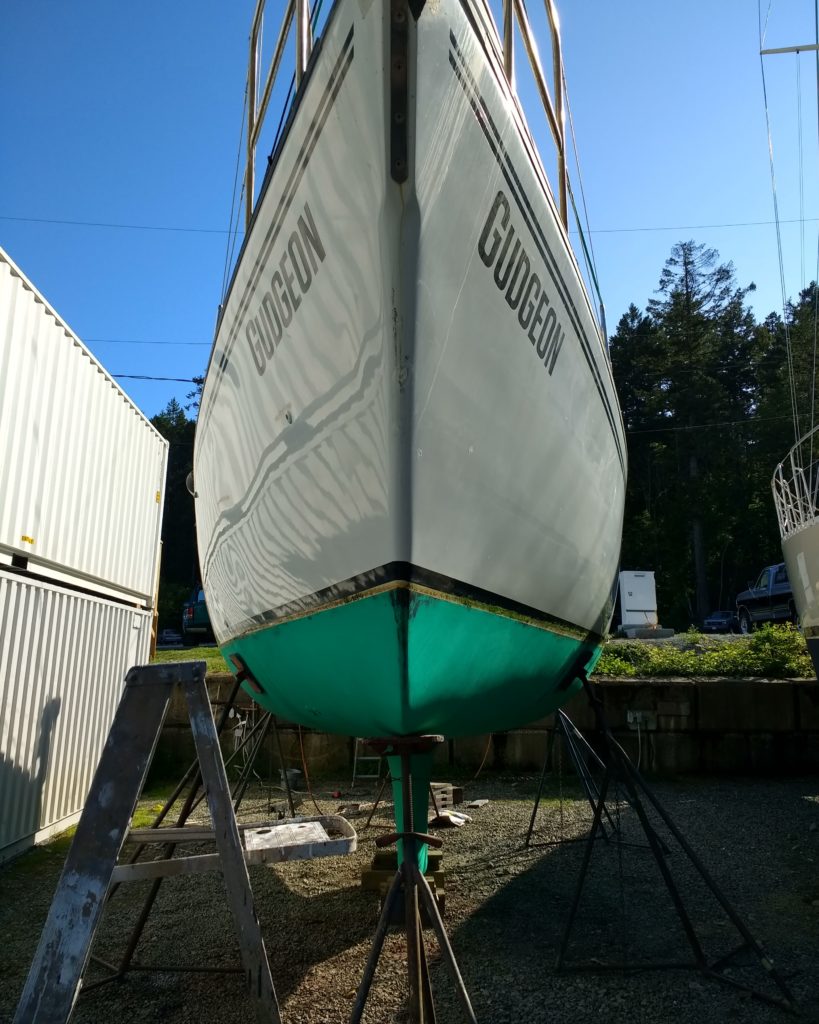 and then I had to paint it with the new, very toxic bottom paint. I went with black (people who have been reading for years will know that was the original colour) as I always preferred it to the green.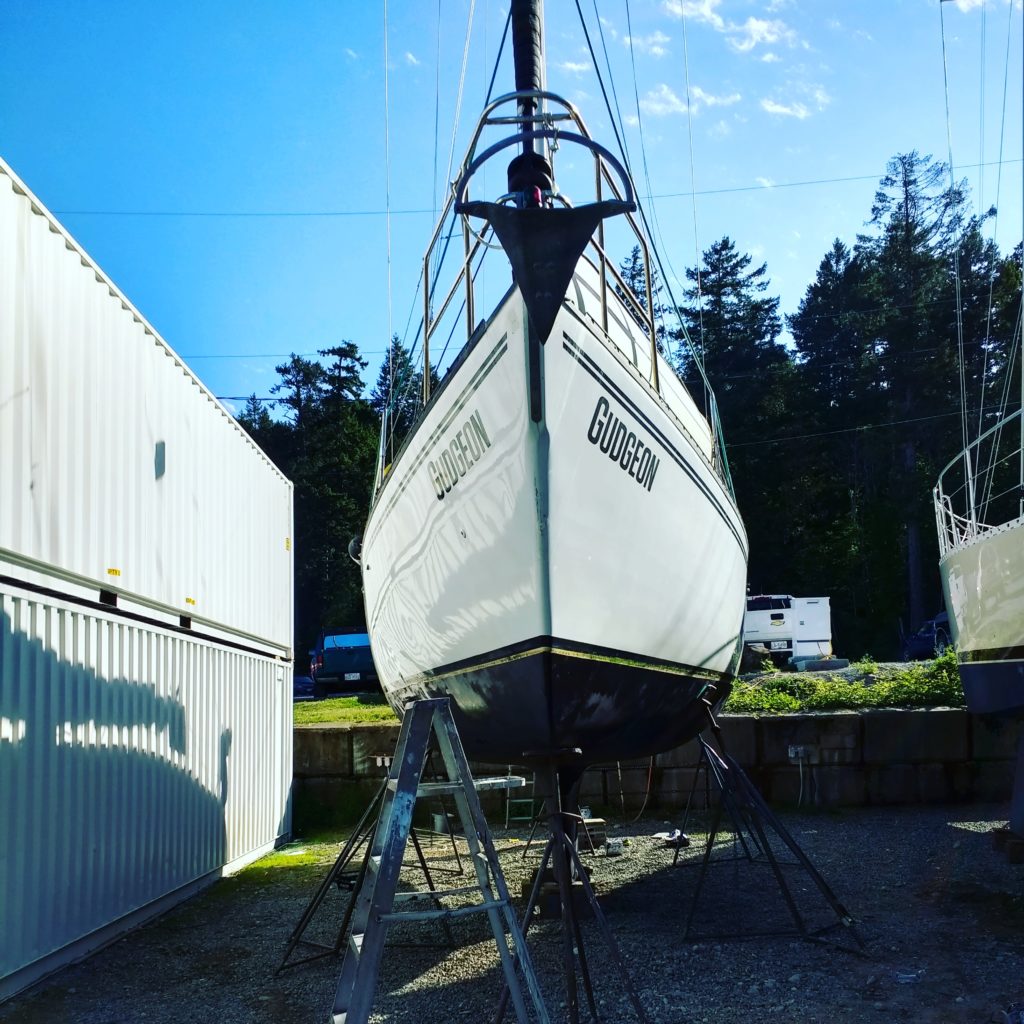 I then cleaned off the scum line and other obvious marks (would have been better to do this BEFORE the bottom paint but oh well)
New Propeller
Lastly, my new, 3 year old prop came out the water looking like this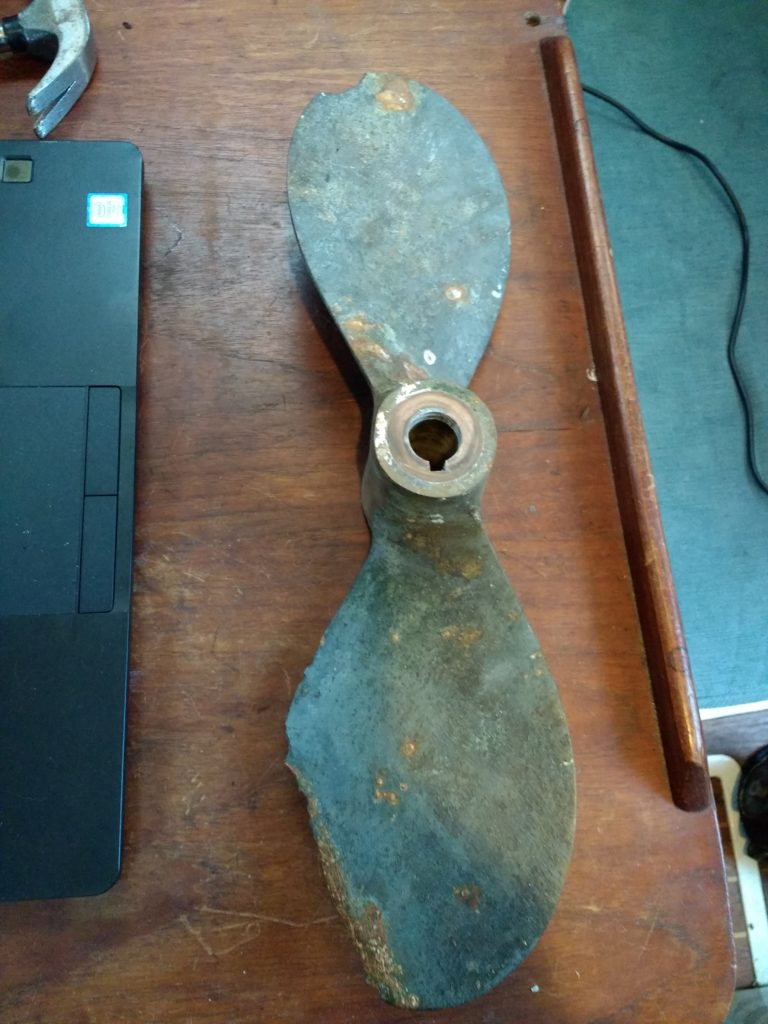 The dockyard people said it was galvanic corrosion, my naval architect friends said it was impact damage – what was clear though is that it was totally knackered.
The nearest prop they could get at short notice was a three blade at $1000 (ouch) but luckily I still had my old prop from when I got my new one and apparently it was actually in ok shape! So the yard spent a couple of hours on it and I have a serviceable prop for waaaaay less than a new one. Should tide me over while I search consignment stores for a new prop at least!
And then with all that finished, I got to go back in the water Saturday. Such a relief! (especially since my thru-hull install didn't leak!) I celebrated by hanging on Emma's parents' mooring buoy, with beautiful views over Saanich inlet. A lovely way to spend a weekend!
Next it was a night on Sidney Spit with Zaff and friends, and then on to Cadboro Bay, where I will spend a couple of nights while I finish my LAST WEEK OF WORK (!!!) and try to fix my stringers!
A big DOUBLE THANKS to Rudy for his donation to my patreon – so much appreciated and I'm sorry I forgot to thank you in person!