So after I made the decision to head back to Canada for the summer, I had to figure out where to put the boat. I ended up deciding on Mazatlan, the place just North of Banderas Bay where I met Emma a few months ago.
To get there I had to head 160nm North, against the prevailing wind and current. Heading into the wind is a lot more tiring and slower than going with it – the boat heels over a lot more, there is spray everywhere and you often can't even point at where you want to go.
But Mazatlan it was, for the following reasons.
Cheapest place to leave the boat, $0.24 a foot a day. Worked out to around $260 a month
Good services for leaving boats – there are a number of competing boat sitter services
Maybe the only Yanmar certified mechanic on the whole coast. I wanted my engine looked at as it's been a while
Decent dodger/stainless guy, who is apparently cheaper than both the guys at La Paz and La Cruz. I'm fed up of getting hit in the face by waves!
I sat around for a week putting off the trip (I was NOT stoked on it AT ALL and feared I'd be running the motor for the whole way) and then finally left. After a 10nm trip to Punta Mita, I left early one morning.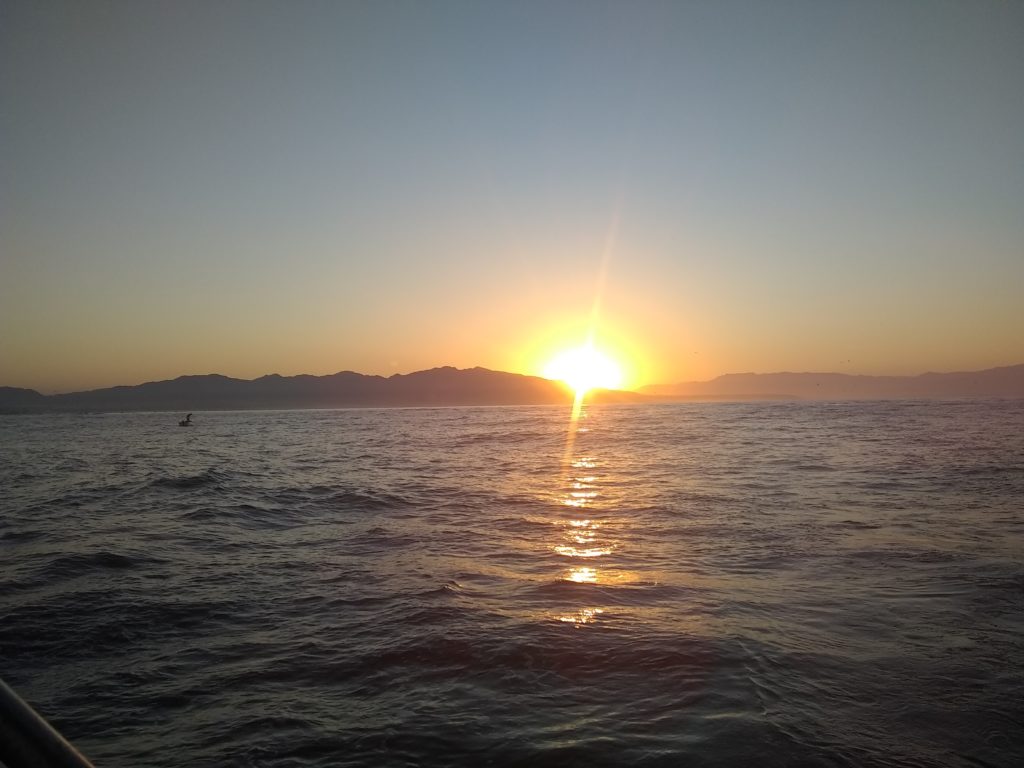 And found that under cruising engine power, I was going just over three knots, even slower with the wind/waves. Wonderful.
This was due to quite a lot of barnacle growth on the bottom of the boat, which I hadn't bothered to scrape for a few weeks, reckoning 'it couldn't be that bad.' 'Couldn't be that bad' turned out to be around 2 knots lost boat speed which moved the situation to 'absolutely naffing terrible' I managed to go faster occasionally if the wind piped up enough for me to motor-sail a bit.
Luckily, 70nm on the way was Isla Isabel, where we'd had such a good time before. I'd originally planned to stop there for a few hours sleep if possible – now the plan was to get there, nap for a couple of hours and then do an emergency scrape job with my tiny putty knife.
This bird came to laugh at me on the way
Now Isla Isabel is a tight anchorage, with rocks everywhere and a bottom consisting of random chunks of boulders and sand, so it's kind of a pain to anchor even in daylight when you are the only boat there. Luckily the two days I was there before I didn't see anyone at all there so it was probably going to be fine.
Or so I thought until I arrived at 2am and saw three (3) other boats already in the anchorage! What on earth were they doing there?! That made things a lot tricker, but thank goodness I had my radar as the night was pitch black *radar immediately goes on fritz and repeatedly crashes chart plotter* – PISS
In the end I felt my way in with the aid of my fancy 1600 lumins dive spotlight and anchored. I could hear surf breaking nearby but I wasn't on the beach so I called it good and got to sleep at around 3:30am. And then woke up at 6am. Had a quick breakfast, and then went over the side with my crappy little putty knife. Two hours of scraping later and I had the 2/3 of the bottom kinda clear. I also managed to deeply lacerate my knuckles, which added a nice early morning tint of red to the surrounding water. As the light increased I could see all kinds of cool fish on the bottom and I really wished I could stay – but onwards I had to go, for the remaining 90 nm.
Luckily it turned out that my impromptu scraping job managed to add another 1 to 1.5 knots to my speed thank goodness – and then amazingly the wind came up on a perfect beam reach at 10 knots, meaning I had a wonderful 12 hours of sailing before it died again, some of it next to this other boat
I also managed to fix the radar – the N2K port on it was going nuts, crashing the N2K backbone so I unplugged it. Still got radar, just no MARPA. Not a huge deal.
On the way I saw a fair few sea turtles, including this one with a bird on it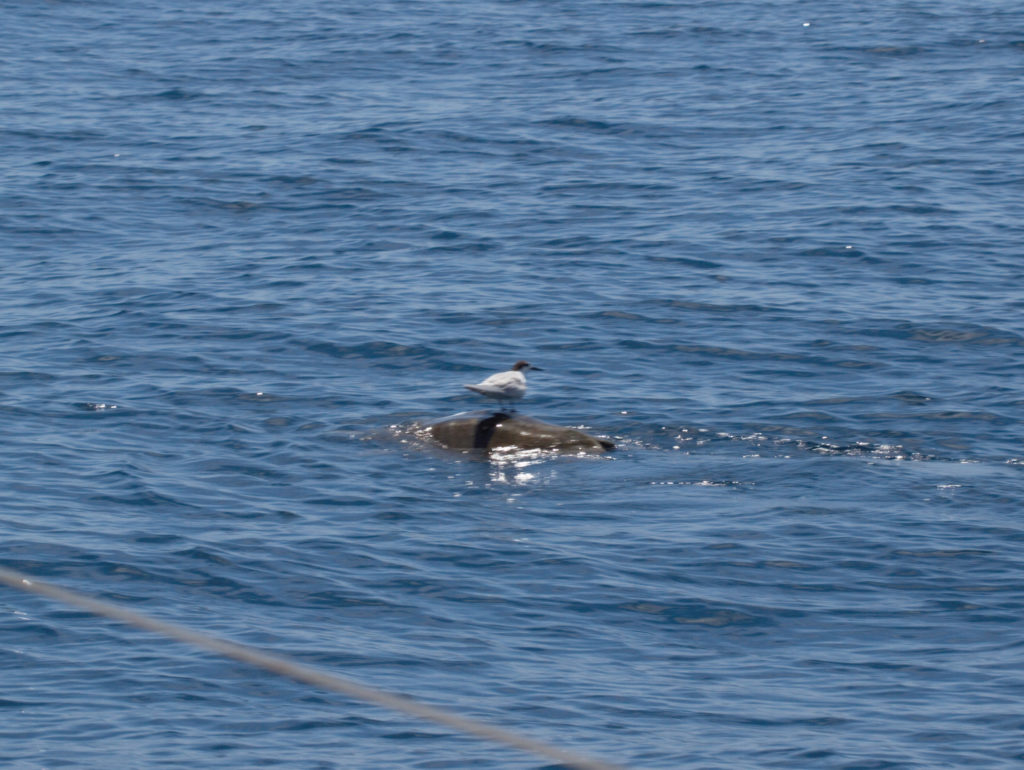 However I also saw this dead turtle trapped in a drift net :(. Super bummed me out the rest of the day. The plastic bottles are the floats.
Later that afternoon some dolphins came to keep me company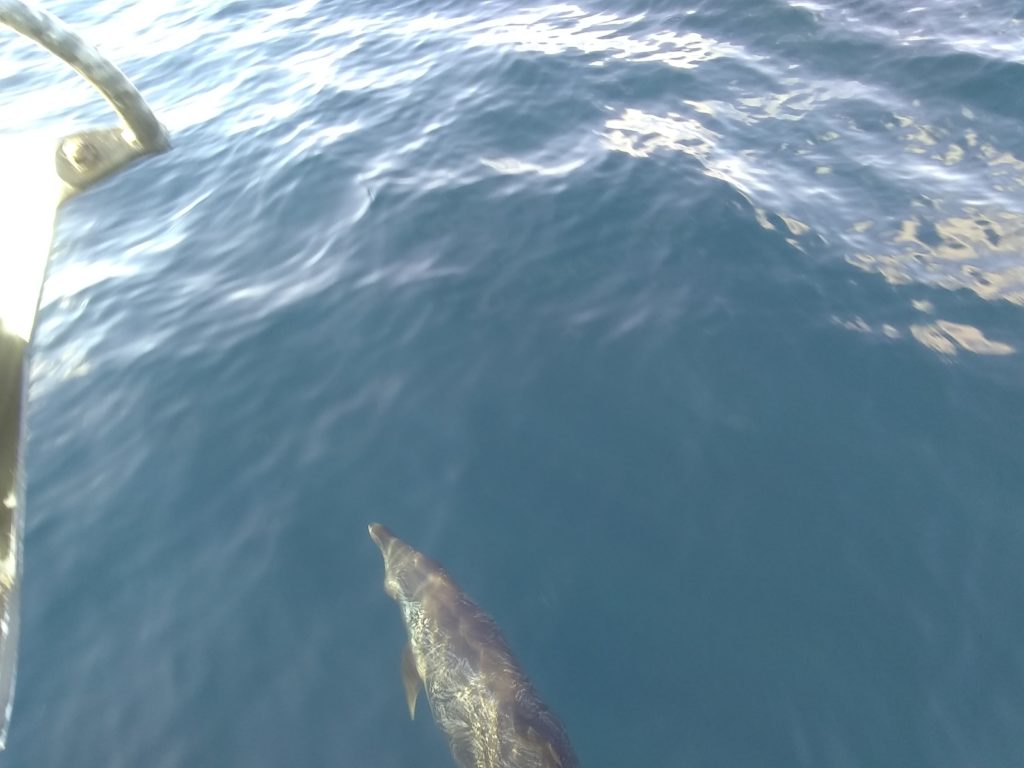 I finally crawled into the anchorage near Mazatlan at 6 in the morning, dropped the anchor and passed out. To wake up at 7:30am to make sure I got in the narrow, crappy bar at the head of the channel before the wind picked up. Who needs sleep anyway?!
Anyway finally I was in safe and could happily pass out (not before at least 5 different people told me how tired I looked. Thanks guys!)