I'm still in Banderas Bay, reading a lot, getting probably too much sun and swimming a bunch, but what's next?
Well originally, I would have been heading off to French Polynesia around about now. This….
*drumroll*
isn't going to happen this year. So why the change of plans? Well, a few reasons.
Reason 1
Firstly Brexit. Originally, I could get an 18 month visa due to the UK being a member of the EU, just by showing up with my boat and a smile. Unfortunately, due to the UK population collectively shooting themselves in the foot that isn't an option anymore. Or maybe it is. WHO KNOWS. Basically, while the whole mess rumbles on and on, my visa status there would be in flux – I could get an 18 month visa and then lose it once the UK crashes out of the EU.
Non EU citizens get a 3 month visa (which is nowhere near long enough) but a longer stay one is a bit harder to get. You can't apply for the long stay visa in-country but have to apply (in-person) at a French embassy outside of the country…. yeah.
ANYWAY hopefully by next year the whole shitshow is resolved one way or the other and I can either get the EU 18 month thing or the non-EU 1 year long visa.
Reason 2
Boat stuff, basically. As follows:
Cockpit
One of the things I discovered cruising full time for almost a whole year now (side note: HOLY CRAP) is that my cockpit is maybe the least comfortable one ever made, even by the standards of the 70s. Not only does it have lots of nice 90 degree angles and sharp corners, it doesn't even have anywhere to lie down, and literally has only one (1) comfortable spot to sit. Which is facing backward, leaning against the bulkhead. Not exactly a great watch position.
I'm going to get some new cushions, try out a product called a sportaseat and maybe build a couple of seats into the pushpit.  Otherwise, my back is going to hate me.
Dodger
Other stuff I need to do is BUILD A DODGER because traveling long distance without one is like driving a convertible car in winter that has lost its windscreen and also the windscreen wash is broken so it squirts cold water backwards onto you constantly and it's just all a big pile of misery. I am hopefully going to get a combo hard/soft one made. I know I've been saying this for literally years but that was before I sailed 3000 miles down the west coast of the continental united states without one.
Engine
Also, my engine is making weird noises. Nothing too bad yet but it hasn't had a major overhaul since I got the boat and possibly ever, and considering it's older than I am I am a bit surprised it's still running. So yeah, that needs to be checked out and tested etc. It's way easier to do it here than in the middle of the Pacific.
Bottom Paint
The stuff I have on now worked fine in the PNW but down here it is really NOT doing great. I have to scrape the bottom at least once a week. My prop which I put special anti-barnacle stuff on now has more barnacles than everything else. So I need to put new/different paint on. Probably meaning I need to scrape the bottom clean of all old bottom paint as well, and start afresh with a new barrier coat. Mega ugh.
Reason 3
I really like Mexico. Cheap beer, friendly people and Spanish is really fun to learn. I feel like I need another year here, not quite ready to move on.
Reason(s) 4
And then there are a bunch of other reasons why I am going to wait. I missed summer in Victoria last year so it will be fun to spend a summer with my friends messing around camping, racing etc. All the work above is going to cost some money – I have a bit on income coming in from doing some freelance writing and also my patreon (thank you again everyone, it really adds up!) but to cover the engine rebuild, dodger etc etc I'll have to go back to work for a few months.
So, what I am doing? My current intention is to move the boat back to Mazatlan at the start of April, take advantage of the summer special marina rate over there, do boat work for a few weeks and then get back to Victoria for the start of May. I'll spend the summer working, before heading back to the boat around October and finishing off the rest of the above list. Then it's another season in Mexico before heading out across the pacific! Also, I have a super sweet summer retreat down here on the boat if I get fed up of Victoria.
Anyway, that's all my news/decisions for now. I leave you with a pretty sunrise in order to have a photo on the front page.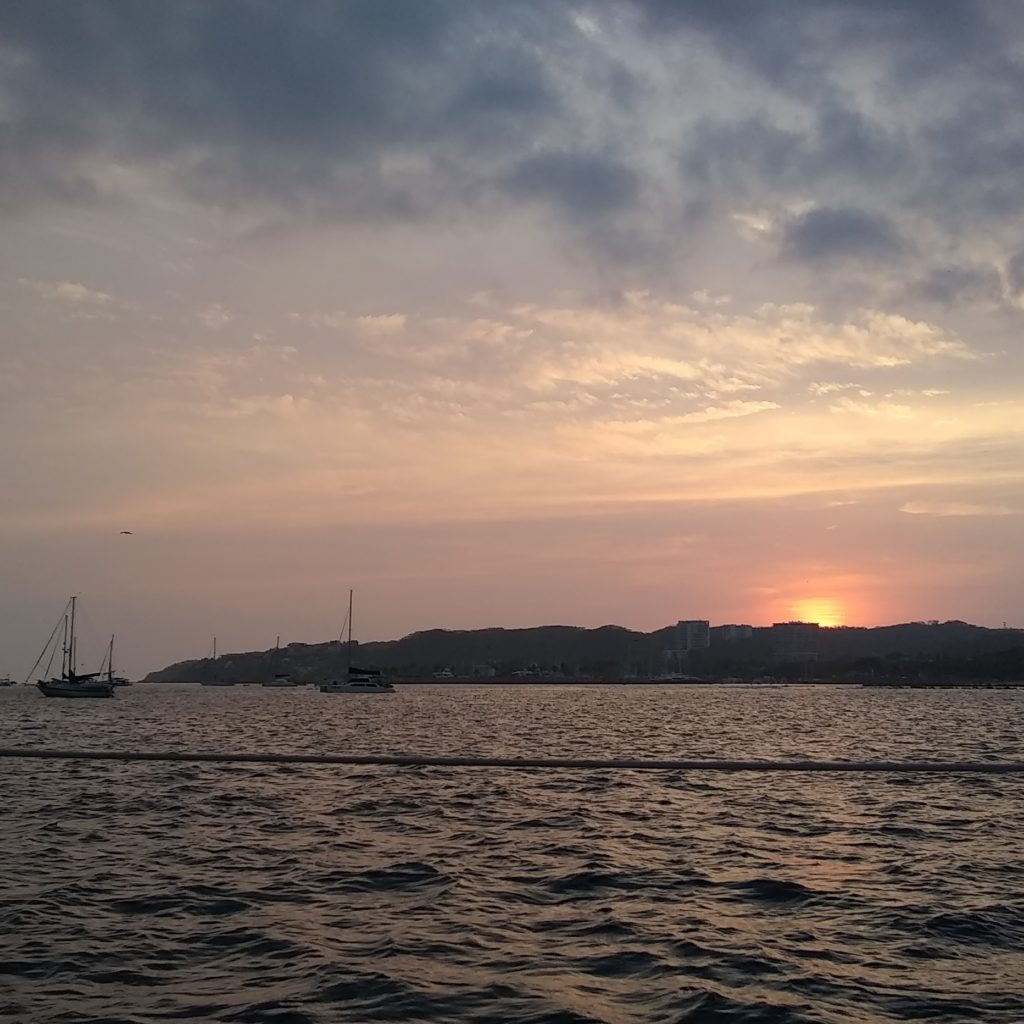 PS: Also I nearly lost the mast. Found one of the shrouds had lost the cotter pin connecting it to the chainplate, the pin had backed almost all the way out and the shroud connector was only connected on one side (which had been bent by the forces on it after I had been beating into 20 knots the previous day). Only reason I can think of it didn't back out completely was the water jug holding it in place. Yoinks. Check your rigging kids!
PPS: I cleaned my oven for the first time in 6 years. It sucked. A lot.