After leaving Chacala Bay, it was a 40nm sail down to La Cruz, in Banderas Bay. We picked up my friend Mal and spent the next while hanging around the bay, sailing to Punta Mita (an anchorage 10 miles away from La Cruz, fishing and generally just CHILLING OUT.  Unfortunately, this doesn't make for a super entertaining blog post (I tried to persuade Emma to fall off the boat or something but she refused) but I will do my best!
La Cruz is a nice little village/town right on the North side Banderasras Bay which has a few restaurants, a few little stores and a small marina. The anchorage is where most people hang out as it has the best protection of the whole bay.
Mal, Emma and I spent a lot of time doing the Tour De Guac (trying the guacamole at every single restaurant), drinking cheap beers and generally being mildly obnoxious.
Not that many people speak English so it is a great place to practice my Spanish, which is still pretty awful.
On one day we sailed across the bay to Yelapa – a weird small hippy town that has a bunch of expats in
Definitely have to set a stern anchor though as otherwise the swell will knock your socks off.
While rowing out the stern anchor the OTHER oar broke (the first one having broken in San Blas). It meant I spent most of the afternoon fixing both oars correctly using some stainless tube sleeved inside and through-bolted.
Wildlife
There are SO MANY whales around here – every time I go out sailing/fishing (which is a lot as the wind blows every day from around 12 to 4 and you can sail right off the anchor in la cruz) I see a ton. I was on my friends' boat Boomarang when one surfaced probably 30 foot behind the boat – which to be honest was way TOO close.
Normally though they are at least 50 foot away and seem to be a lot of mother/calf pairs – probably the time of year? You really have to keep an eye out and try not to get too near. You can also hear them singing when you go snorkeling, which is really cool.
There are also a bunch of dolphins – Pacific Spotted.
The fishing has been amazing too – tons of Bonito with the odd black skipjack. I haven't bought any protein for quite a while!
Racing and Banderas Bay Regatta
One nice thing about the anchorage is that there is a beer can race every Wednesday. I've done the last two, the first with Mal and Emma and then the second week with Jo and Barry (Boomerang's crew)after Team Girl left.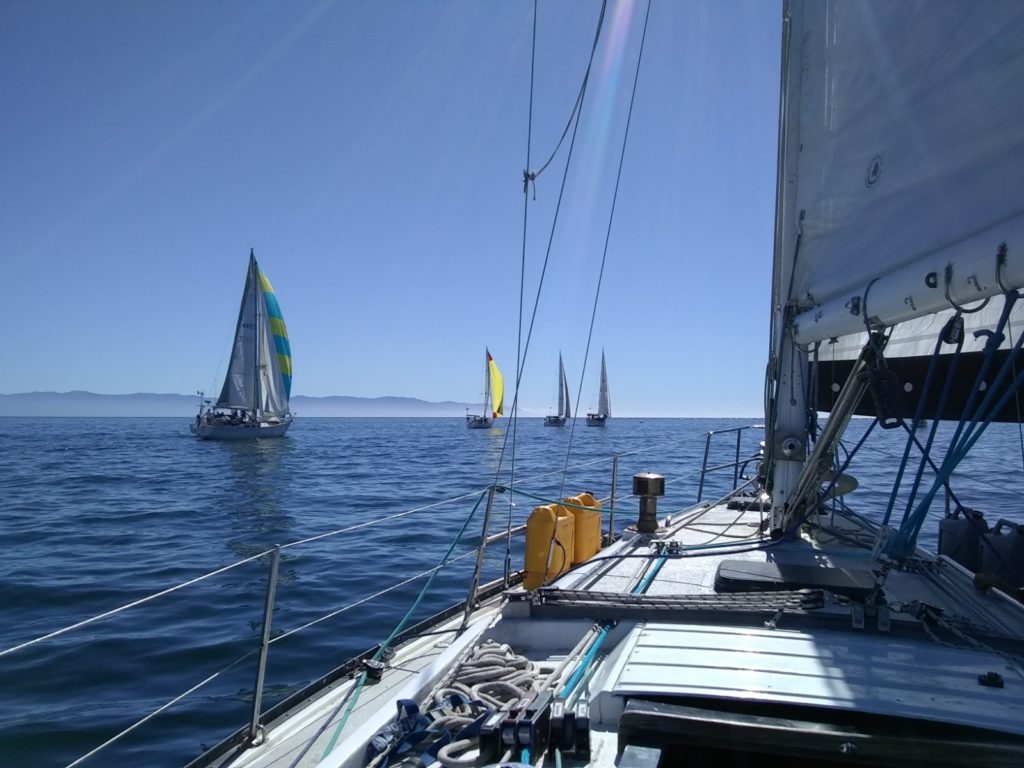 This week was the Banderas Bay Regatta – three days of racing and buffets put on by a local yacht club.
It was an interesting set of races – the first day light wind, second day medium wind and the third day was really blowing, which unfortunately included a 2 hour long hard beat into almost 20 knots of wind, which was pretty uncomfortable. I had Barry racing with me, so it was hard to flatten the boat enough to stop it sliding sideways even with 2 reefs in the main and my small 115% genoa up.
We were also in the Jib and Main category – I said I didn't mind being put in either that or the normal cruising class depending on where they needed the numbers. I later regretted that on the first day, as trying to go downwind in very light air with a 115% foresail and not being allowed to use spinnaker was a recipe for frustration. Firm last place. The second day we did a lot better and came third, narrowly missing out on second after I managed to put us right in irons bare yards away from the finish line (right in front of the committee boat and all the race officers, natch), meaning we had to do an embarrassing 360 degree spin to get going again and losing us a precious minute.
The third race we came last by 3 minutes – a bad tactical decision early on in the race and me not being able to flatten the boat enough meant we got knocked sideways on the long hard windward beat and had extra distance to make up. (I've since gone out in 20 knots by myself and practiced with different sail combos heading to windward – turns out winding in the foresail a bit DOES stop you pointing as high but the boat stands up more and so slides sideways a lot less. This is probably a lot faster, it's definitely more comfortable).
So in the end we finished last in our class, but were one of only two double handing crews – and it was a lot of fun, which is the main thing!
Here is Barry on the first day trying to see where all the boats ahead of us went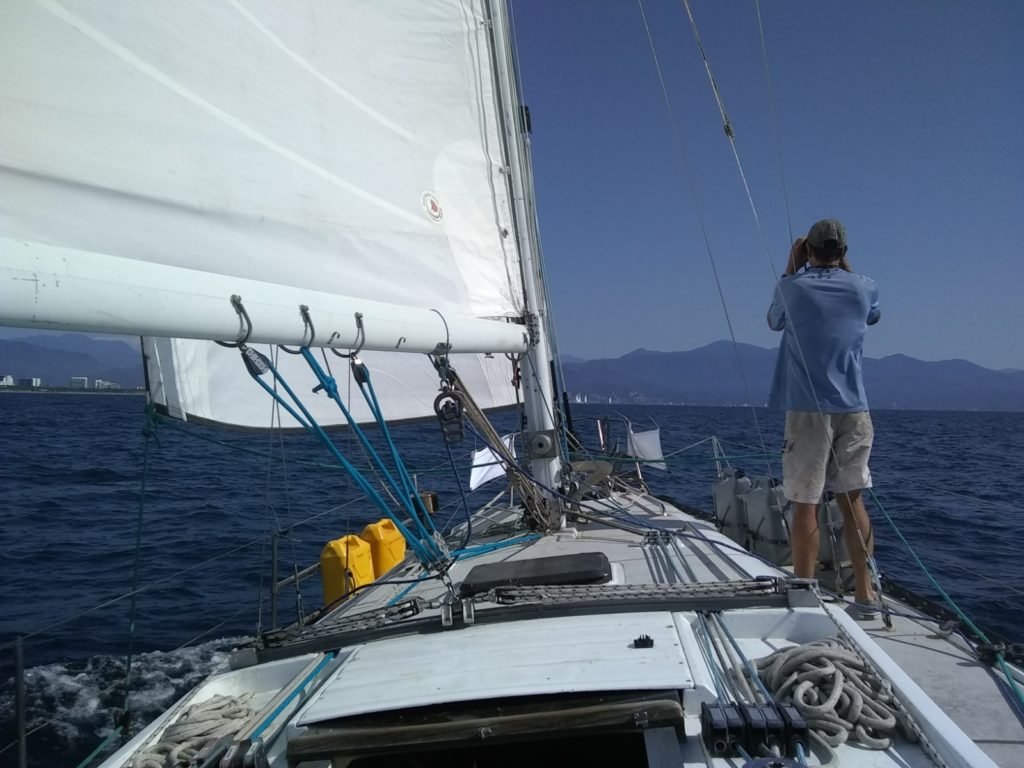 Next up: Plans for the summer (*dramatic drum roll*)