Next week I head off for almost two weeks. I plan to go down to Tacoma/Seattle to see some friends, head up to the islands and bum around there for a week and then head back down to Seattle to pick up some portholes from Port Townsend, before heading back to Victoria.
This means I've had some small pieces to finally get round to finishing.
Firstly, I decided to finish installing the spinnaker track. This has meant hanging from my climbing harness and slowly crushing my nuts while I rivet over 60 holes. Anyway, the Nancy Blackett crew had very kindly winched me up the mast twice already, and today was gonna be the third and final time! (I am also going to install mast steps and some self climbing gear, because winched up the mast suuuuuucks)
Except it wasn't the final time because:
I dropped a $40 cheek block into the water as I was up the mast
I ran out of rivets
I dropped the OTHER $40 cheek block into the water, prompting some rather un-family friendly lanuage.
Sigh.
Next was faring and gelcoating the heater flue mouting block, cos it looked super rough before
See? Looks like crap. From this angle you can't see all the expoxy that ran down the side (that is what happens when you fiberglass in winterand also suck at fiberglassing)
Now it looks like this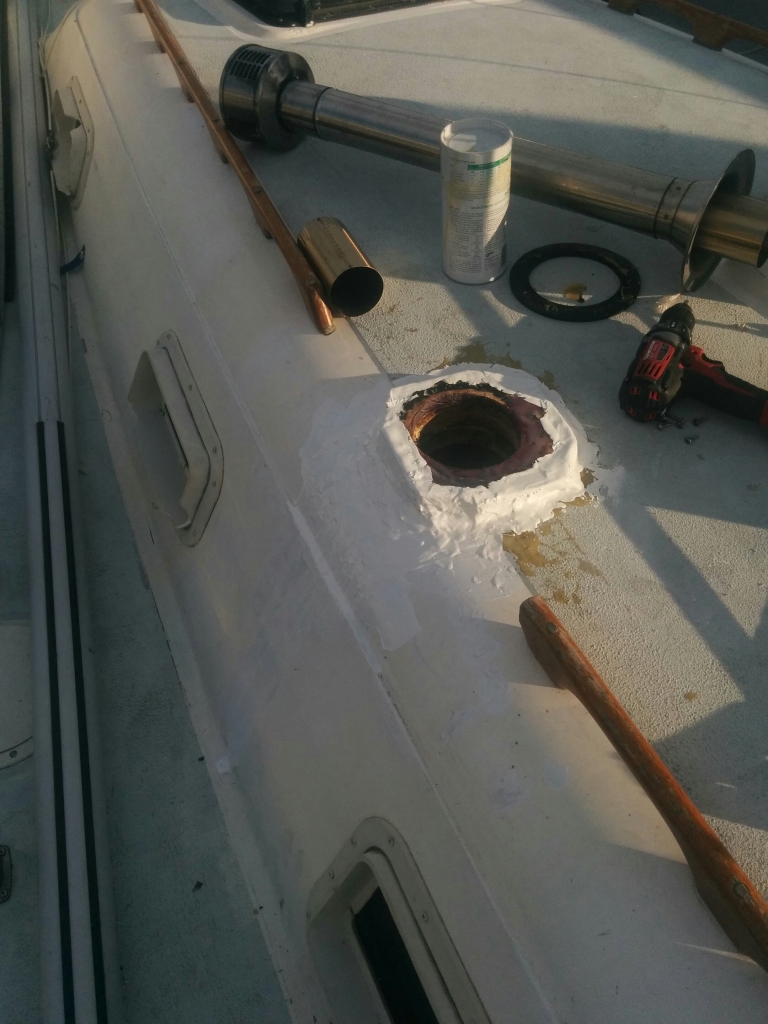 It's still terrible but it only looks bad from around 3-4 feet away, instead of 30-40 feet. Progress!
Final task was to hook up the engine to my hot water tank. Basically my coolant gets cycled through a heat exchanger where it is cooled by fresh cold salt water and then put back into the engine. Now, after leaving the engine, the coolant is cycled through the hot water tank, heating the water there before going to the heat exchanger.
The water heater only works on shore power, but now it will also heat water when my engine is running! This is pretty grand, and I'd meant to do this when I installed the water heater, but somehow forgot. Anyway, done now.
Hose going to and from the engine/water heater
The heat exchanger