I've been missing the boat a lot recently, but have been lucky enough to get out a fair bit on other peoples boats (which in some ways is even better)
Firstly, I've been racing on Fiesty, a Martin 241 at the CFSA every Wednesday. The weather has either been honking 25 knots + or dead calm, with nothing in between. Just nice to be out on the water though!
I was also lucky enough to sail on my friend Phils boat, Zaff, for two big races of the season – Around Saltspring and Swiftsure.
Around Saltspring is a roughly 40 mile race around Saltspring island. We left on Friday and sailed over to the island in a great breeze, hitting an easy 8 knots under the spinny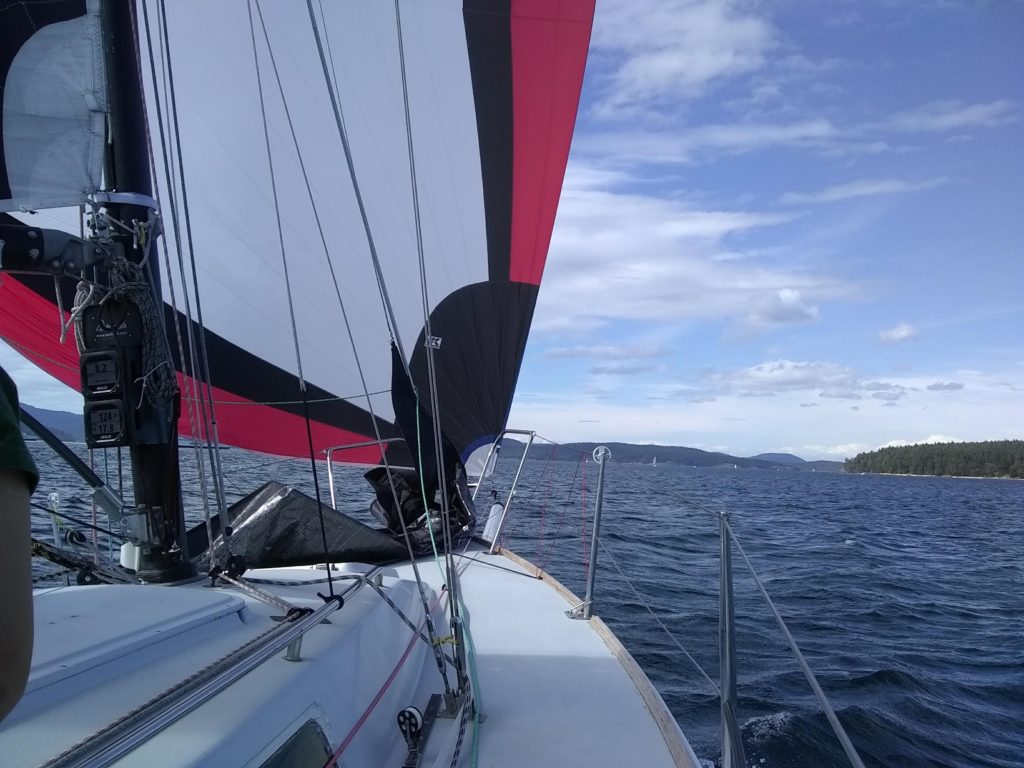 That night was a big party, followed by me trying to sleep in the v berth on top of sail bags (for all zaff's good points, a comfortable place to sleep is not one of them) meaning the next morning I was feeling a bit worse for wear.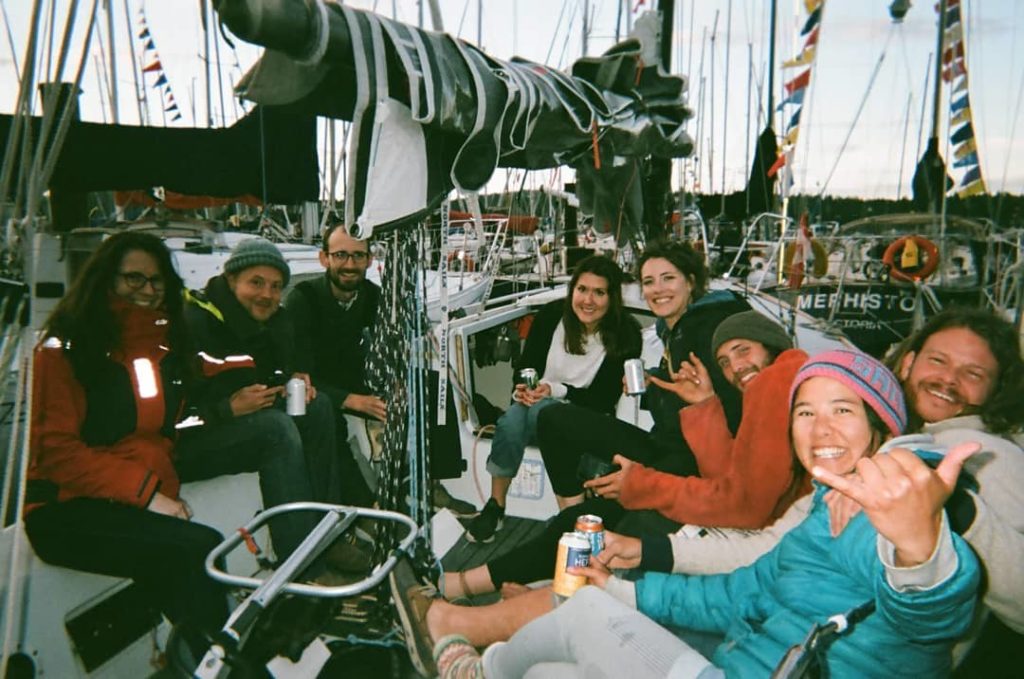 In the race itself there was practically no wind but at least it was sunny and warm. On one particularly windless stretch, I fell asleep on the foredeck under a jib, and woke up to the other crew in various states of undress. Apparently, due to the length of the race, disaster had struck and we were running low on booze and they were attempting to flag down and flash a nearby dinghy that was going between islands in order to get some off them. Even more amazingly it worked, and the random dinghy dropped off some cans of beer! Although it may have been a bribe to get everyone to put their clothes back ON.
Anyway we carried on, slowly, until at 9pm we had only just got halfway around the island (so around 20 miles in 12 hours if anyone is keeping track) and got stuck in the narrows as the current switched and the wind died. So we gave up. rip. The faces of everyone in these photos says it all
The weekend after was Swiftsure, probably the biggest race of the year in this area. I've failed to finish the last two times I attempted this on Gudge so I was stoked to finish the 80nm race this year! *OMINOUS FORESHADOWING*
We had a fun Friday night party (the docks are close to my house so I had a great sleep), and then the next morning motored out to the start line
Again, there was basically NO wind so the start was a bit of a non-event, as all the boats went backwards in the slight current. We actually managed to get over the line first by going through the weed line and getting exceptionally close to the shore (close enough to hear the announcer on clover point say our name, which we responded to with a cheer).
We slowly crept on, and then it started to rain. A lot. It basically sheeted down for four hours, in the hardest rain I've seen in Victoria for a few years, soaking everyone and everything on the boat. We managed an hour or so of good sailing before the wind died again and we drifted slowly on, wet and cold. Oh, also for some reason there was a large swell, which made everything even more miserable (one of the crew was puking over the side, as I would have been as well if not for a well-timed Gravol tablet) and rolled what little air we could catch out of the sails.
At 8 o clock, with the tide turning again and the forecast showing 'light winds' on both the American and Canadian forecast (and if they agree then it's a pretty safe bet) we decided to call it as we figured there was very little chance of even rounding the mark before the cutoff. Double rip. We weren't alone however – apparently it was the largest number of dropouts in recent memory.
At least the sunset on the way back was pretty! And that's three times in a row I've failed to finish a swiftsure. Triple rip
All in all, not the best racing ever, but still fun due to the great folks I got to hang out with on a boat.
Follow-up: In the race the weekend afterwards (that I missed due to work) there was great wind and Zaff finished first in their div AND first overall! Amazing! Guess it just took me not being there…
Oh, and I got to watch the start of the race to Alaska, which gave me a ton of FOMO. Maybe another year…