Over the last couple of weeks I managed to get a ton of sailing in – first a 3 day trip to Orcas to actually hang out with my friend Elyseseeeese and her boyfriend (normally I turn up, hang out for 30mins, grab my stuff and then bugger off) and then the week after a 5 day trip around the gulf islands with Emma who was on Easter break from being a trainee nurse. YEAH. Also the weather started to be less crap so it was ALL SYSTEMS GO
First, my trip to orcas was really nice. Got (some) sailing in and tried out my new(!!!!) sails (more on later) and then the wind died, so pretty much 50/50 motoring/sailing
Had a really fun hangout and went to a waterfall and then on top of a mountain and looked at stuff like this
THE SAN JUANS RULE *breaks bowl over head*
This trip was notable as the FINAL time I used Shitty Peapod, my porta-bote.
You may remember I had a sweet 10′ porta-bote that I exchanged for a 8′ one. The 8′ one was cute but an older model and was really tippy and somehow harder to assemble as well as not really being able to hold me and another person. Also it wouldn't plane. Basically a bad trade.
Here is Elyesesese and Christian modeling it (they visited the boat and we couldn't fit all three of us in so we had to go across in shifts. Bag of grain last, natch)
Look how cute and non-spacious it is.
ANYWAY – more on this later. My friend Mallory came back with me from the island to visit CANADA and learn how to sail from me (rip) and we had a great broad reach all the way back, 15/20 knots and suuuuun! Lovely.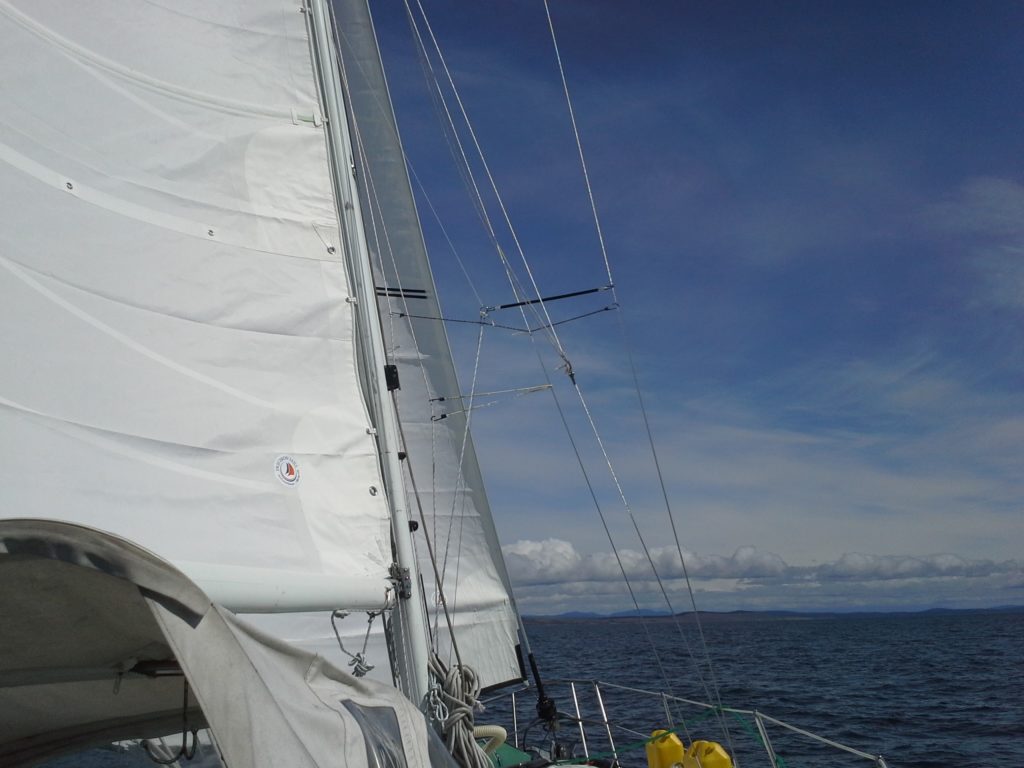 The next week I had wed – sun free so Emma hopped on and we went off for a super casual bounce around the Canadian gulf islands. Wed was blowing like stink but calmed down in the afternoon so we then went for it – ended up being a really bouncy run in leftover sloppy chop and 20-25 knot winds. Good practice though, though yet again Emma is way more comfortable than me in marginal conditions. I gotta get better at this.
This was notable for the first attempt to reef my main sail (WHICH HAS THREE REEFS! Compared to the old one which had ONE) which went terribly wrong when we discovered I'd horribly messed putting the reef line in and it got tangled AROUND the topping lift. NICE.
For those non-sailors following along at home – this is not what is supposed to happen.
Anyway we left it since it was on a run so sail shape didn't matter that much and it still reduced the sail area and wasn't putting undue stress on the sail.  At this point it was blowing 25 knots and I did not fancy mucking around in that and the really sloppy seas. We eventually got into Sidney Spit where I tried to forget all about everything.
The next day we motored/sailed to Emma's parent's house. They live in a lovely place on the water in Saanich Inlet so we tied up on their mooring buoy, and dropped some prawn traps.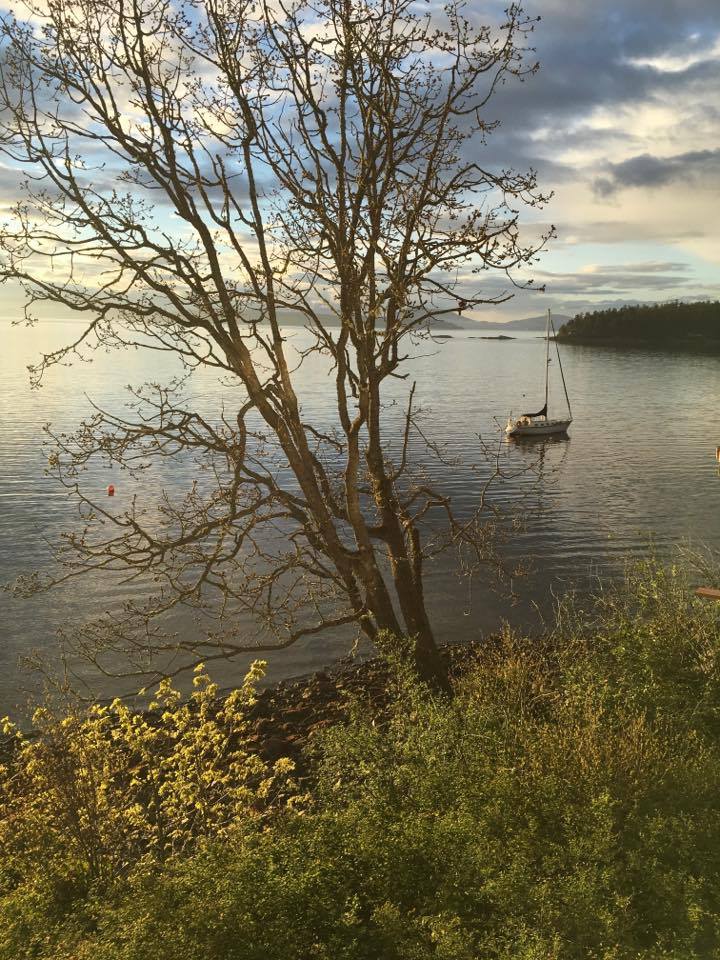 Unlike the other attempts we actually got prawns. PHRAWNS!
BC Spot Prawns are maybe the tastiest prawns in the world and the fishery is tightly managed, so they are also sustainable! #plug. And no hagfish!
Anyway, day after that we went to Portland Island, Royal cove. Went for a hike around the island, walked off prawns.
Of note is when we put the porta-bote away and THEN tried to untie our stern tie – which then got stuck on a rock. Had to put the bote back together again, row over to the line, free it, row back and then stow the porta-bote again. Ugh.
Way back home involved wing on wing down the haro strait, and involved getting passed by a bunch of race boats going one way, then watching them round the mark and then overtake us going the other way as well. WE'LL GET 'EM IN SWIFTSHORE BOYS
Oh, also one of the cabintop winches I cleaned a few weeks ago broke. Hmm. Probably unrelated!