I've needed a dinghy for as long as I've had the boat, and after much reading decided that a porta-bote would be the best thing for me.
I had 3 main points that I was choosing a dinghy on:
– storage/ease of handling
– rowing
– durability
The first one pretty much eliminated a hard dinghy for me. With these, the only way to transport them is to put them on deck (which I didn't want to do since it'd eat up all the deck space), tow them (which I didn't want to do because of drag and the chance of the painter getting tangled) or davits (which I didn't want to do since it would stop me using a windvane or other stuff off the back. Plus they look ugly in my opinion, MY LINES. Also, real pricey). With an inflatable or folding boat, I'd have more options. Some people deflate an inflatable and stick it in a bag near the mast but that seems like a huge amount of effort to retrieve and inflate everytime!
Next was rowing. Basically, inflatables (with a few exceptions) SUCK.
Durability – another point for hard dinghies. A lot of inflatables now are really tough, but still not as much as a hard bottom.
Porta-Botes seemed to have the rowing ability and durability of a hard-bottomed dinghy, but with the compatibility of an inflatable. The only problem?
They are damn expensive. Like, 3000 dollars expensive.
So I kept looking and waiting, and then a cheap second hand one turned up! In Abbotsford. A ferry ride and an hours drive away.
Anyway, I jumped in my car and sped to the ferry, and jumped on. On foot. I hadn't really thought this through.
At the other my awesome friend Candace picked me up, and I stayed the night at her house. The next day we drove to Abbotsford, and met Duane (who was awesome)
We agreed a price, and I had a 10′ porta-bote for 1/5 of the price of a new one! Except… now I had to get it to Victoria.
First thing was to get it to the ferry. We managed to jam it into Candace's trusty Malibu, somehow.
Here is Duane giving the ol' thumbs up as we jam it into the car
And looking for a way to strap the boot lid down
We ended up with about a foot hanging out the back. Not enough for a red flag!
Once we got to the ferry, we took all the pieces out
My plan was to walk the seats (all fastened into a easily moved bundle) and drop it off with BC ferries, and then carry the main part of the boat on.
However, when I went to talk to the BC Ferries woman at the front desk in Vancouver, she was extremely rude and basically said that it counted as freight, and they wouldn't accept it at the check in baggage line :(. I needed to be able to carry it all on in one go. Yikes.
Luckily for me, Candace volunteered to help! So we moved her car to long term parking, and strapped all the seats to both sides of the main boat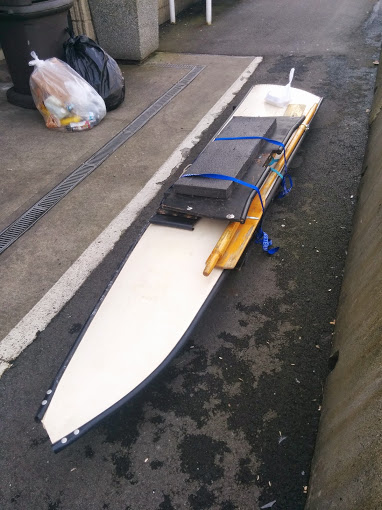 We waddled the boat over to the ferry and I talked to a different BC Ferries person, who was a lot nicer, and suggested we load it on the car deck level, thus avoiding having to bring a 10′ long boat up the stairs and round the narrow corners.
So we lugged it over to the car deck, and hug out with the people with bikes and dogs. Once on the ferry, we both had a well deserved nap.
At the other side though, we had a problem – it wouldn't fit in the lift! Luckily some awesome BC Ferries employees helped out, and offered to use the baggage cart to drive the boat up and around! Yeah!
That just left one more thing – to get it into Lola the Corolla, my trusty and (mostly) reliable 1992 Toyota. It… was going to be a squeeze.
It JUST ABOUT fit (i'm so glad I emptied my car last week) and we strapped down the boot lid, and made a triumphant yet exhausted entry into Victoria. Whole shopping trip from leaving Candace's house to returning to Victoria was 9 hours.
I'm not doing that again! But now I have a dinghy! Which I'll put up when it stops pissing rain!
On another note, the Bayliner in the finger beside me hit me today :(. He doesn't live here and lives in Alberta, so he's only here every few months. My boat neighbour Billy text me to tell me that he almost hit me yesterday, coming in way too fast, and Billy had to hop on my boat to fend him off with a pole, so today when I heard him coming back in, I hopped on deck to make sure everything was safe.
Well he was just PILING in, coming in real hot, and to my horror was about to smack into my side at 3 knots. I stretched over and pushed off his stanchion, pushing hard, and managed to deflect his trajectory away enough that it was only a glancing blow, with no apparent damage.
Still though, it's ok to be bad at docking, and learning (god knows I am) but go SLOW! Ugh. I am going to talk to him about it, and I hope it goes well.