So, although I love my porta-bote when it was up and workin', actually putting the 10′ boat together was a pain on the foredeck, especially with the solar panels there now.
With this in mind, I traded my 10′ for an 8′ model off craigslist.
I was kinda sad as the guy strapped it to his roof and drove off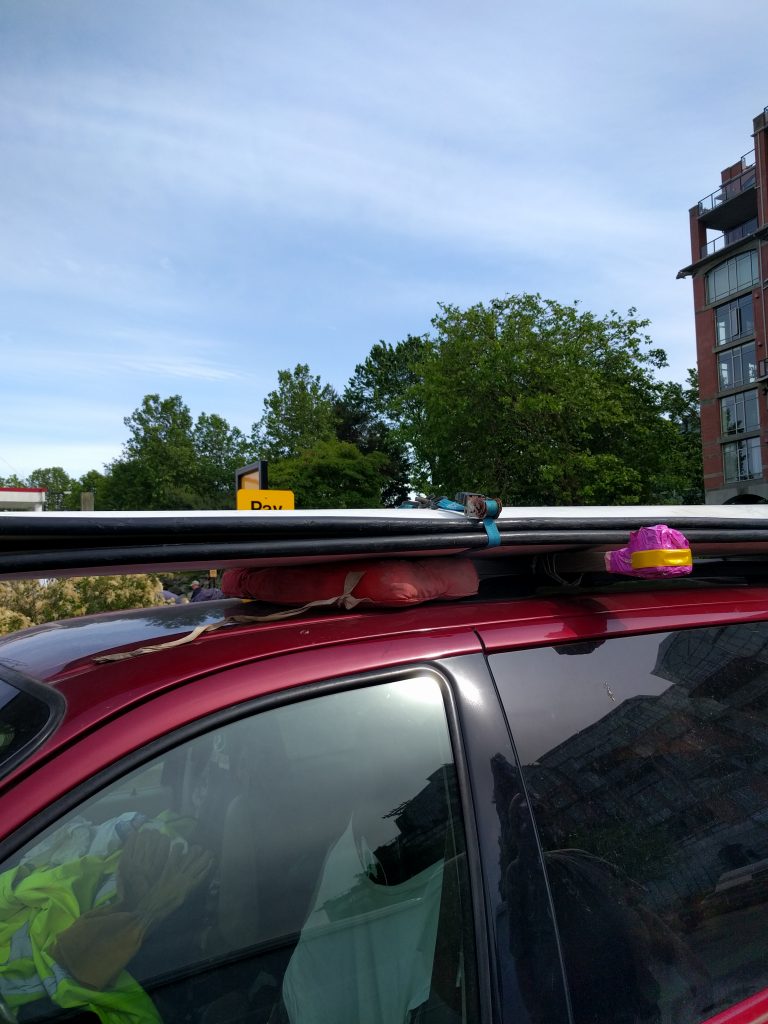 The one I got in return was the 8′ model, but also the older version with the rounded stern.
This meant
The transom is waaaaaay smaller, being a tiny metal/wood block rather than a big plank of wood
There are only two seats
Its a lot easier to move around on the foredeck
On the negative side
It's a LOT more tippy than the other model
More importantly, my current outboard is way too heavy to fit on it 🙁
That's right, my current beast of an outboard is too heavy. Probably due to it being entirely made of metal and a long shaft.
And I'd just repaired the handle too!
Anyway, when I mounted it the boat was doing a perma-wheely so it was time for a new outboard. I managed to pick up a 4HP 2 stroke evinrude for $425, it was a 1994 model so was half plastic and considerably lighter.
Here are the two engines
So I put the boat together, put the engine on and went for a rip
It works pretty well with just me in, though is noticeably slower. With two people and the motor, it's a bit wobbly. And it doesn't plane as well as the 6HP did. I kinda wish I had traded for an 8′ version of my 10′ with the wide stern as they are apparently a lot less wobbly, but too late now!
Realistically, when I am travelling it will just be me 90%, and the new setup is way way WAAAAYYYYY easier for that.
I'll leave this entry with a picture of the old boat and the first time I tried it with the outboard on.
I feel the respective facial expressions of Emma and I sums up our general attitude to sailing
Rest in Peace you sweet prince!