So I took a half day at work today and went to work on my boat.
First of all, I stuck my head into the office of the boatyard to see if they had done anything on my boat yet – turns out they were expecting me to be out on Friday, instead of going back in. Oops. He said they'd get it done today.
This is how the compartment looked beforehand
Grody hey? I blamed EVERYTHING on the previous owner (as you do). First he knocked off the bottom of the old transducer, and then luckily because the 'previous owner' hadn't correctly prepared the surface he was able to just chisel away at it until the whole mess lifted off
Lucky!
The only thing left to do was mount the new transducer, which was done surprisingly quickly
Now doesn't that look better.
While he was there I got him to put a ring of sealant around the other old plastic transducer on the other side of the boat – it wasn't leaking, but just in case.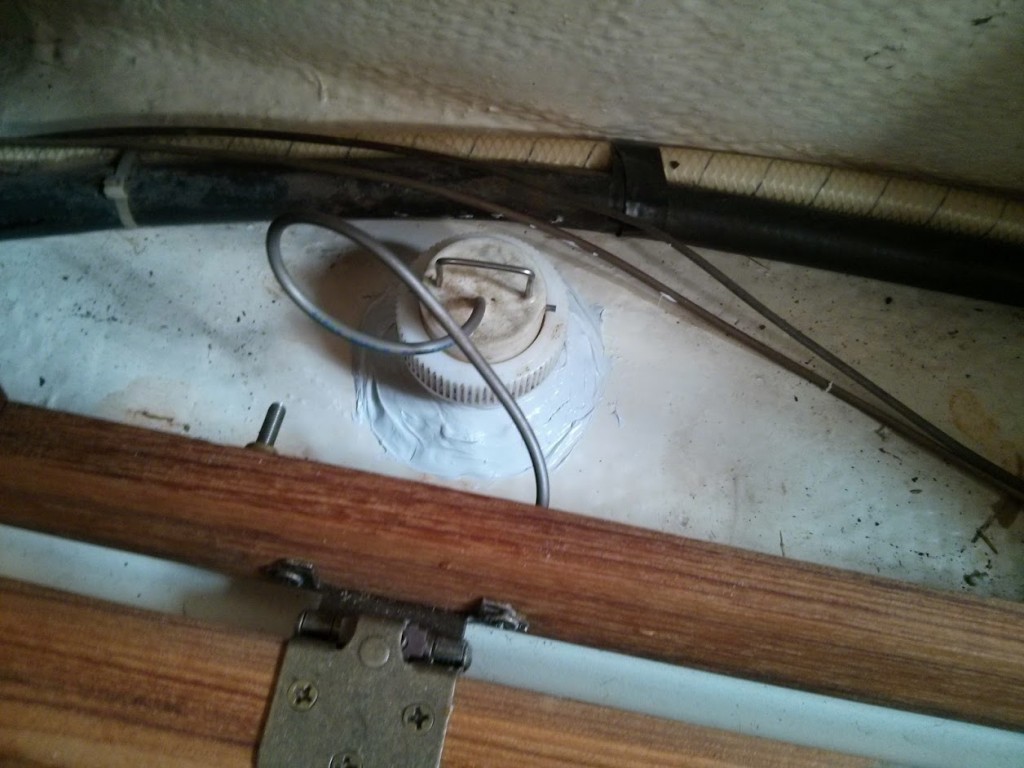 While that was all going on, I took the chance to clean some of the stains off the side that I hadn't had a chance to before. I bought some blue gel called FSR which DESTROYED the old rust stains I was having trouble with. It was awesome.
Next, I had to fix some scrapes. I got 1oz of gelcoat, added 12 drops of hardener to it, and after sanding and wiping down with acetone I painted it one. Gelcoat is fairly nasty, so I wore gloves. After that I taped plastic bags over so I could smooth it down, and it also helps the gelcoat to cure without sticking.
I noticed that the screw had rusted out of the gear changer again, which is what caused the original problem so long ago. At some point I will have to redrill that hole, but for the time being I just put a bronze screw in there.
After that I called it a night – tomorrow I will be waxing – ugh.