Or maybe not. More on that later.
So the boat is in Ladner, I'm in Victoria. This obviously posed a problem, so I needed to move it over. Unfortunately, to say my small boat experience is 'lacking' would be a massive understatement, so I enlisted the help of my friend Mer. Mer is what you see in the dictionary if you looked up 'hardcore', and has sailed to Chile, kayaked to skagway in Alaska (from Victoria) and far too many other ridiculous feats to mention here.
So the plan to move the boat was dependant on getting through active pass at slack tide (in between the tides) – either side of that and the current would be too strong. With that in mind we turned up Saturday afternoon with the idea to leave first thing Sunday. Mer scrambled to set the boat up, while I myself useful by repeatedly failing to do half-hitches and watching the sunset.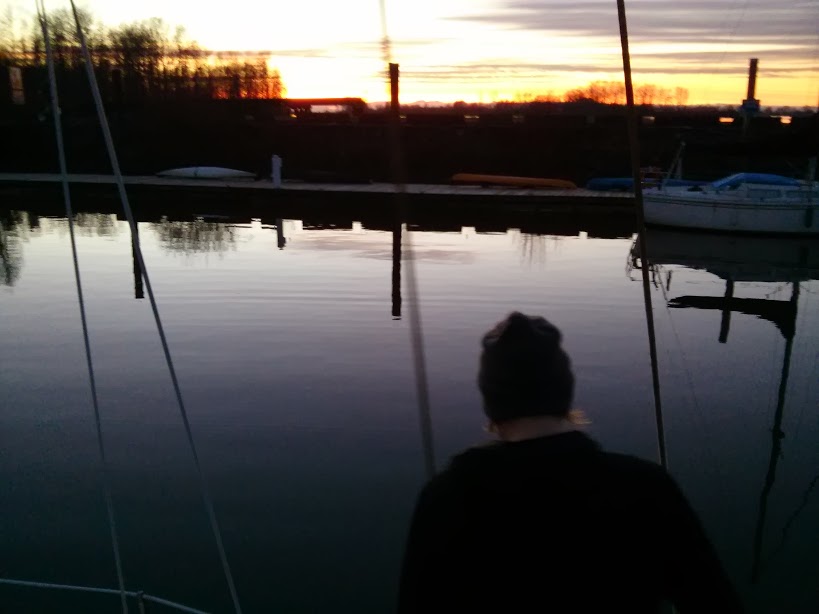 My lack of knot-skills would prove to be a common theme.
Unsure how much diesel there was in the tank, the discovery of the fuel gauge caused much rejoicing. Until it read 'full'. This made me super suspicious, until a message to my broker confirmed it was indeed full the next morning. Bonus! We attempted to go to the pub for dinner, only to find it was shut due to the meeting of the Ladner NHL football pools. What. As we were not members of the football pool, we could not attend. Attempting to find somewhere else to eat quickly lead to wandering around a field in the dark and realising that it was in fact Suburban Hell. Defeated, we retreated back to the boat and a hearty meal of Pot Noodle. Who needs a burger and a beer anyway, hey?
Oh – there is no heating in the boat, and it was -3c that night. Luckily we both brought sleeping bags and warm clothes, so we looked like Burritos. Like so.
After a surprisingly decent sleep, we woke up the next day and finished getting the boat ready, Mer assembled the anchor while I tidying up below decks. Finally we were all ready to leave!
I cast off the middle two lines while Mer started the engine. It took a little while to start in the cold, but started running at a healthy clip. We put it into reverse – and nothing. Forward – and nothing.
After a good deal of poking around it was determined that the engine was indeed switching gears if you manually moved the lever on the engine, but the cable itself had probably stretched to the control on the control column wasn't moving it at all. With no car and nothing open we were out of options, especially when it was determined that the toolkit on board consisted of two (2) screwdrivers and four (4) wrenches, none of which fit the nut on the control column. So we decided to call it a day.
I've bought a huge toolkit, and am going to go back there this week and try my hardest to fix it up for next weekend. Fingers crossed!