So like Gudge (and Frawg), I'd bought a boat somewhere where I didn't live. Pender Island, in this case.
Luckily, unlike 7 years ago I had the skills (and more importantly, the insurance coverage) to move the boat myself.
Unluckily, much like 7 years ago, I'd decided to do this in the winter and so it was really cold, along with a bunch of snow that stuck around for a while (much like… well you know where this is going.
After almost a week of -5c to -10c weather and strong winds, there was finally a weather window of around 6 hours so I bullied Emma into coming with me, and we got a ride from Liz at very early in the morning to the ferry.
Rob (the PO) picked us up from the other side and drove us over to the marina and dropped us off, and we were off the dock in around 20 minutes. I'd been pretty nervous as the boat hadn't really been used in two years and I'd heard all about old fuel, and sediment causing blockages etc, not to mention any other possible failures but in the end it all went suspiciously smoothly. We caught a strong ebb which added a knot or two to our speed so we managed to make the 20nm journey in 3 hours – which may not seem particularly fast to anyone who hasn't been on a sailboat but trust me, this was faaaaast. The wind was pretty light and from the rear so even though it was -3c it didn't feel that cold and we only got snowed on a little bit.
It was really the first time I'd had Sooner out (not counting the sea trial) and first impressions were good. We were just motoring but steering was a lot less hassle than Gudge as the tiller means you can sit down and kind of tuck it under your arm, and she tracks so straight anyway that there wasn't much input needed. You could even let go of the tiller and wander off for a bit and she would continue in a straight line, unlike Gudge who'd start doing radical donuts as soon as you let go of the wheel.
Also, wow, having actual engine gauges for water temperature and oil pressure is amazing. Gudge just had a light (helpfully called an 'idiot light') that turned on if something went wrong and then left the finer details to you to figure out while drifting around (been there done that).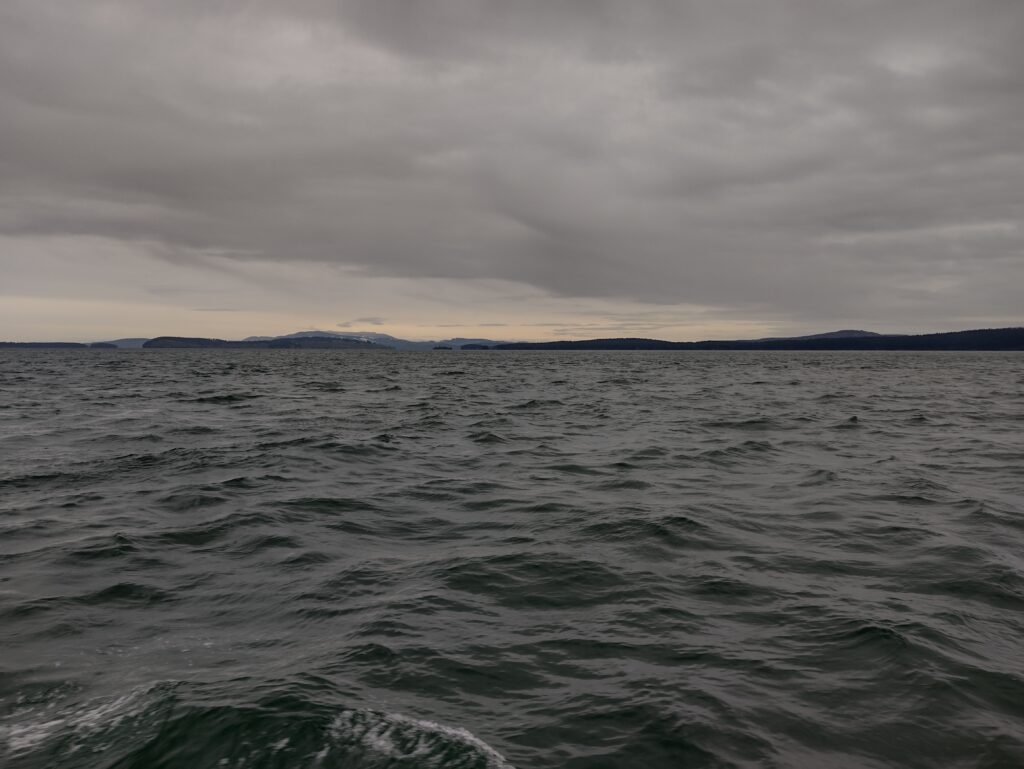 I'd been trying not to think about docking in Victoria, since Sooner (as previously mentioned) handles like the Ever Given (that's the ship that got wedged in the Suez for anyone not up on my Topical Marine Humour) – in forward at least, in reverse she just refuses to turn and kind of does her own thing. This is due to the keel shape, the long, full keel that helps her track also means she is very reluctant to do any turning. Especially in reverse. It's just not dignified, ya know?
I'd done some docking practice on Pender for an hour a few weeks ago and could kind of get her to behave – unlike Gudge where you could use prop walk to spin inside your own boat length Sooner needed a lot of power to get water over the rudder to force her stern around.
Fortunately, the docking went pretty much perfectly, despite me feeling very uncomfortable about it all. I'll definitely have to get out and practice on an unused dock somewhere.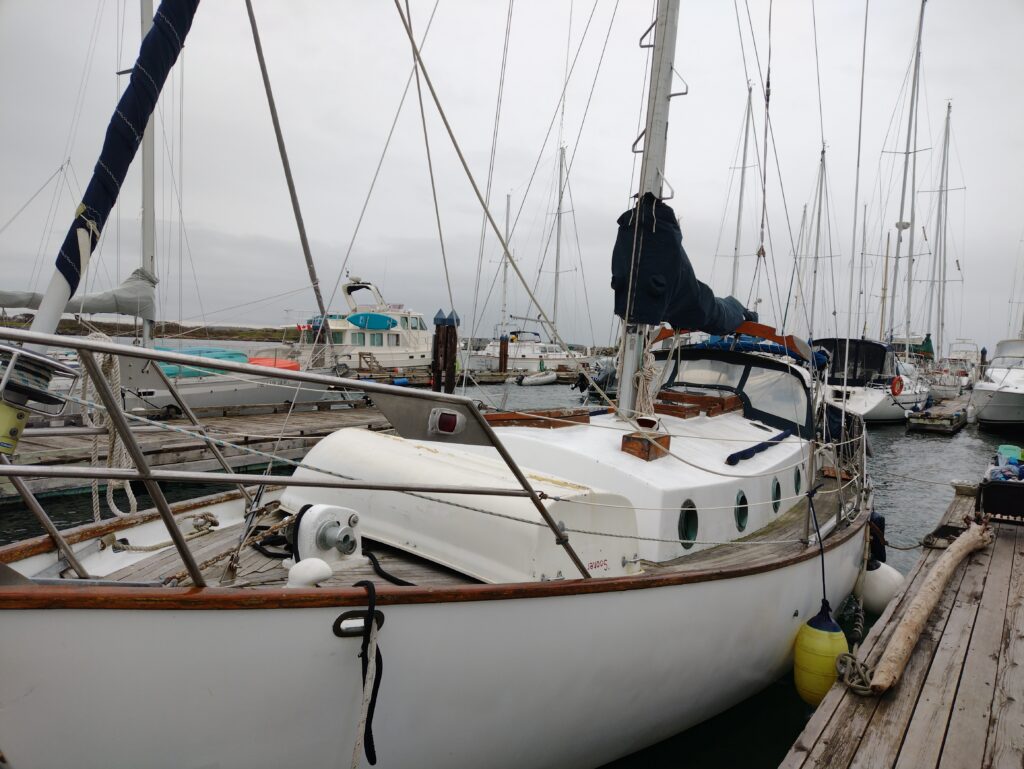 After that it was just a matter of tidying up the boat a bit and making a plan for the next steps.