After leaving Von Donop Inlet, we had a long motoring day ahead – we had to get through 3 sets of rapids one after each other, which needed exact timing (we were taking the more protected route on the inside this time around as opposed to last time where we went down the Johnstone Strait almost the whole way). The end rapids especially, dent rapids, was known for being very vicious, forming a huge whirlpool which sucked entire floating logs down. Yikes.
We motored up to the rapids, arriving a bit early, so drifted around a bit along with a few other boats that had also arrived.
Then it was time to go! In order to hit Dent (the most dangerous rapids) at slack we had to go through the first one, Yaculta, an hour early. It was pretty swirly but fine and we made it through, as part of a convoy of boats going in both directions.
In the middle was this island called Jimmy Judd Island that had like a million eagles on it – I've never seen so many in one place! I tried to take a video but it's kind of blurry, you can't see any eagles and has Emma and I bullshitting over the top of it (this is seriously what like 90% of our conversation is like)
We arrived in Shoal Bay after a looooong day of motoring (my trusty Yanmar 2QM20 diesel is basically a tractor engine and has two cylinders so sounds and feels like it's exploding, which gets pretty old after a couple of hours).
Shoal bay was v v pretty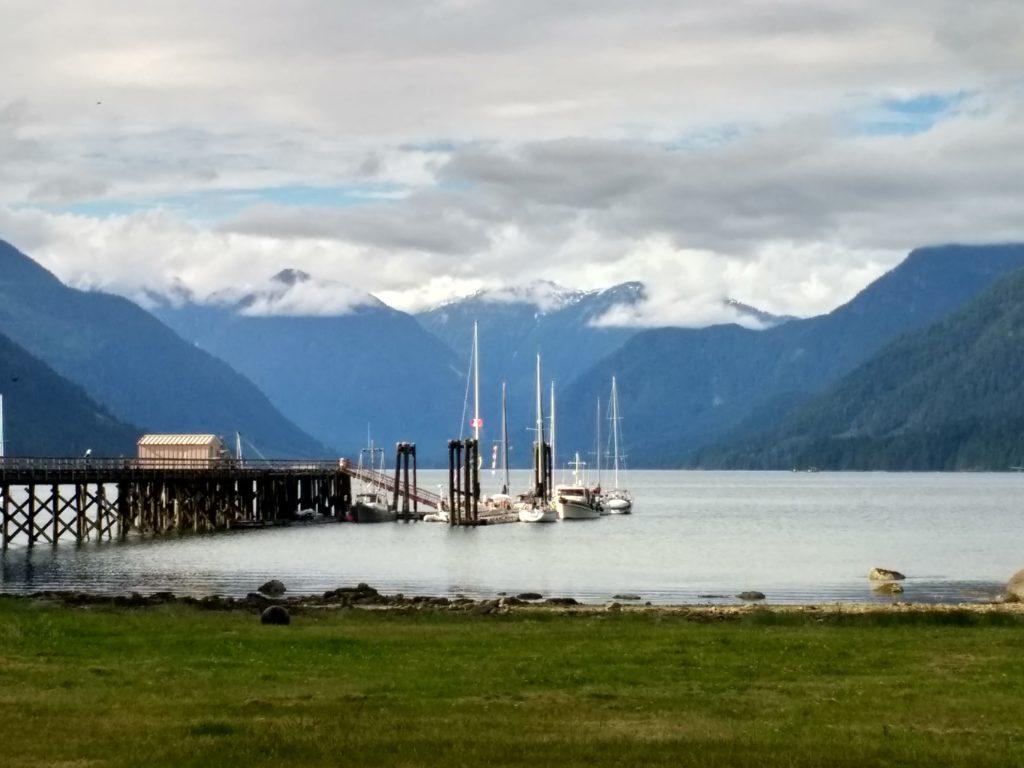 My favourite part were the swallows, which flew so fast and SO CLOSE to you while going PEW PEW PEW. You can kind of see them in this video clip
There were a bunch of other people at the dock, including a youngish Quebecois guy in a 28′ boat called Sam. We didn't speak to him but I'd end up spending a bunch of time with him later on (FORESHADOWING OOOOOOO)
Leaving shoal bay next morning, we saw Gladrial (Sam's boat) sailing up ahead so of COURSE we threw up our sails and went to show him who was boss. Which wasn't us it turned out – in the light air he spanked us. Ah well. Still a nice time tacking down the channel in 4 knots of wind. I blame the drag of the porta-bote which we were towing…
We hit Greene Point Rapids more or less at slack, although apparently, they ain't too bad even if you miss it by a bit. After motoring through them we put up the sails once more and spent 4 hours sailing to the NEXT set of rapids, whirtlpool rapids. Despite the name, these aren't too bad although we arrived at full flood and it looked a bit too tasty for me, so we anchoring for a couple of hours. I did some jigging (first fishing of the trip!) and caught some small rockcod and this pretty kelp greenling.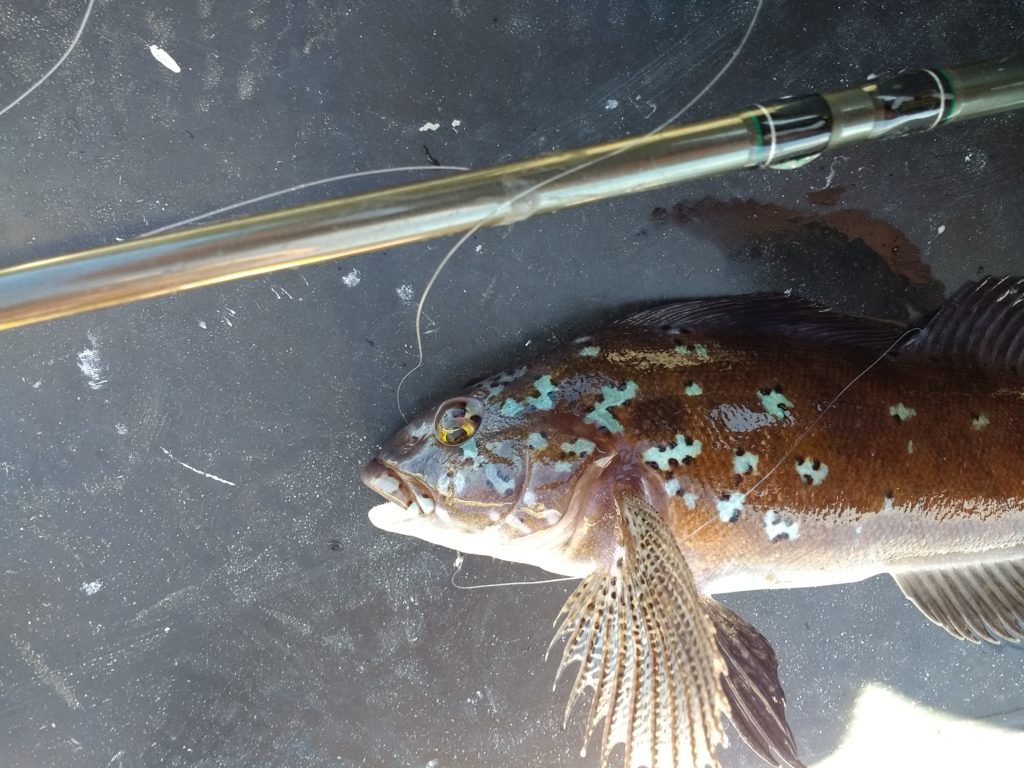 all went back, although apparently, Greenling are good eats. Maybe next time.
Once the water had settled we motored through and anchored in forward harbour, where again, I'd been before two years ago, although we'd come a different way then.
It was very busy so we anchored down the other end by ourselves and went to sleep.
The next morning I was grumpy at having to pull the anchor in 60 foot of water by hand (it sucks) and the fact it was miserable and rainy didn't help. Zero wind as well, so we just wrapped up warm and motored through it, taking hour shifts so we didn't get too cold.
Here Emma enjoying her SUMMER VACATION
Basically hours of this accompanied by the THUD THUD THUD of the engine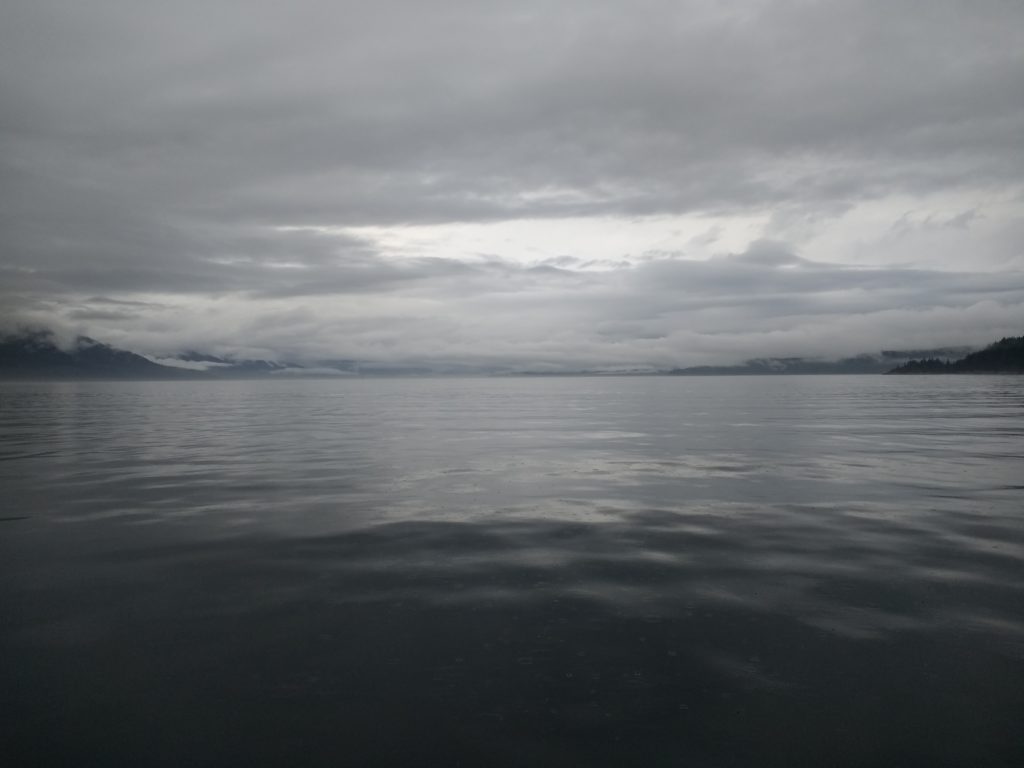 ANYWAY we eventually got to Chatham Channel which we went against at full flood meaning we screamed through at an astonishing 3 knots (which is maybe just faster than walking pace) and then we had arrived at Lagoon Cove in the Broughtons! Hooray!!!