MONTH LATER EDIT: I am pretty far behind with these, sorry! It's hard to post with no internet.
After we left the copelands we headed towards Desolation Sound.
Desolation Sound is a very misnamed area, that is extremely pretty AND has warm water (as it is located where the tides meet on the inside of Vancouver Island, meaning the warm water doesn't get flushed into the Pacific).
However it also gets RAMMED in summer, with a LOT of boats, being an easy couple of days trip from Vancouver/Seattle by a fastish boat. Since we were there in early June, it wasn't too bad, way better than later in the summer.
Tenedos Bay
First we went to Tenedos Bay, there wasn't much wind and I was feeling lazy so we just motored over, and after mucking around a bit trying to find a nice spot ended up shoretying to a secluded little bay. The boat we hung out with in the copelands ended up tying next to us!
It was very pretty.
Dropped a prawn trap but only got one prawn which we put back. Poor lonely fella.
The next day we rowed the dingy to a beach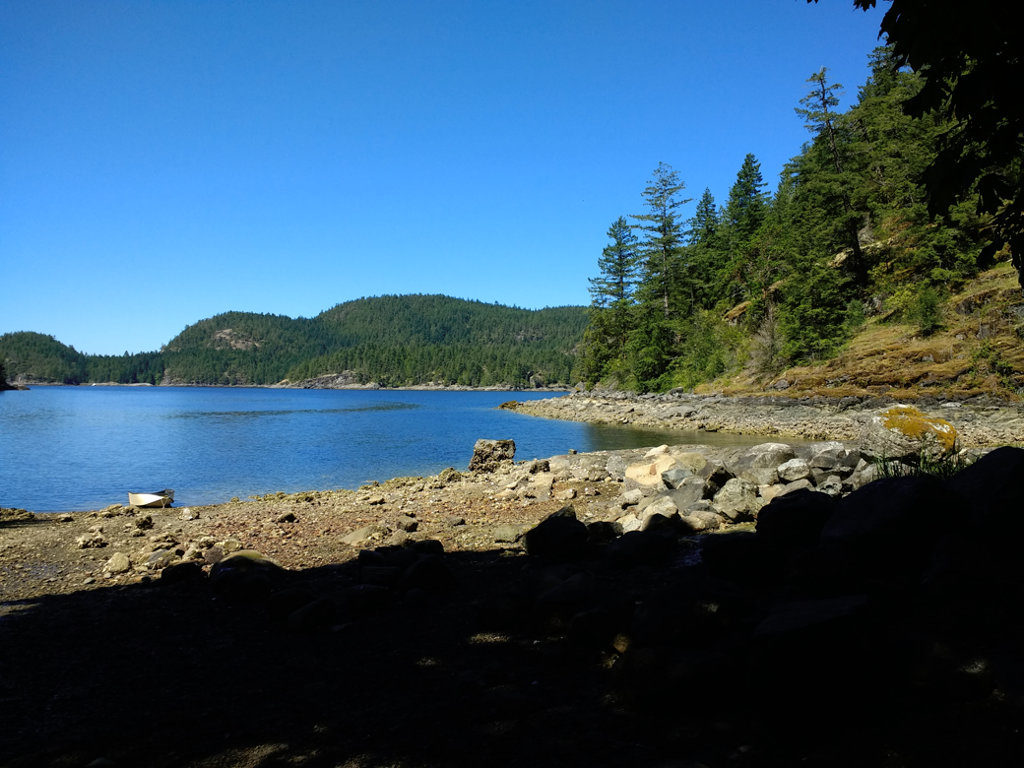 This lead to a trail which lead to a HUGE lake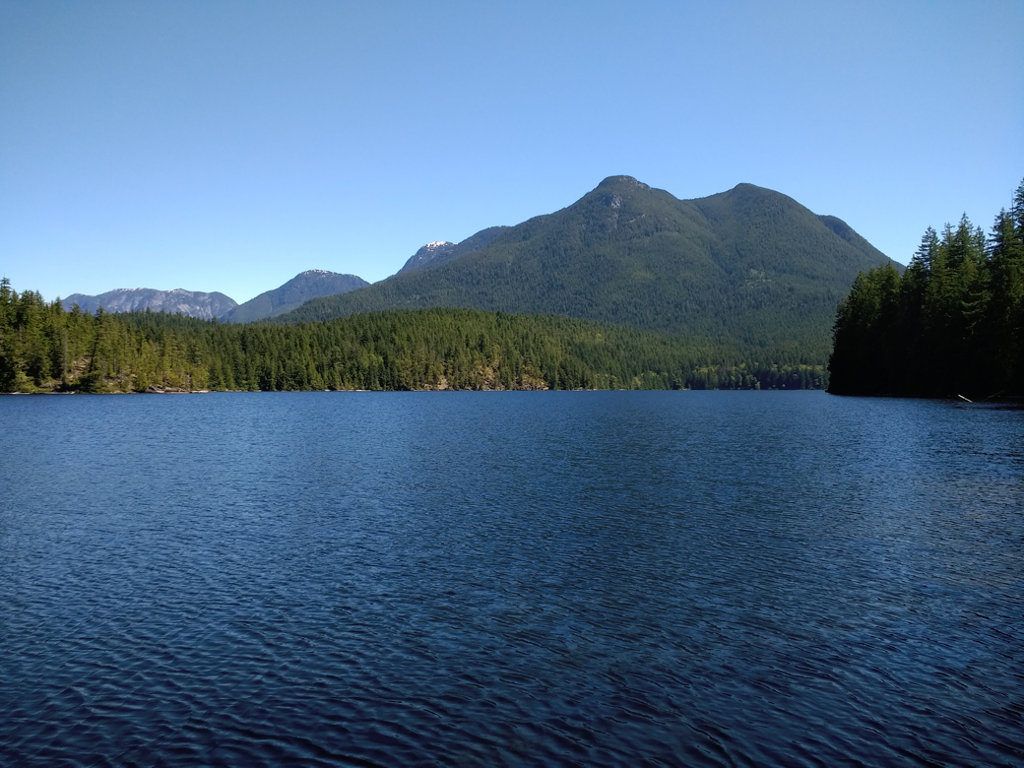 Great for swimmin' (especially since neither of us had showered in well over a week)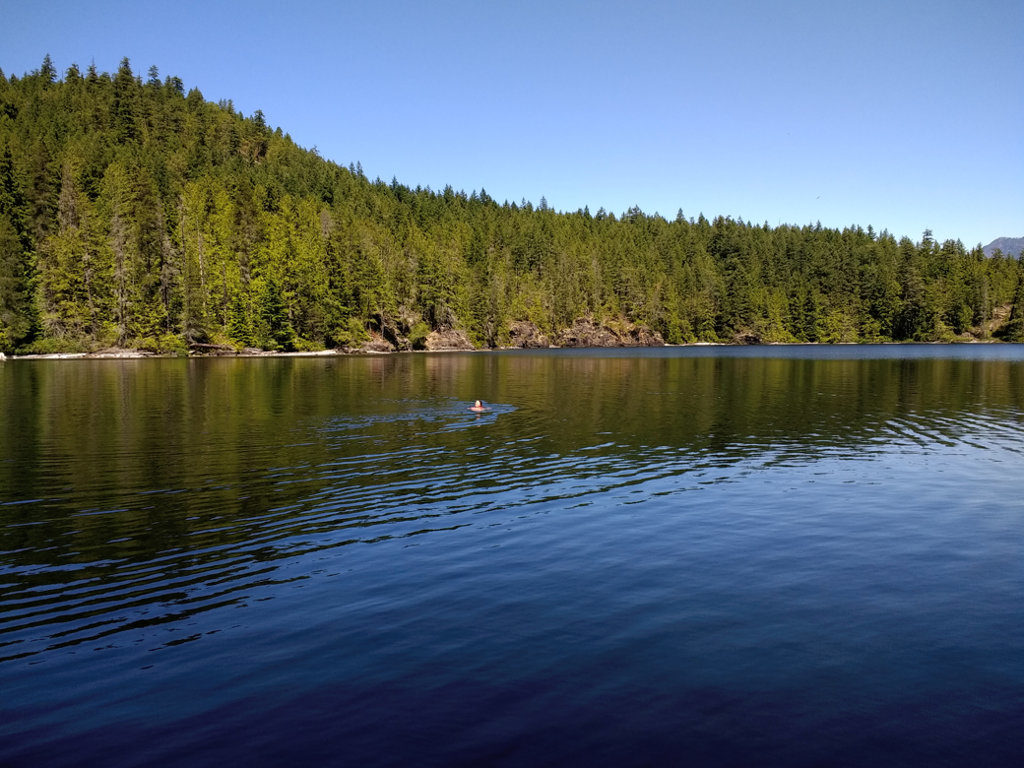 There were some massive tides those days – almost 15 feet.
From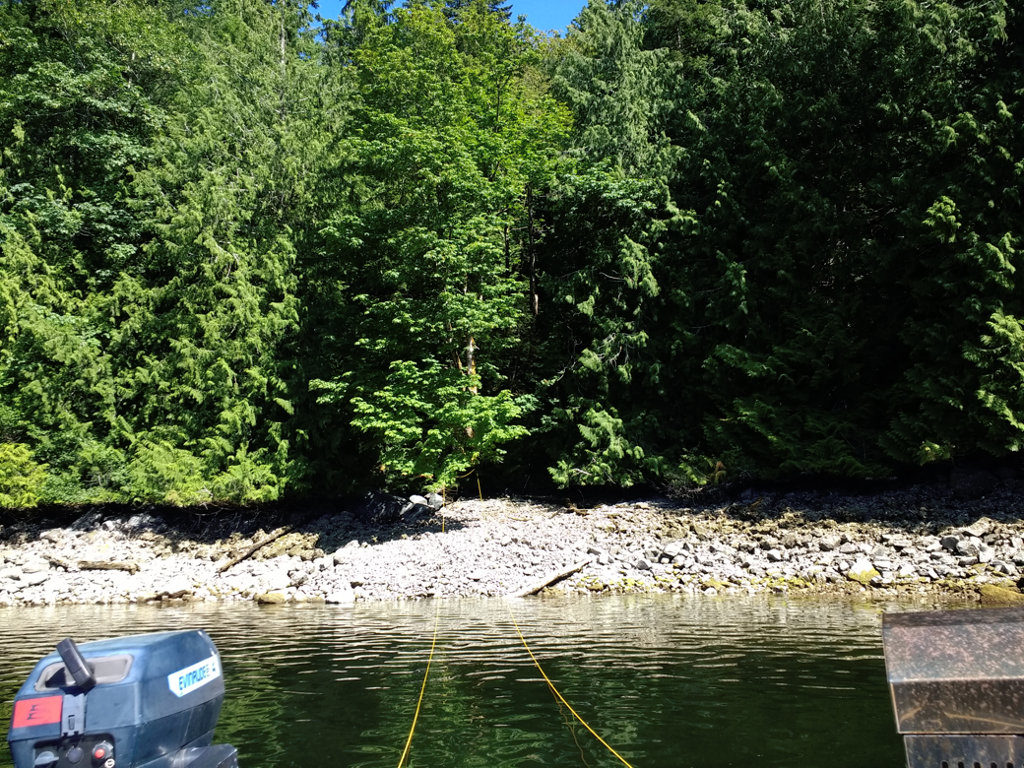 to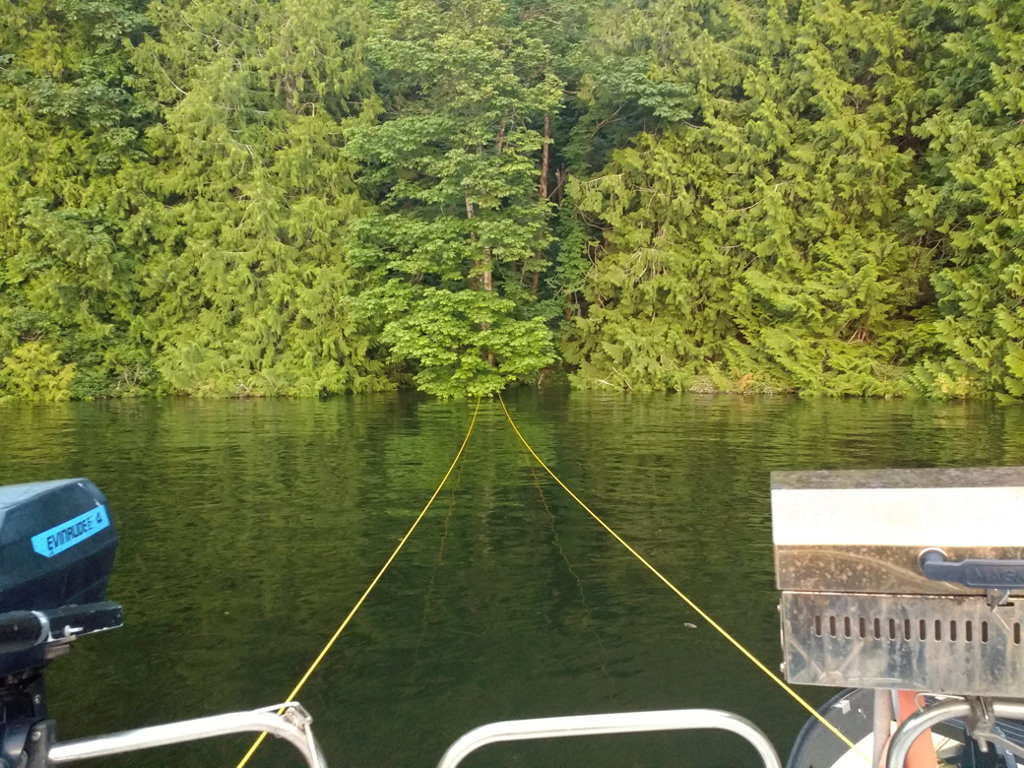 And a TON of moon jellies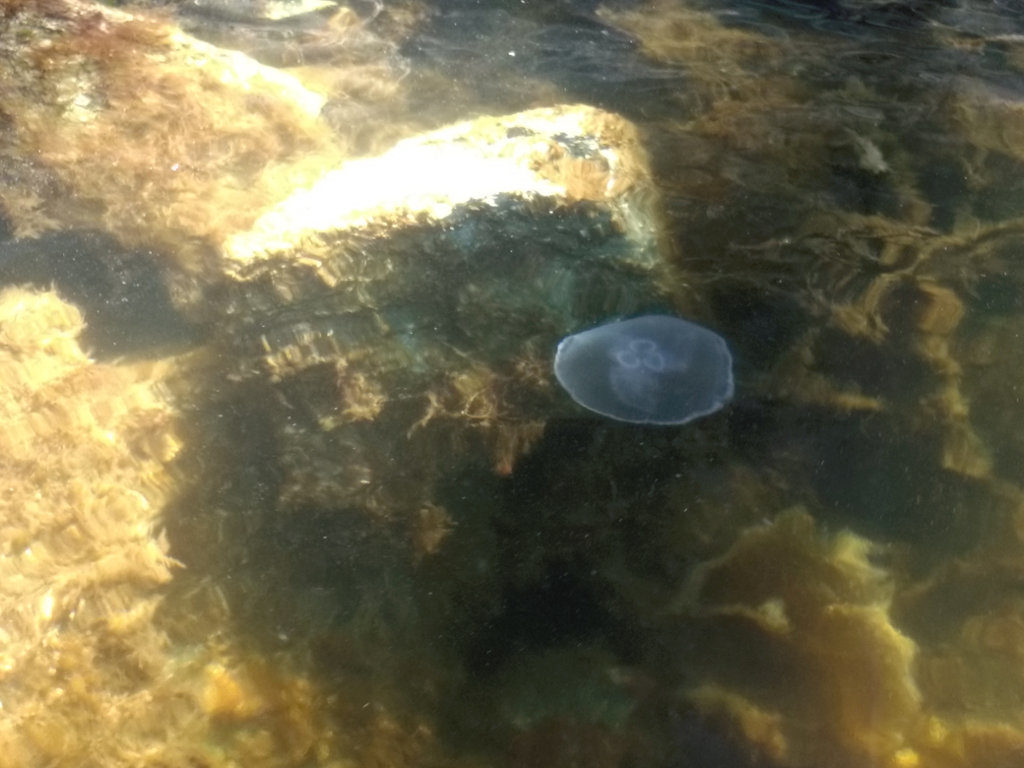 Emma swam a bunch in the 20c water but I got a bit scared by all the jellies (rated 'slightly stingy' by my jellyfish guide) so I didn't go in.
After doing some more prawning and only catching two (2) prawns we headed off to Pendrell Sound, where we had gone two years ago.
Pendrell Sound
Well this was an interesting day – after motoring up the end of the sound (where there was only one other boat) and dropping a prawn trap, our first attempt at anchoring was thwarted by Emma nearly falling into a hornets nest as she tried to do the stern tie and us drifting too close to some rocks, so we pulled up anchor and tried somewhere else – or tried to. The anchor got fouled on the remains of an oyster farm line, meaning it took both of us to heave it up and unhook it. Ugh. Then we drove straight into a log. Double ugh. No serious damage. Anyway after all that we got anchored and had a rest, only to be woken up at 5am by a strong wind sweeping off the mountains and blowing 20-30 knots. It all was fine but I didn't get back to sleep!
Things improved the next day when we did a spinny run back down the sound, and picking our prawn trap up under sail (fancy AF) and it had a ton of prawns in! Yum yum
A quick stop in refuge cove to get more diesel and we went to Squirrel Cove.
Squirrel Cove
This was a great anchorage. Large, shallow and nicely sheltered. The water was swimmable as well which was nice as it was like a million degrees. In fact it was so hot I actually put in the window screens I'd been carting around for TWO YEARS.
We actually liked it so much we stayed for 3 nights! We were going to go snorkeling in the lagoon but my outboard was pissing gasoline everywhere and it was a long row so we just lazed around and I finally hooked up the additional solar I had. We also saw James and Angela, people I met through my blog who were on their way to the Broughtons from Victoria to work for the year (and were kind enough to let me ship the map card for the west coast and a replacement toilet fan to them). We called in at refuge cove briefly to pick up a couple of bits and then when reversing out in strong winds the dingy went on it's side and scooped up a ton of water. Like, a LOT. It was too heavy to pull up and I was worried it would snap the painter so Emma climbed into it while I slowly motored around trying not to hit anything and she bailed frantically. Of course all this was in front of everyone at Refuge Cove – anyway eventually it was resolved.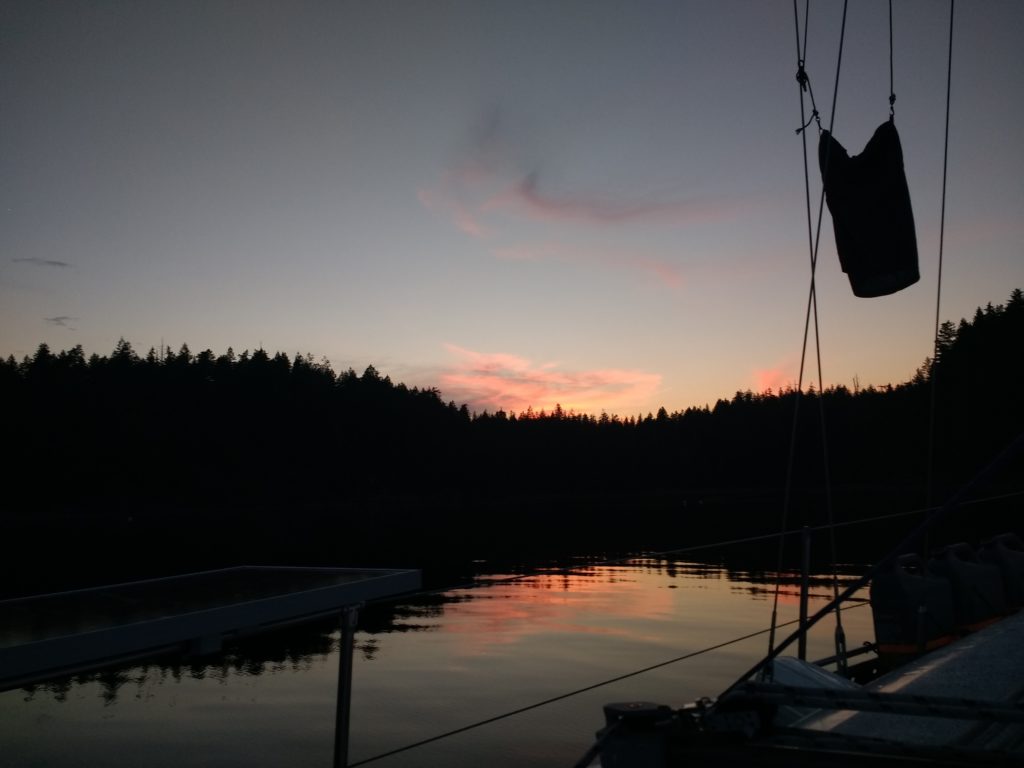 Von Donop Inlet
After leaving squirrel cove we headed for Von Donop on the other side of Cortez. This hadn't even been on my radar, but I wanted to meet Bruce from neverforever.ca and he was heading there. And it's a wonderful little place! Roomy, scenic, peaceful and with good holding. Bruce and Leslie are extremely lovely and Bruce had made some homemade bread that was quite frankly, amazing. A dutch oven is on the list for whenever I can get to a shop that stocks them.
Here is a not very good photo I took of their lovely boat.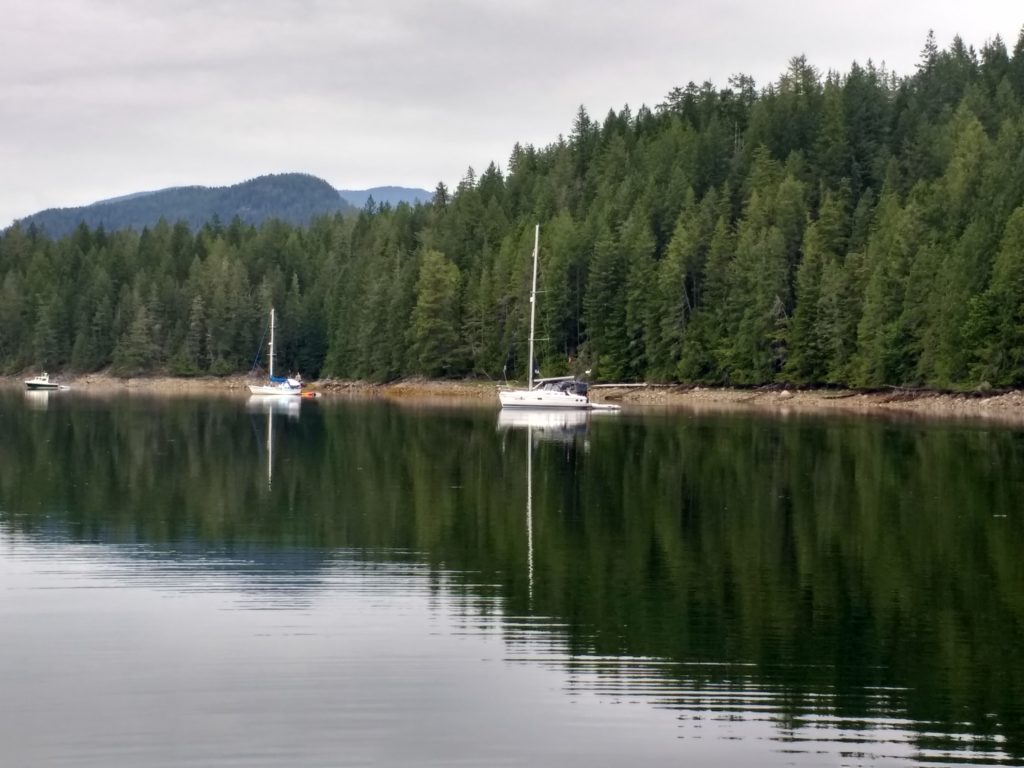 Leaving Von Donop inlet we saw a humpback super close – it emerged out of nowhere, and then slooooowly dived beneath the waves. It's quite a shock to have a behemoth that is bigger than your boat appear out of nowhere!