After arriving at lagoon cove (which was probably my favourite marina I've been to) I saw James and Angela again, as this was where they were working now for the next year or so which was fun as they are both fantastic people (who were kind enough to let me mail my map card and replacement toilet fan to them). After mooring etc we caught up over a LOT of wine meaning the next morning was a bit harder than it may have been otherwise. Anyway, we were up bright(ish) and early(ish) and decided to head to Potts lagoon, which apparently was nice. Sam from Gladrial turned up to get some fuel and left just before we did so the race was ON, again. This time we had a bit more wind than 4 knots so did a lot better and got to Potts Lagoon before he did.
Potts lagoon anchoring isn't actually in the lagoon itself but is in one of two bays, we checked out the larger second one but it was already kinda full so we headed to the other one – which was empty except for this insane powerboat raftup.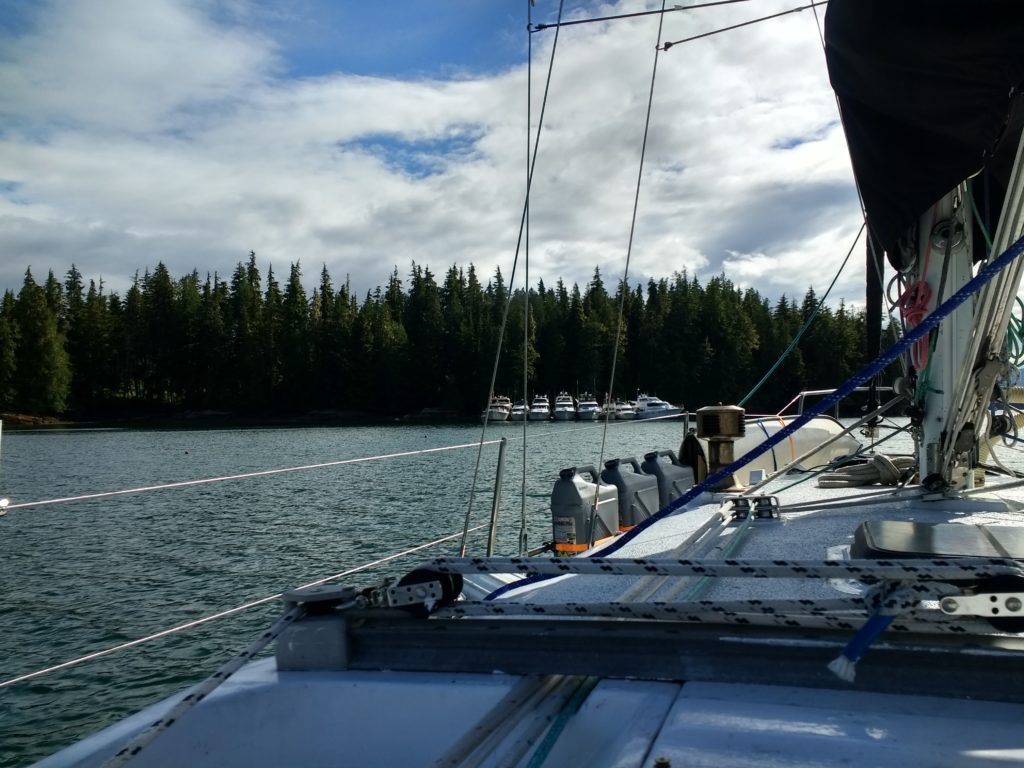 Let's zoom in a bit
Crazy! And all at least 30 foot. They also had a fleet of tenders as well that were zipping around. Anyway on our way out of the first bay we ran into Sam coming the other way and invited him over for a beer to finally meet him. He turned out to be from Quebec and was taking the summer to sail as far North in his little 28′ boat as he could – and he is a pretty amazing sailor. When we left and said goodbye to him he was hooking up some driftwood he'd found to use as a dinghy lift. #lifegoals. Oh, we also dropped some crab traps and again failed to get anything (this will become a running theme)
After Potts Lagoon we headed to Waddington Bay, which we visited 2 years ago and really liked. We anchored and then went out in the Porta-Bote to try our hand at jiggin' the day after.
I had huge success, getting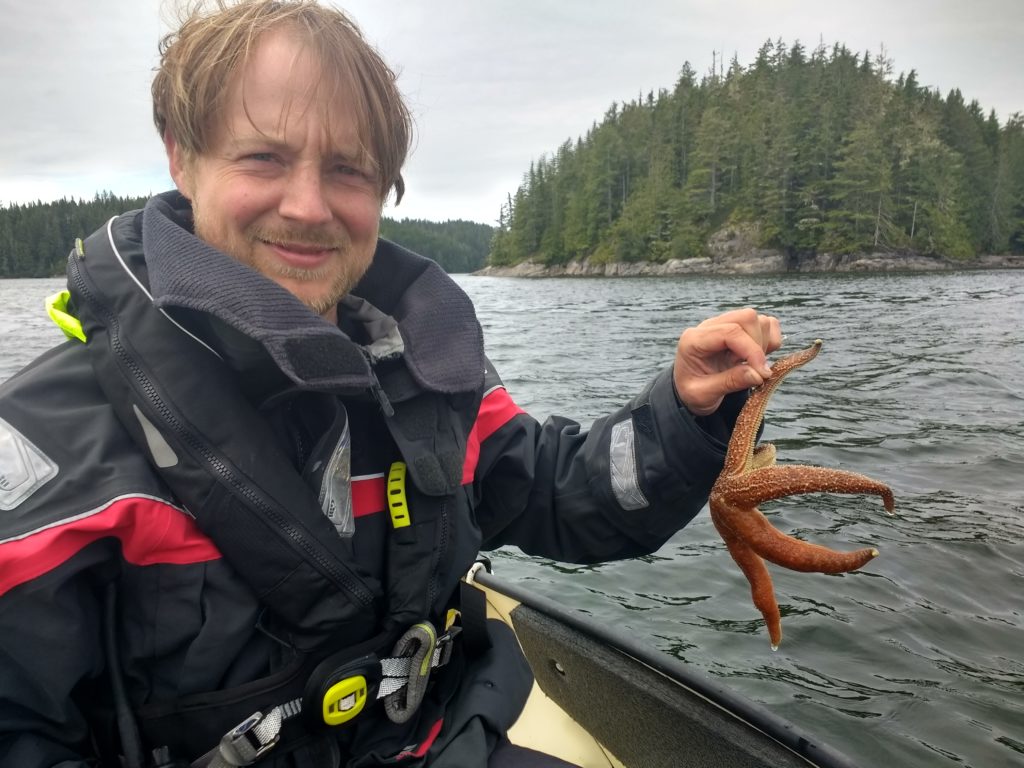 followed by
Basically if it was inedible I was ON it.
Emma didn't have much better luck, getting a bunch of too-small rockfish and a couple small soles.
Eventually, we went back for lunch and I went out again solo in the evening and managed to get a very nice sizeable rock cod which we turned into v v tasty beer battered fish and chips.
The next day we went to Laura Bay which was a nice bay with no-one in it, tried (and failed) crabbing again and I caught another sizeable rock cod. Nice.
After that it was Clayton Bay which I LOVED last time – he hung out for a couple of days there to crab, prawn and fish. Didn't catch anything worth keeping while fishing but we got one crab and a ton of prawns. Lovely.
The prawning this year has been fantastic!
Emma needed internet to pay her rent so we headed over to Sullivan Bay for the night – which was nice enough, but really felt kind of like a resort, so wasn't super keen on it. However, we had one of their freshly baked cinnamon buns the next morning and I swear to god it was one of the best things I've ever eaten in my entire life. It was AMAZING and I am still thinking about it. If you are up that way, GET ONE.
Then it was back to Claydon Bay for the next night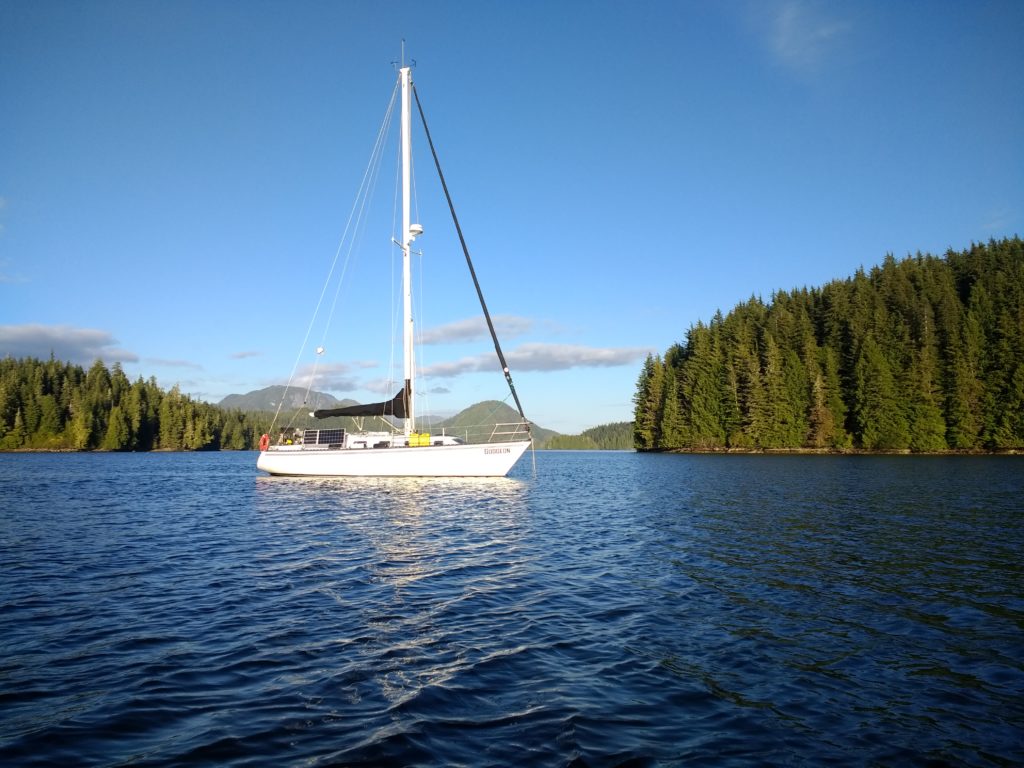 and an amazing sunset
Before we had to sail to Port Hardy as I had to drop off Emma and pick up my friend Emilie from Ottawa who would be traveling with me for a few weeks.
The trip to Port Hardy was uneventful and we got there in good time, though having to motor most of the way due to 0 wind – but while there I got a text from my friend Kyla – she was up the central coast in her sailboat with her friends on THEIR sailboat (a 37′ Cherubini Hunter – a boat in the same line as mine!) and they had run into Sam! All we had to do was get past Cape Caution and meet them…