After arriving at Emma's parents' house on the Saturday, we had maybe hoped to get away by Sunday. But with provisioning, packing and a billion errands we FINALLY got away on Tuesday afternoon at around 5, barely scraping out (including one last minute panic drive around machine shops trying to find someone who could do some same-day work).
As it was pretty late we decided to do a short hop to Burgoyne Bay on the west side of saltspring, partly because it was close, partly because I'd never gone up the west side of saltspring before, and partly because they had a brewery! It's a pretty deep bay that was fairly crowded with both resident liveaboard boats and some cobbled together floating structures that were super interesting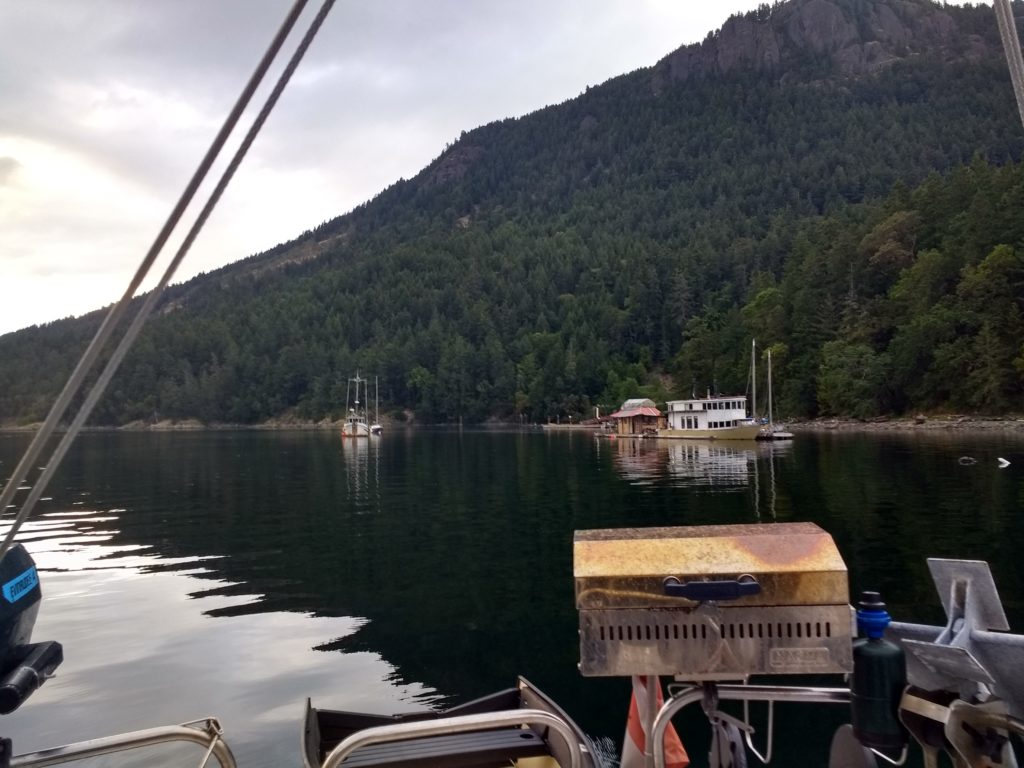 The next day we walked up to the brewery, found we were there an hour early and then instead of hanging around outside we went on a short hike, arriving back a respectable 30 minutes after it opened. The brewery is a funny little placed, tucked away in the middle of nowhere.
Filled up our growlers and then we were on our way to clam bay on Thetis Island!
Last time I was here it was in August and it was packed – this time it only had four other boats. Very nice!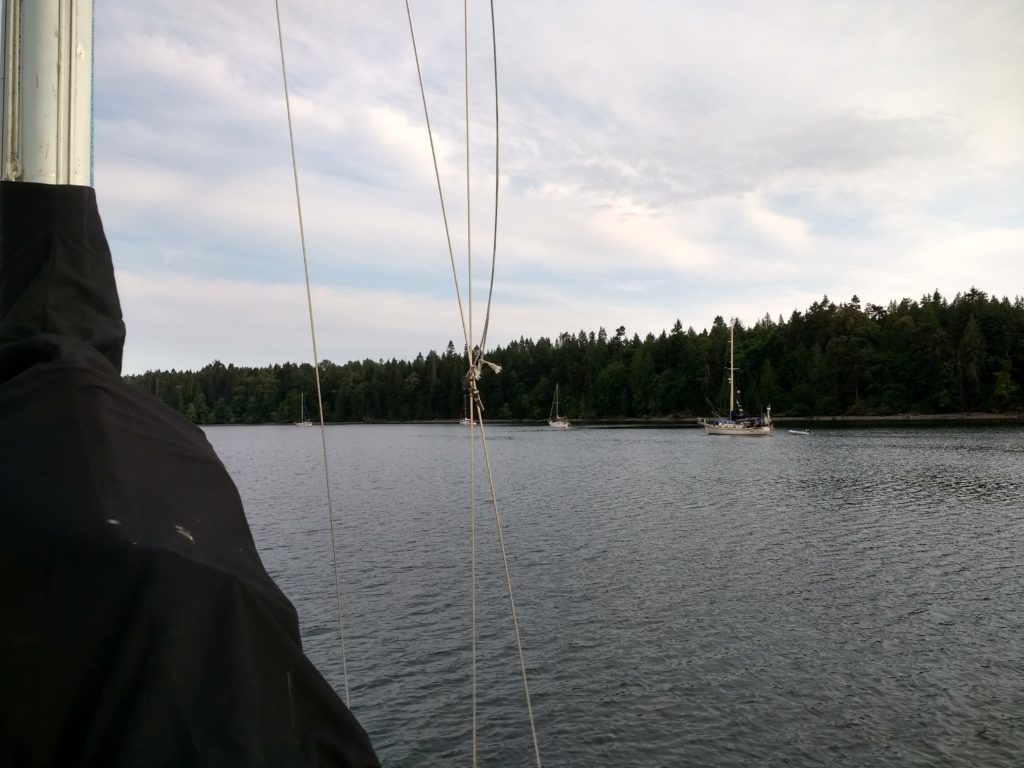 Had an uneventful night on the hook, failed to catch and crabs and then had an earlish start to get through Porlier Pass (which you have to time correctly so as to avoid any strong currents) and then onto the Strait of Georgia. It was predicted to be a 10-15 knot SE (so behind us) but quickly rose to 20/25 knots. We put away the Spinnaker and enjoyed a rather rambunctious downwind sail under reefed foresail and main, making over 9 knots at points as we surfed down waves.  Fast, but the strait gets some real nasty chop in wind against current and it was kind of a relief to get into the lee of Thormanby Island, in Buccaneer Bay. It also started to rain, and hasn't stopped since.
Below video is from when we had nice 10/15 knot winds for an hour or so and got to use the spinny again
And this is when the wind picked up and we switched to whites.
Buccaneer Bay proper isn't very sheltered from the South surprisingly but we found a nook behind a log raft
A nice anchorage, lots of seals hauled out on the rocks nearby (and I think I saw a fur seal?) and eagles above. And rain.
The next day we went to Garden Bay in Pender harbour…. which was NOT what we expected. Pender Harbour is on the mainland and is FULL of giant vacation houses and docks and boats – after the solitude of the last few days it certainly was a bit of a shock to the system! Nice enough place to spend a rainy afternoon evening though, and we got to sail almost all the way there. At this point we'd managed to sail around 70% of the time, which was lovely.
After that – it was an early start for Princess Louisa Inlet and Chatterbox Falls! Route track below (note 2nd pic is a different scale as we had such a good day we went OFF DA CHARTS)