After a long few days of sub-zero temperatures, meaning the water at the yard wasn't working, it finally warmed up enough so the water started running again.
Which meant that I couldn't postpone cleaning any longer… here are some example pictures of how it looked before I started.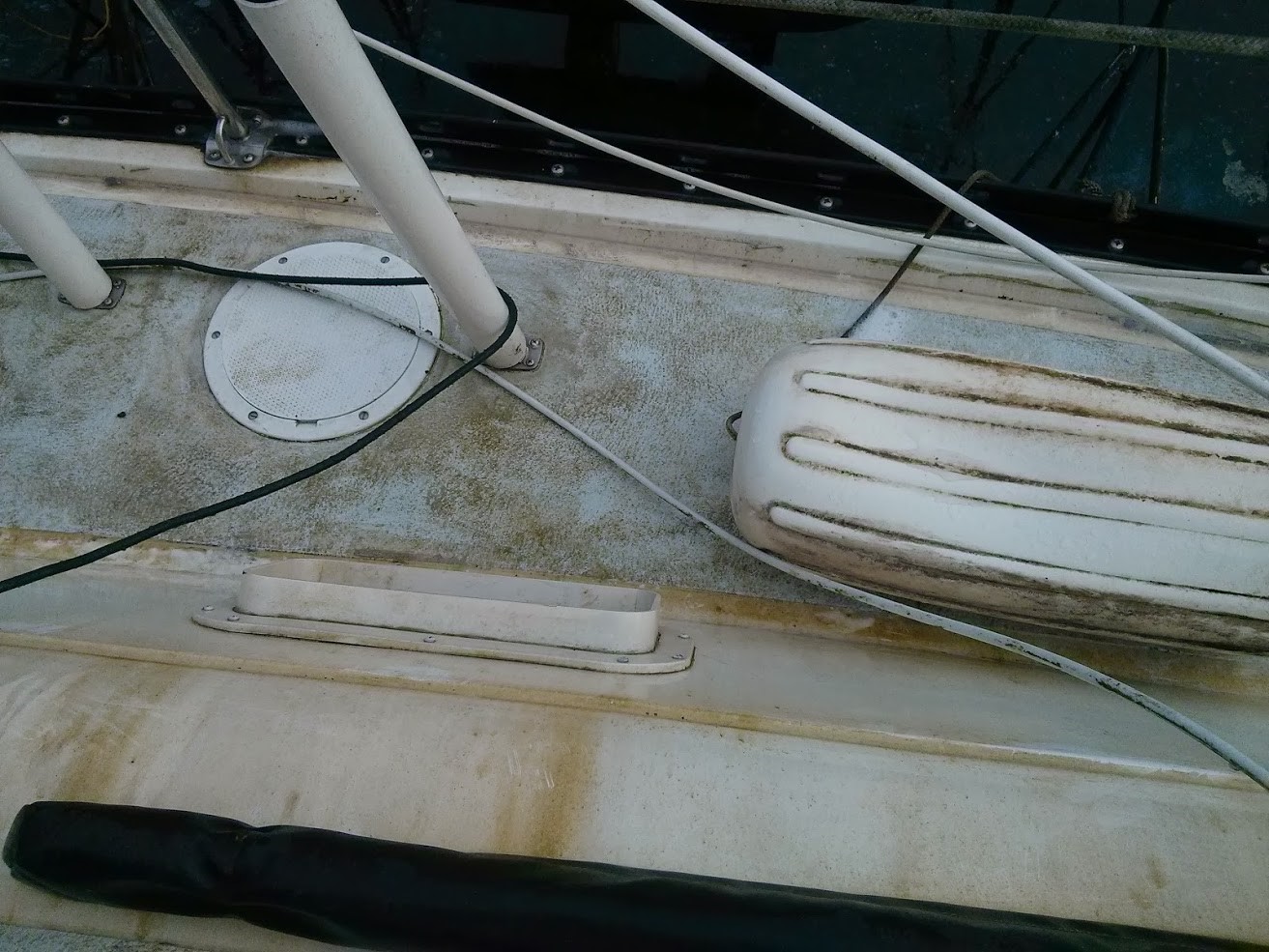 Pretty grim.
I started off using a warm bucket of water and Green Clean spray bottle, but that wasn't working that well so I dumped a ton of OxyClean powder into the bucket and called it a day. Using that and a scrubber, I was able to clean most of the flat surfaces – a notable exception was a lot of the cockpit surfaces, which had a wide and interesting variety of different shades of stains. I bought something for those, which I will go into tomorrow (it's nasty stuff, and I'll have to use a respirator).
Unfortunately the Anti-Skid paint refused to clean as easily. Making it more complicated was the fact that it didn't appear to be the original anti-skid surface, and was some paint that had been added later. It had lots of little airbubbles that had popped, causing tiny pits that just held dirt like noones business. I used a special anti-skid deck cleaner – the one by Starbrite, and it 'kind of ' worked. It got the worst of it off, but there was still a noticeable amount of grim clinging on. I'll give it another go tomorrow maybe, but if that doesn't work I'll have to think of something else.
Below are some more pictures of the (slightly cleaner) boat
You can see the anti-skid is still grimy. Another problem is that there are a lot of little stress cracks in the gel-coat (that had been hidden under the dirt), along with a bunch of holes that have been filled in with thickened epoxy – which doesn't match the gel-coat colour. Unsure what to do about this for the time being.
Bonus – while I was cleaning I got to watch a boat that had sunk (apparently due to thru-hulls that weren't looked after correctly) and that had been partially refloated being man-handled into the docks crane. Apparently the inside is completely ruined, and when I left they had pulled a skip right up to the boat and were just chucked stuff in there.
Tomorrow – starting to paint the bottom, weather permitting!