Last year some friends of mine all took our sailboats to an anchorage and rafted up together for Canadian Thanksgiving. I took Frawg (the Shark 24 I part-owned) up with my girlfriend at the time and it was really fun, despite getting intensely hailed on on the way up and then rained on, meaning we arrived shivering and cold (luckily my friend had just finished installing his new diesel heater on his boat and we soon warmed up).
This year we were doing it again except with even more boats. I wasn't sure I was going to go, as I was still pretty mopey, but my friend Phil talked me into it.
So minus the girlfriend but plus 13 extra feet and a cabin, I decided to go.
This would be the first real trip on Sooner, I'd had one aborted attempt a couple of weeks before and moved her from Pender to Victoria and to and from the boatyard but it would be the first trip where I was actually going to go just for the sake of it. Also the first trip anchoring. And the first trip solo on Sooner. Lots of firsts!
Also a lot of nerves. It was the first time I'd been solo on a boat for a number of years and I definitely was pretty anxious. Getting out of the marina was fine as I had switched marinas the week before and my new spot was extremely easy – no right turns, just a straight in and out onto the finger.
The meetup was at the well known anchorage at Montague Harbour, at Galiano Island. It was roughly halfway for everyone as there were boats coming from Victoria, Vancouver and Nanaimo! It was around 36nm for me.
I had thought about stopping halfway up and breaking the trip into two days but in the end the journey was going pretty well so I just carried on. It was very uneventful – no wind, the engine worked fine and although I don't have an autopilot yet the boat tracks so well, even under power that I could wander away from the tiller for a bit and it'd still be going roughly in the right direction (as opposed to Gudge who would start doing doughnuts basically immediately).
I just managed to beat the darkness into the anchorage (which was a good job as none of my running lights are hooked up), where after 10 minutes of faffing around and drifting I managed to figure out the windless and get the anchor down. Good job it's a huge anchorage and there weren't many boats there!
The sunset was pretty nice, too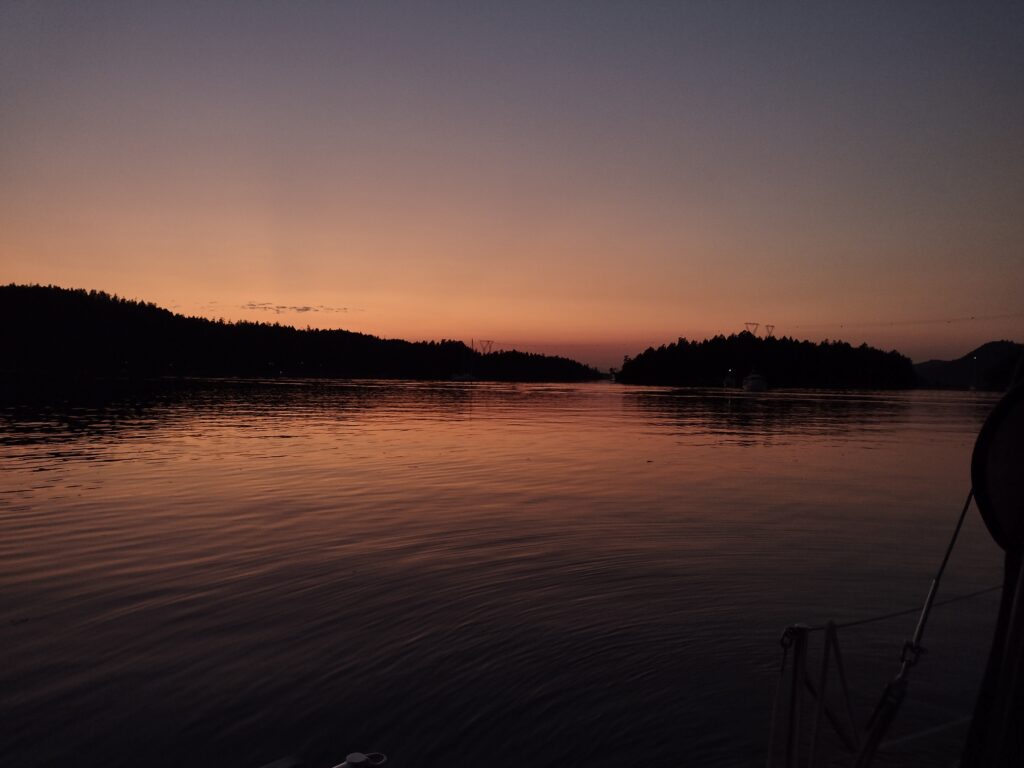 I slept like a log all night.
The next day everyone else was arriving. I put together the new porta-bote I'd bought for the first time and went for a rip with the 3.5HP engine I got with it.
Assembling the dinghy on the front deck was way easier than it was on Gudge, there is just so much more deck space and even though it was 10′ rather than the 8′ one I had on Gudge for most of the time, it was a snap. Rowing the 10′ was a lot nicer than the 8′ as well and I felt pretty good about my purchasing decision.
Ripping around the anchorage was really fun, I got on plane really easily and then the engine stopped and refused to start. Ah well, I probably needed to pull it apart and clean it anyway. Plus, apparently with a carb change it can get to 4HP so I may look into that.
While I was putting the dinghy together I found the remains of my tri-colour light that apparently had just fallen off the mast at some point. Nice!
I went for a swim, briefly which was really refreshing and then all the other boats starting trickling in. Everyone decided to switch to the North anchorage, so I pulled up my anchor and went to join them. Or tried to. Sooner has a manual windless and oh boy, it is sloowwwww. This wouldn't be so bad if there were two people so one could keep watching and stop you drifting into other boats but I don't think it's really tenable by myself. It literally took 20minutes to get the anchor up and I was sweating profusely at the end of it. I couldn't even pull it up by hand really as the slot the chain goes through is really small and hard to thread. Adding an electric windless to the list…
After all that I wasn't super keen on putting (and retrieving) my anchor again so Phil let me raft up beside him at the new anchorage and later on we had another boat join us.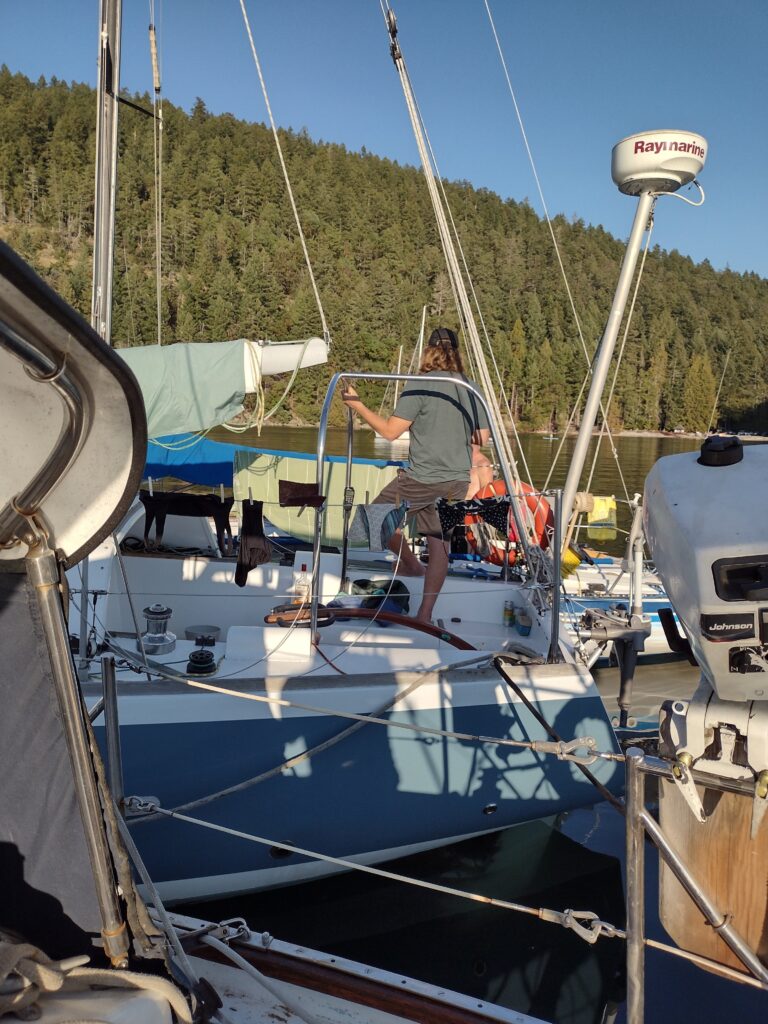 In addition to our three boat raft, there was another raft of five boats and a couple of people on their own anchors. A lot of people! It was the first time a lot of people had seen Sooner and I enjoyed giving them the tour. As the day went on everyone retreated to their own boats and started making their potluck contribution.
I made a quinoa salad because I mixed up quinoa with couscous which was what I actually wanted to make but it was ok and turned out, well, edible I guess.
Someone in an amazing show of forethought had brought a camping table so we set everything up at the beach and had dinner in front of a simply amazing sunset.
Pretty thankful to be in this part of Canada and knowing so many great peeps.
I was going to stay another day but there was a storm rolling in so I said goodbye and headed back to Victoria. The trip back was just as uneventful as the trip there (with just as little wind), and I docked with no issues.
Overall it wasn't just a fun trip, but I feel it really helped restore a lot of confidence in myself at handling boats (especially solo!) and going places. It also allowed me to really get to know Sooner a bit better and that was pretty big on confidence building as well – due to her displacement and (lack of) manoeuvrability she feels like so much more boat, despite only being a foot larger than Gudge.
Now to get some sailing time on her!