Firstly, I'm HALFWAY through my summer break! Only 2 and a half months to go till I'm back at the boat!
While I've been back in Canada (and working two jobs) I've been buying up a storm, getting both additional things to weigh down the boat make things easier, and also (less excitingly), parts for bits that are hard to get elsewhere.
I had a few drinks with my friend Phil whose been to the South pacfic and he recommended a couple of things that I ended up getting which I hadn't thought about
Decent Machete
Apparently this is essential for chopping coconuts and going through jungle etc. A decent one helps because otherwise you'll end up sharpening it every day as the super cheap ones don't hold an edge.
I ended up going with the Ontario Knives machete
and the sheath
I'm excited to chop some stuff!
Photo Printer
Bit of a strange one this, but apparently being able to take photos of people with their families on some of the more remote islands and print them out makes a great gift. And the printers pretty tiny so it's not really a huge extra.
After a lot of research I went with the Canon SELPHY CP1300
as it did a couple of different sizes of print while still being pretty small. The package I got also came with replacement ink and paper cartridges. I LOVE GADGETS
Dyson Handheld Vacuum
The next item seems a bit weird but I saw one on someone elses boat and I LOVED IT. It's the Dyson V7 Handheld Vacuum Cleaner
and it's really powerful. I've gone through a few handheld vacuums at this point, and they always seem to break after a few months, so I paid a bit more this time and am hoping this one lasts. If you are in Canada, they sell refurbished models on ebay for a lot less.
All round white light for dinghy
I've seriously needed one of these for years. Being run over while you are dinghying back to your boat at night is a constant hazard, and current work around of putting a headlamp on isn't great as it destroys your night vision, as well as constantly blinding the person sat in front of you (leading to a lot of cursing).
This removable light sits on a removable pole above head height so (hopefully) shouldn't do either. I got it from https://store.marinebeam.com/
Outboard parts
Readers may remember my old outboard got nicked, and I ended up buying a knackered 3.5HP Tohatsu for 100 bucks. This thing was more rust than engine at this point, but it ran. Sort of. Anyway I bought a bunch of parts for it as I imagine they are not easy to come by in Mexico, including a new impeller, spark plugs, a carb rebuild kit
and a few misc washers and screws.
I'm actually looking forward to rebuilding it!
Rigging stuff
So I need to pick up a new forestay feeder (pic below) (after I dropped the old one over the side around a year ago just after I got off the canoe cove docks) and also a replacement lower shroud connector, after I bent the old one out of shape and replaced it with a locally available one that looked a lot less sturdy.
Stainless steel cam and ratchet straps
These are actually probably one of the more important things I bought, as I use ratchet straps
a LOT but 2/3s of mine aren't stainless, meaning they rust, jam, and get crud over everything. I also got some cam straps
for good measure as you never know when they'll come in handy!
Yet another crimper
So I already have a bunch of different crimpers but THIS ONE IS DIFFERENT
I SWEAR. Its for crimping on square/round metal tubes onto the end of electrical wires, which are designed to go into those REALLY shitty screw connectors that are often used on solar controllers, circuit boards, etc. If you've had to use one you'll know what I mean. Anyway I hope this will help make them more secure.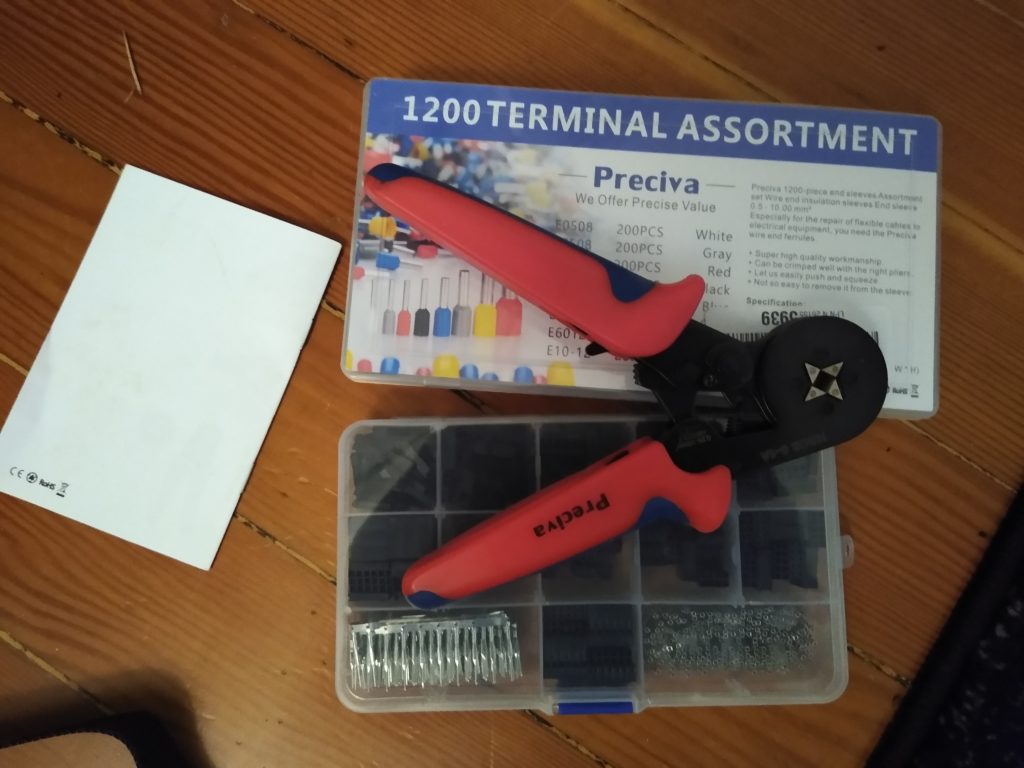 Parts for the 2QM20 Yanmar
While I'm here I am also grabbing some Yanmar parts, as the brand is virtually non-existent in Mexico. This basically involved a bunch of oil filters, and a rebuild kit for both the raw water pump and the antifreeze pump, as the raw water one may be leaking.
New Camera Lens
This one I've been waffling about for around 5 years but I decided to go with it. My maximum reach lens is only 100mm, and while it takes good sharp photos, it doesn't have the reach for stuff that's a little further away. So I finally gave in and got a Tamron 100-400mm lens
which has four times the reach. The reviews are great so I am very excited to use it!
And that's it, pretty much. I've been working through some edits to the dodger with the guy in mexico, so will update when that gets resolved.
NB: Some of these links are affiliate links which make me a few bucks if anyone buys anything through them