This weekend I went across to Orcas Island (first time since last halloween!)  I hadn't seen Elyses for a while and I had some stuff there to pick up. Emma also came along, after spending 7 hours to get from Vancouver to Victoria (she got all the way to the ferry in Vancouver, realised she hadn't got her passport, drove all the way home to get it (an hour drive), made it half way back before realising she'd left it at home again. 3rd time lucky, but it meant she had to get the 9 ferry and got in at 23:45 Friday night).
Anyway, we got off to a nice start, what with the sail cover zip jamming requiring a lot of fiddling around to get it to open, so I set the AP to hold us into the wind and went forward to help Emma. While this was happening I noticed we'd started to do donuts – a quick check of the AP showed that we hadn't accidentally activated 'badass' mode – instead the rudder indicator had fallen off the drive unit. Hmm.
Anyway I put it back on, we got the sail cover unstuck and off we went on a nice broad reach
Pretty uneventful trip – sailed half, motored half and saw a small pod of orcas, which is always really nice. At Friday Harbor we had to check in so I could get my cruising license renewed which took a while and then it was just the last bit of the trip to do.
Then we said hi to Elsysee, picked up my stuff and went back the boat, where i discovered that the next days forcast had move from 20-30 to 25 – 35. Balls. We got an early night as it was supposed to be ok in the early morning, and I wanted to leave early to get out cattle pass before it REALLY got nasty.
So, 5:30am the alarm goes off. Hooray for weekends I guess. We motor out of the San Juan islands, and as soon as we get out Cattle Pass into the Juan de Fuca, the wind picks up. It's blowing around 25 knots from behind and to port, so we let out a bit of genoa – until the winch made a horrible noise and stops winding. Alright then, motoring it is.
The seas are really lumpy, with short sets of steep 6′ waves maybe 3′ apart rolling through. There was enough of a south component to mean we were getting hit on the beam pretty good so it wasn't exactly comfortable.  As we went past where the Haro strait enters the Juan de Fuca, the wind picked up to around 30-35 sustained, with the odd gust over 40. Not fun. The waves got worse as well and started breaking – we actually had one break over the cockpit and the boat got swept up and knocked over around 50 degrees and the cockpit got filled with water. The steady smashing sounds coming from inside the cabin didn't exactly fill me with good cheer either! This is wind report for the time (we were out from around 7 to around 12).
Emma of course was loving it.
Luckily one of my packages was a OS1 jacket and trousers set from Gill (that I got for under half price – always buy foulies when that season is being discontinued!)  so I was dry, except for my feet as I had bizarrely not worn my boots and my moccasins aren't exactly waterproof. I also don't have any pictures of the storm as I was too busy hanging on. (No pictures of the orcas from the day before is because I am lazy)
Eventually we got in at around 12 and started the task of clearing up. Fortunately the only permanent damage seemed to be my beloved teapot – RIP. Though I still need to dissemble the winch, my steering went weird and the autopilot kept disconnecting, so I probably need to figure that out. That's the advantage of going out in crappy weather like this – you can see what holds up in crappy conditions.
As for the rest of my stuff, I got:
Three snatch blocks – 1 huge one for a storm anchor so I can heave to ala storm tactics and two to use as my jib sheet blocks, so I can easily move them around the toe rail
Sextant + a book full of numbers (I have not started learning how to use it)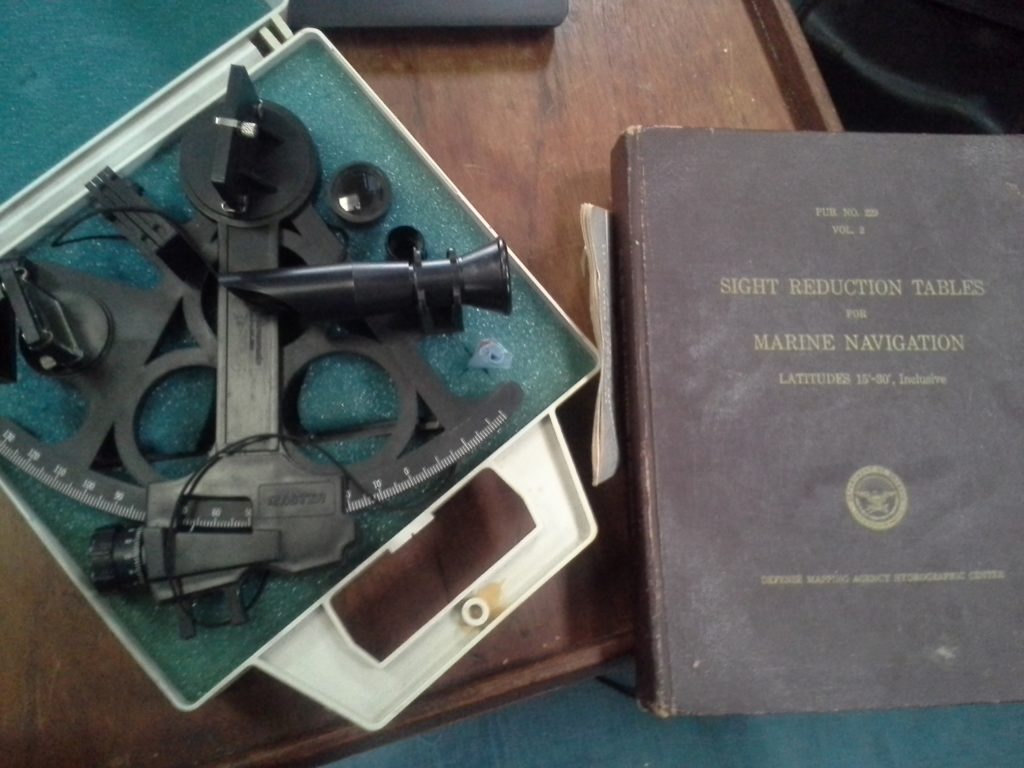 and finally (and least excitingly) a wheel adapter from a defunct autopilot that I hope to make work with my windvane.