This is a two-parter as this wasn't quite the causal jaunt across the Gulf of California that I had planned.
The following two maps show the route – note that the wind comes from the NW generally, so it would be at best a close reach.
It started off well, cast off the lines, waved goodbye to people on the dock and motored out.
It's around a 15 minute motor to the breakwater, and we were serenaded by swallows the whole time.
The breakwater can be tricky – it is normally dredged, but the dredger broke last year so it hadn't been done for a while, meaning it's down to around under 10 feet.
You have to hug the right-hand side, and cross your fingers! Anyway, we got through it fine and then it was out in the open ocean!
We motored for the first couple of hours to get into deeper water and hopefully away from the rollers, which were kind of big (and seasickness inducing) (it didn't work) and then put the sails up.
There was a brief bit of excitement when we hooked a nice size mahi, which got away unharmed due to some monumentally shitty gaffing on my part (I'm out of practice ok!)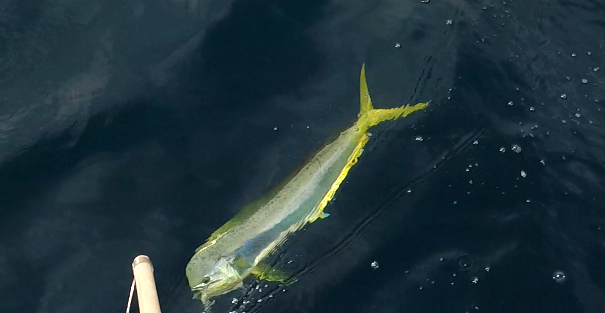 He was also very acrobatic and did a ton of jumps and flips (looking a bit like an alien chest-burster in the below shot)
Anyway, once he had safely escaped I started feeling seasick – unsurprising as I hadn't been sailing for a long time, the water was getting pretty choppy as the wind built to over 15 knots and we were hard on the wind
Soon after I was chucking up like it was 2018 (it was, in fact, the first time since I think Eureka over a year ago)
The combined effect of that and the Gravol I had taken (of which the only effect was to make me really sleepy) pretty much meant the rest of the day was spent in a miserable haze. I was even too seasick to fish! As the wind picked up even more (blowing a steady 15-20) I put a double reef in the main and then rolled in the headsail a little bit (which I try to avoid when beating whenever possible, as it tends to greatly diminish the boats pointing ability). The seas kicked up even more, into 3/4 foot chop separated by a couple of seconds meaning the boat kept burying in the bow in every other wave. Thump thump thump. Even Liz who never gets seasick got a bit queasy.
Eventually, the sun set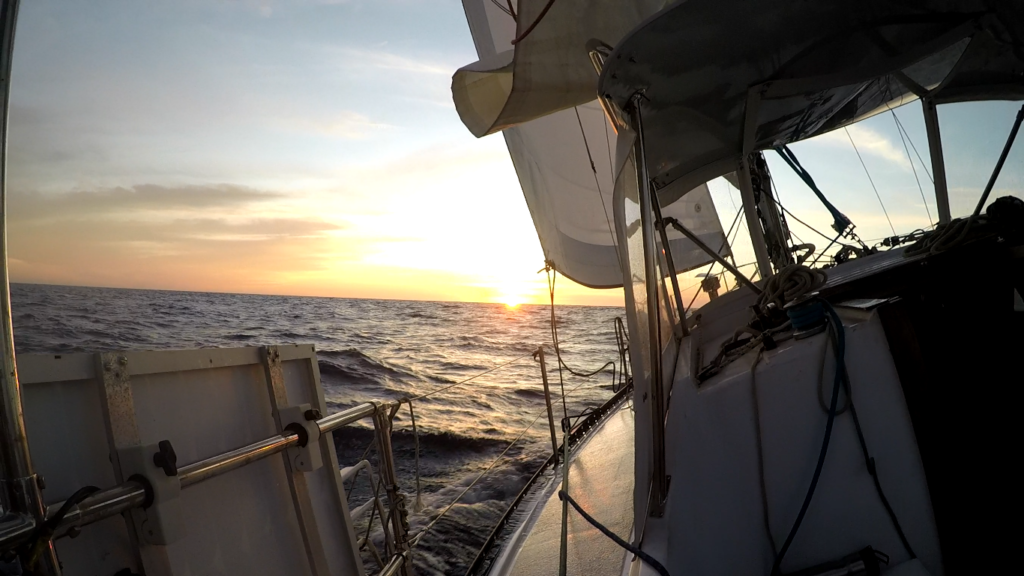 As the light faded, I went and switched on the radar, only for nothing to happen. Wonderful. This was followed by a particularly big wave smashing into the bow running lights and taking them out. Even better! Who needs radar and lights anyway eh?
Luckily I still had the red over green at the top of the mast, so we had some visibility to other boats. The night passed fairly quickly – I was so wiped that I passed out hard for both of my 3 hour sleep, and Liz did the same. One thing of note that happened was I overheard a Pan Pan (the level below Mayday) call from another boat around 20 miles away from us, requesting medical advice. We found out later that they had a crewmember so seasick they actually stopped breathing and they had to run downwind to Cabo and get them to a hospital! Luckily, it apparently all worked out in the end.
Finally, it was morning
As the sun rose further we had a bunch of boobies circle the boat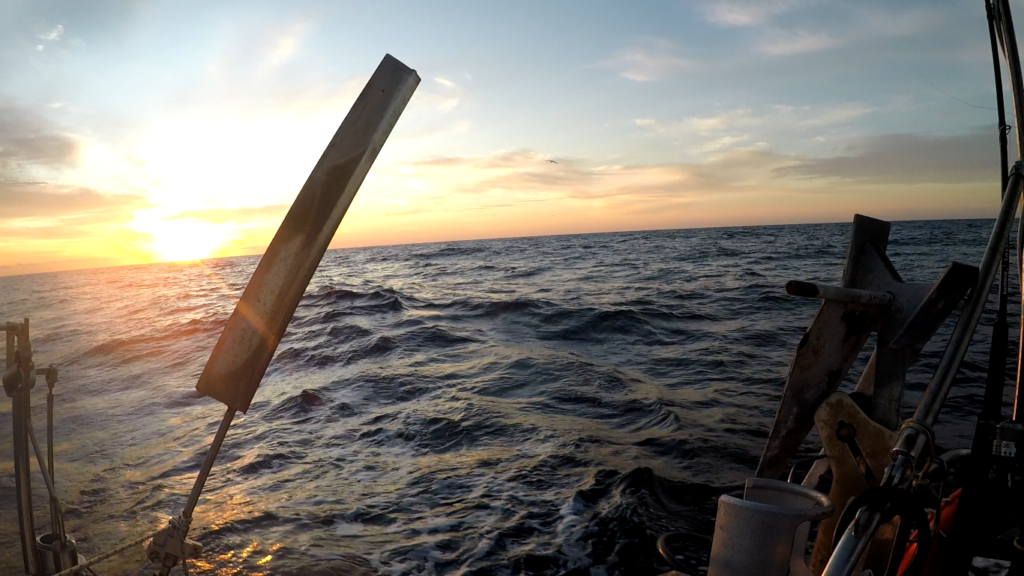 The wind had died slightly and so we were able to shake the reefs out – the reduced seas as well helped my seasickness so I was able to be a bit more active (though not well enough to fish!). The bad news is that we were still hard on the wind and couldn't make enough North to reach La Paz (our original target) or Muertos (our secondary target). Instead, we were going to arrive around 5 miles north of Los Frailes.
The rest of the day passed uneventfully.
It got dark again, and we decided to keep sailing and tack up against the wind to reach Muertos. At least until we saw some lightning storms on the horizon, and decided to instead run for Los Frailes. Being able to crack off the wind for the first time in 36 hours was a huge relief and we roared down to the anchorage at over 7 knots.
Once there I tried to recall how to anchor, and we finally stopped. Just before bed I checked on the engine (which we had only used for around 3 hours the whole trip) and found there was a slight leak on the fuel filter. Attempting to tighten it lead to the whole screw breaking free – the threads had completely gone on the fuel filter! Meaning we had no engine, in a place with no cell service, and a strong North wind starting up the next day and blowing for several days.
I spent 30 minutes trying to figure out what to do and then decided to go to bed – I was so exhausted, and everything looks better in the morning!
A big DOUBLE THANKS to Judy for being the latest Patreon!