I don't want to complain too much after last years winter (where it started raining in September and didn't stop until May, aside to snow a bunch) and this autumn has been pretty nice – but couldn't it wait until at least December before snowing and getting really cold? The combined cold and wind has made getting out of bed a herculean task. Electricity at my new marina is a flat rate so I'm thinking about getting one of those oil-filled radiators and just leaving it on full-time in order to take the chill off. Because getting out of bed into a cold boat and then getting onto a colder bicycle to cycle to a cold office in a warehouse at work is REALLY not doing it for me right now.
In the meantime, I took advantage of the lack of rain to finish off a couple of bits and bobs
Finishing attaching deck hardware
Yes, I know I finished painting a month ago but I am lazy so there was still some non-essential bits I hadn't put back on, like cleats on the non-marina side of the boat, the downrigger power points and the anchor locker cover. I finally finished these and now everything is back in place. Depressingly, the boat ALREADY needs a good scrub. Sigh.
Resealing the V Berth hatch. Again.
This would be the second time I did it, the first time being a while ago. Unfortunately, the first time I did it I kind of (well, completely) half-arsed it and didn't really remove all the old caulking. I for some reason also decided to do it in two stages, first gluing the plexiglass to the frame, allowing it to dry and then filling in the gap around the outsides. Obviously this was a terrible idea and didn't work, showing itself in a perfectly timed drip of water one stormy night. Anyway, I finally got around to redoing it months later so I can finally take off the cover again.
Filling in the weird holes in the back of the transom
One thing I noticed when I was painting and removing stuff off the back of the boat was that there were two vent covers stuck in place on the back of the transom. Further investigation showed they were covering two holes in the transom, of which I have no idea why they are there. So I decided to fill them, as having them covered by a slatted cover was an invitation to flood the boat with a following sea. Unfortunately I did not have access to the back of the holes. So I kinda kludged it a bit.
First I got some wood around the right size, coated it with epoxy, and then using a screw as a hand hold maneuvered it through the hole and held it in place against the rear of the gap. Then I got another piece of wood laid across the hole, and screwed through it into the other piece of wood, meaning that the screw pulled the two pieces of wood together and held the 'backing plate' in place until it dried, forming a back layer I could build on (I figured out this myself and am obscenely pleased with it, hence the detailed description/pictures)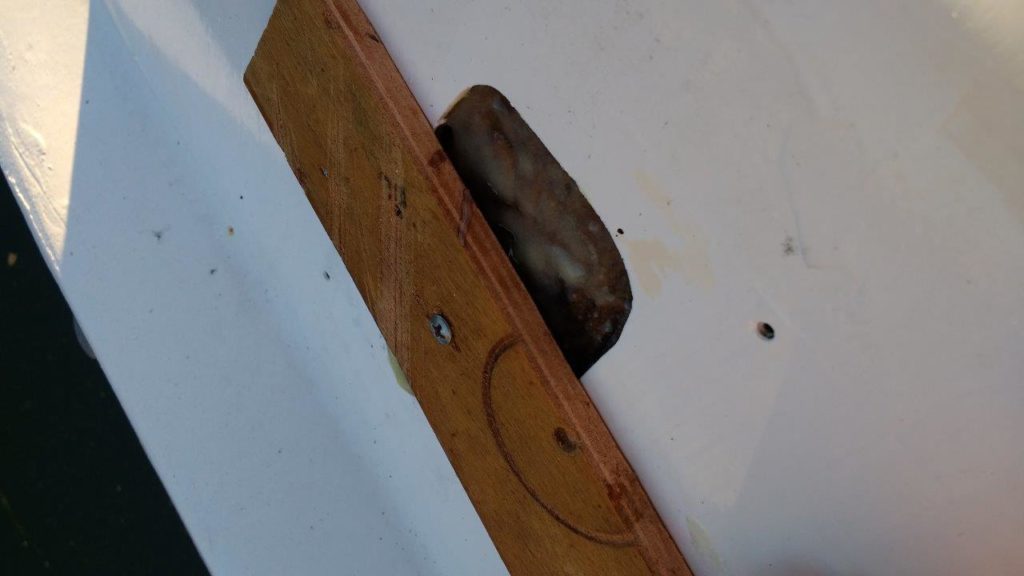 Then I undid the screw and built on the backing plate with layers of fiberglass and epoxy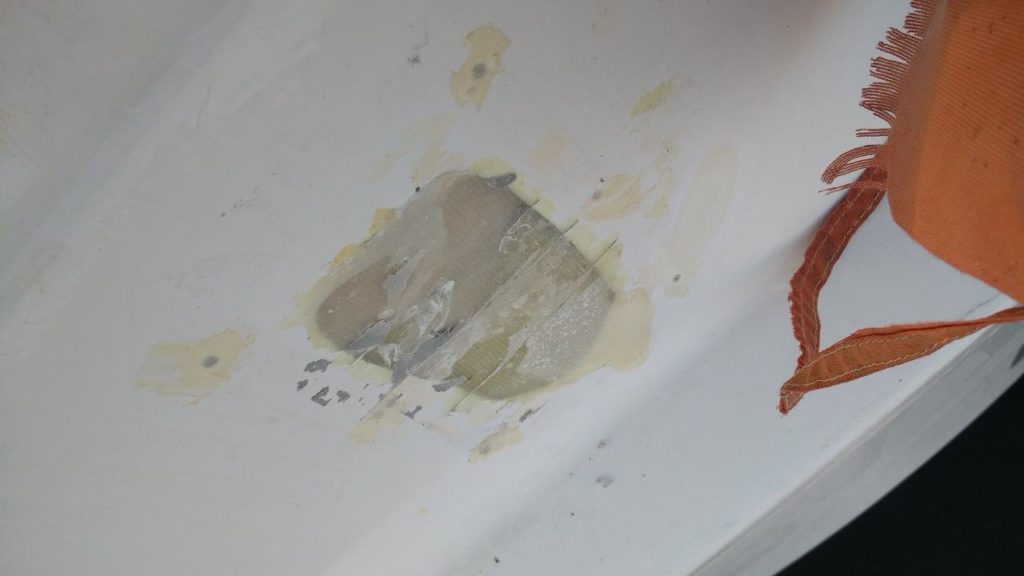 I still have to do a final sand and then paint over it, but at least it's waterproof now and so won't flood when it rains.
Noise Cancelling SSB Speaker
I also treated myself and got one of these https://www.bhi-ltd.com/noise-cancelling/dsp-noise-cancelling-speakers/dspkr.html
It helps cut down on the background level of static on an SSB and makes just having it idle in the background a lot nicer. I still need to do a couple of other bits, like attaching the SSB through it's own breaker rather than the distribution panel and adding ferrites to a bunch of the cables.
Fixing the Solar Panel junction Box
On the mini-week cruise that Emma and I took after the Northern Century Race I noticed that only one solar panel was working. Further investigation showed that the connection under one of the junction boxes had broken – unsurprising as the sealant they used to connect to the panel was not very good (I think they used silicon?) and it's in a place where it's prone to get knocked by people using the spinny pole.
To fix it, I pulled off the junction box entirely and then used a box cutter to cut into the solar panel plastic and bend up the contacts below (kinda hard to see below the box there).
I then reglued the box to the solar panel using 4200, and then resoldered on the protection diode to the wire connectors. This was FIDDLY AS ALL HELL and I basically had to solder in a couple of tiny wires to the diode. And then I forgot pictures. Anyway, it works. A way better write up of a similar fix can be found here
Aaaaaaand that's all I've been up to really. I always find being a liveaboard in winter is always fairly tough and especially at the start of the season takes a bit of getting used to, even more so since I got rid of my car. It's all about getting into good routines, eating healthily and getting large amounts of sleep.
On the plus side, it'll be my last winter up here for a long time (hopefully) so that's an incentive!