I'd been in rough weather on the boat before, but safely at anchor. I'd not been out in more than around 20 knots actual, until Sunday.
Saturday was a fine day, so I decided to go and anchor out somewhere. My friend Emma who is always down for boat stuff said she'd come with, and we headed out late on Saturday evening. It was a pretty uneventful run, with lightish winds. We poled out the genoa again, and it was just as fiddly as last time – in addition once I got the pole off the genoa, it all swung round and knocked me off my feet – luckily onto the deck. Oops. I need to find a better, safer way to deal with that. The sunset was pretty nice (I should rename this blog to Sunset Blog I think at this point)
Anyway, after spending the night at sidney spit and cooking two humongous halibut steaks my neighbour gave me from his 60lb halibut, we woke up the next morning to some slight wind. Great! We'll be able to sail most of the way home! It was coming the direction we wanted to go but no worries, good practice tacking. We poodled along in 10 knots of wind, and then it died.
15 minutes later, it came back, and kept rising, up to around 20/25 actual.
We reefed (second time ever) both the fore and main, and were scooting along at hull speed even then with quite the heel angle. Suddenly that one reef point seemed woefully inadequate, and I couldn't reduce the foresail anymore as it would increase weather helm as the main was still only reefed once. We managed to depower the sails a wee bit by pinching in (heading a few degrees closer to the wind than the sails want) but it wasn't ideal. In this video below we are actually reefed and you can see how small that reef point is. We managed to get the boat pretty flat but you can see the gust halfway through pushes us up again.
In addition the current was straight against us, so after trying a bit to sail through the passage on the inside of Chatham/Discovery, we tried to go around the outside instead – oops.
The current was so strong we couldn't make headway, despite winds now up to 25/30k actual, so we took down the sails and motored back the way we'd came. The wind was now peaking at 35k gusts – and over 35k is a gale, so I took that as 'being in a gale' for bragging/obituary purposes. Also – the wind was so strong it drowned out my pathetic screeching sounds, leaving me looking SALTY AND STOIC AS FUCK. Bonus! We caught some nice air over some of the steeper waves
The seas were still pretty flat luckily.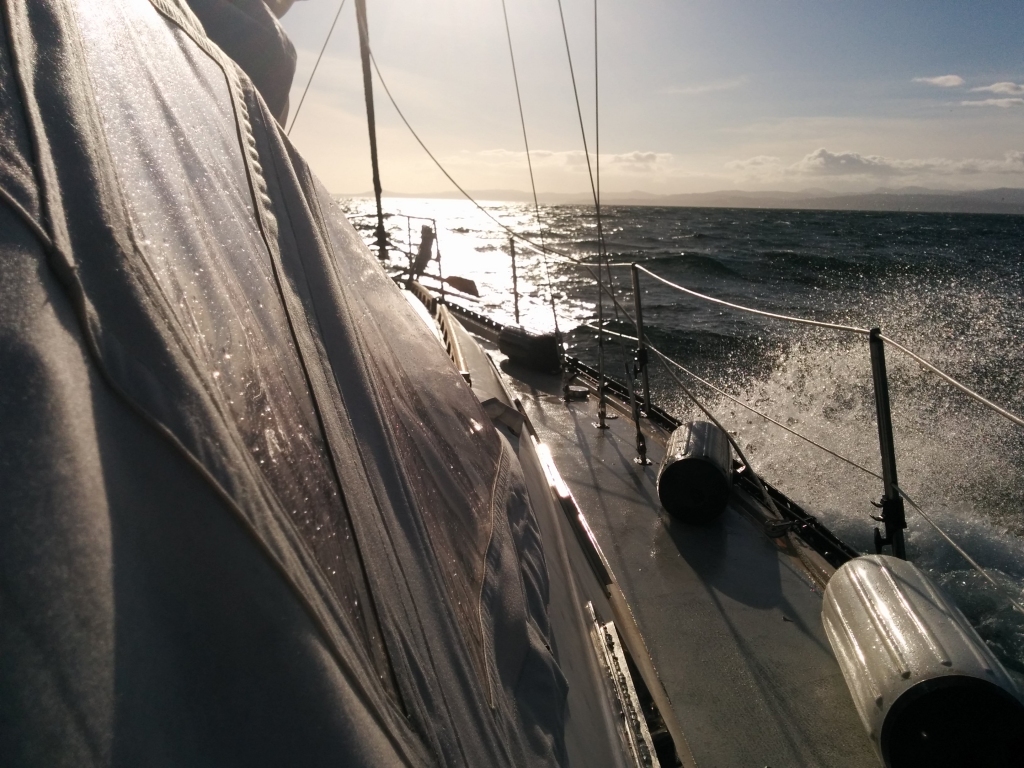 It took us almost an hour and a half to get back to the passage, and then we motored through. Enterprise pass was pretty calm so we jus went through there and got back to Victoria with little drama. The seas got a 'bit lumpy' past Clover Point but the wind had died back to 20/25k so it wasn't too bad. Just very wet. We docked with a bit more speed than usual due to the wind pushing us off dock but had a bunch of people of the dock so it went ok with little drama.
Things that I learnt.
I need to put at least one more, and probably two, reef points in the sail. I knew this already but had not bothered because I'll get a new sail at *somepoint*. However, it's not very expensive, and very needed. It would have helped a ton when the wind really picked up.
I need to rerun the furling line blocks so it's easier to pull on the furling line. It's catching somewhere and trying to furl the roller furler in 30knots+ was not particularly a Wonderful Time
Fresh Halibut is the bees knees (humble-braggin')
The boat dealt fine with everything that was thrown at it. I probably need to start trusting it more.
sailing is pretty fun, guys!