So, it was finally time to move the boat to Sidney to haul out – Westport Marina is half price until the end of February, so to haul out now would be the most cost effective thing to do, as well as getting me ready for the Spring/Summer.
I decided I was going to move the boat myself, without hiring anyone. So me and my boat neighbour Billy cast off yesterday morning, and headed out.
Here we are leaving the breakwater at the entrance of the harbour.
This was my first time going anywhere by myself in charge of the vessel, and I was nervous.
This soon dropped away as we motored on and I gained confidence that yes, I did actually know what I was doing!
After four and a bit hours, we arrived at the marina
Here, it was evident at how much more confident I've become at maneuvering in tight spaces. Not only did I miss the turn for the lift and have to reverse (down a narrow channel with only 6′ of depth on each side), but then once in front of the lift I had to do a 180 degree turn in very little room while surrounded by extremely expensive moored power boats and then stop at a dock with only a few feet of wiggle room.
All of which went off without a hitch. I'm getting pretty confident at this!
So then I watched my house get pulled out of the water.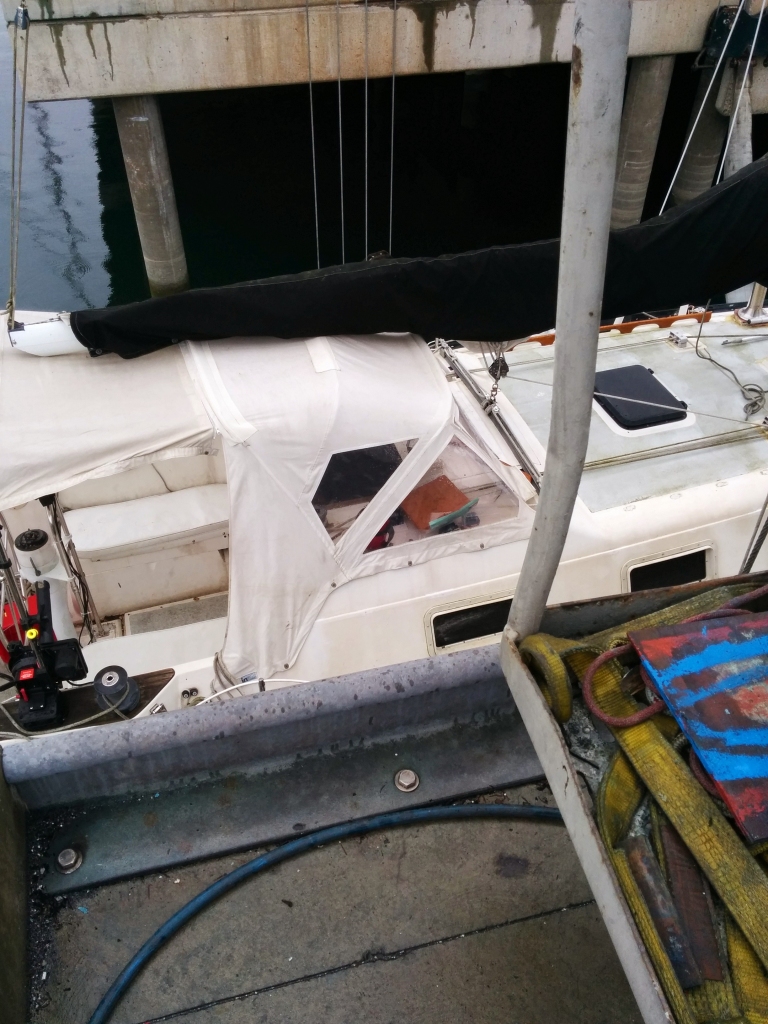 And put on blocks.
I don't often post personal stuff on here, but I am feeling extremely discombobulated. I went back to Fishermans Wharf to pick up my car, and realised that I had nowhere to stay downtown. My home was up in Sidney, and that's where I had to go.
I drove up to Sidney, and then promptly burst into tears when I saw Wind Chime all blocked up out of the water. She looked like a strange beached whale. I climbed aboard, up the rickety ladder I had to lash in place and I felt just awful, like we didn't belong there. The bond between me and my vessel is more than I would have thought possible, and if you had tried telling me a year ago, I would have laughed at you.
This last weekend, I proposed to someone that had been my best friend for the last year and a half, and whom I had dated for almost as long. I had never felt such a connection on all levels with anyone in my life before, or loved/been loved so strongly, so unfettered. It was long distance, and the distance was too great, and we broke up a couple of months ago. I decided to try to change the situation. I got turned down, and it made me question where I am, who I am, if I am even a 'good person' (whatever that is) and how I can trust my feelings.
That evening, I bunked down in the main cabin, instead of the V-Berth, so I could watch the flame of the diesel furnace as I fell asleep. There is no motion on the hard, no slap of the waves on the transom, no gentle rocking. Just absolute stillness and quiet, stuck 12 feet in the air.
It was weird and unsettling, and combined with everything else made me feel very lost and alone.
And I've lost my goddamn shoes.
I can't wait to get back in the water. I am renaming Wind Chime while I am out, and when she goes back into the water it will be under a new name, and a new start for her. Maybe it will be the same for me as well.