Leaving Hot Springs Cove, we were going to try to push through to Ucluelet.
Again, no wind, thick fog and lots of big swells, and at around 90mins North of Tofino I was suddenly hit with an attack of the dreaded seasickness. Oh no!
We'd both felt uncomfortable at various points, but this was the worst I'd felt for sure. I managed to wedge myself in the cockpit and dozed off, avoiding vomiting.
I woke up a bit later, feeling fine, but then almost instantaneously my body was all OH HELL NO and I immediately felt ill again, so we turned into Tofino. Going into the channel was an interesting exercise with all the sports boats whizzing about in the thick fog. Thank goodness for radar and foghorn.
Once there we grabbed some fuel, I got a new downrigger ball and we left to anchor in a bay 1/2 a mile away – which turned out unfortunately to be extremely rolly. SIGH.
Not a great night, or day for that matter.
Woken at 5am by increasing swells, which resulted in Emma rolling back and forth in the V Berth like a log, except with more angry muttering. That girl is OVER swells, for sure!
We set off to get to the broken islands, in fog and no wind, as is usual it seems. Luckily the fog cleared up and the sun came out and we had an enjoyable journey in.
As we approached Ucluelet, we did some trolling and I got a baby spring and a fair sized ling cod, both of which went back. I then lost a downrigger ball again to old elastic, SIGH!! We swung into Ucluelet, where I did some pro-docking and got some more downrigger balls and elastic, and then we motored to Effingham Bay, in the broken islands.
This was very pretty with NO SWELLS! Yay!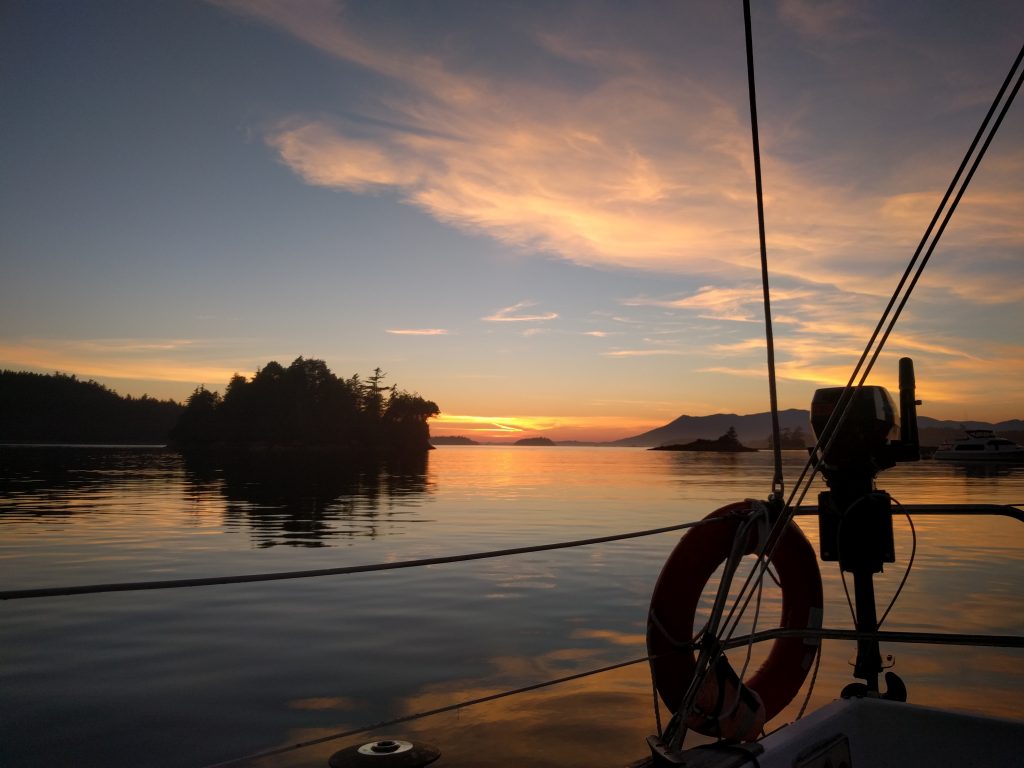 We decided to stay a day in the broken islands and spend it crabbing/prawning/fishing, even though it would mean a big travel day saturday, as we'd skip Port Renfrew. Waking up earlish, we dropped two crab and two prawn traps and went to catch some big springs
I managed to hook a big'un (20lb+), got it to the boat after a long fight, only for it to do a small jump out the water and break the 25lb leader. Sigh. Lost another one soon afterwards to an improper hookset, and then we both caught a bunch of lil guys, until Emma's rod started thumping and she managed to get this lovely 19lb spring! Fill up the freezer!
Didn't catch anything else (though lost another big one to another snapped leader) and then we pulled up the prawn traps. First one was filled with Hagfish. Shit. Pulled up the second and sure enough, HAGFISH CITY, BITCHES! There were some shrimp, but they were all covered in slime and dead. Yuk.
The crab traps had nothing but two large red urchins in which was cool!
Hard to be too sad with such a wonderful fish though, that's for sure (plus a fair sized rockcod we accidently caught. Tried to put back but it's air bladder had exploded so put it out of it's misery).
The next day was long, uneventful and ok. We took it in turns to stand watch as we motored (still no wind) the 80 odd NM to sooke, while the other person read or napped. Approaching sooke at around 7pm we discussed just heading in to Victoria as it was only a couple of hours away, but as we were tired and the current was against us we decided against it and anchored in MURDER BAY (the first place I anchored!). Big mistake.
Firstly, it was rolly, and secondly there was a HUGE house party going on in the house on the hill, thrown by some people Emma knew funnily enough so it was really noisy.
To make matters worse we dragged anchor a bit for the first time all trip, though not badly.
The next morning I was woken by the wind howling and found it was now blowing 30-40 knots. LOVELY.
We got ready quickly and then headed out, luckily once in the channel it was behind us so we used a scrap of jib and just ran before it, blasting through race passage (against current). I clocked 38 knots at one point, not exactly the relaxing sail I'd envisioned.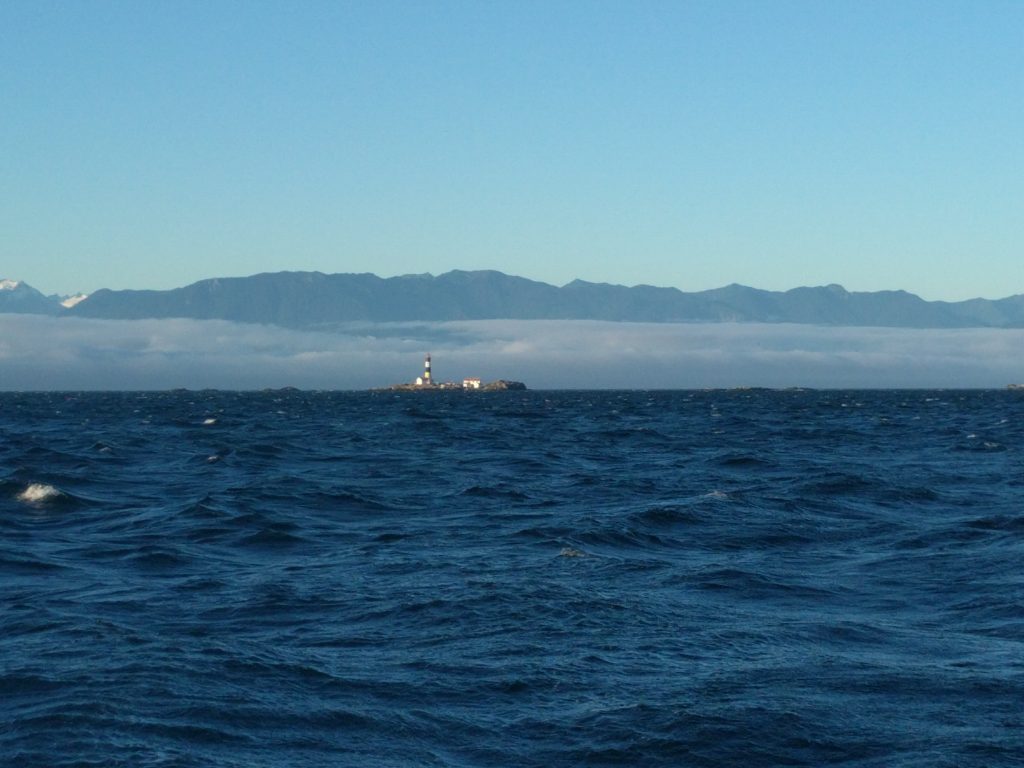 It was actually pretty trippy approaching the harbour from the OTHER direction from which we'd left and passed the breakwater!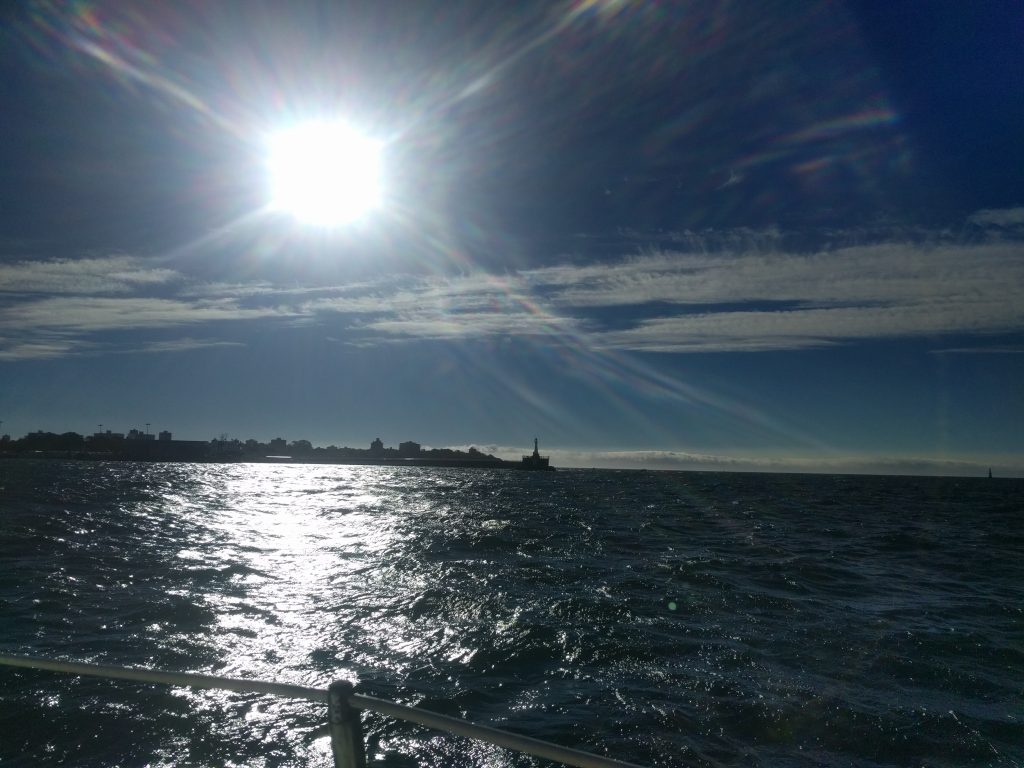 Approaching Victoria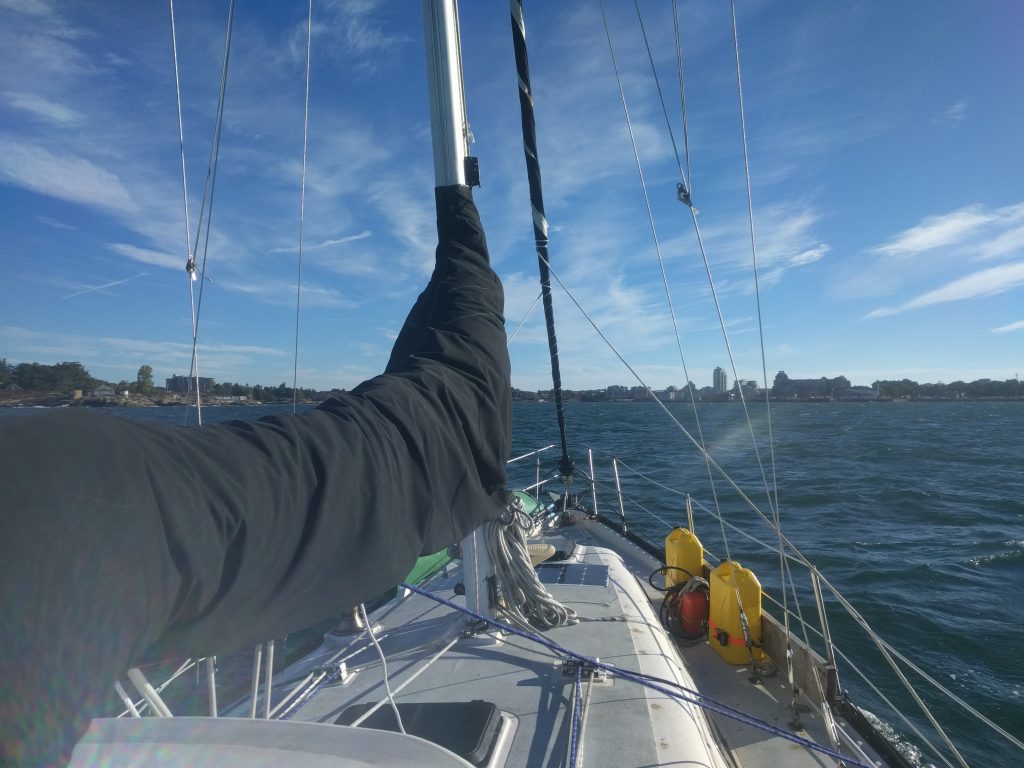 Unfortunately it was still blowing in Victoria, and I had to dock in a 20 knot gusty wind coming from the beam and slightly astern, pushing me off the dock towards the Nancy Blackett, exactly the sort of conditions that I had had trouble with before.
Luckily with Emma there it went a lot more smoothly, as she could hop off and grab the boat after it stopped but before it blew sideways long enough for me to also get off and secure it.
And with that, we were home after 30 days!