I actually ended up staying in Morro Bay a few more days longer than I meant to – it's a REALLY nice little place. Free anchorage right by the town, dinghy docks everywhere, and everyone is really chill and lovely, I met a lot of really nice people there. I also took the time to FINALLY install the third reef which I've been putting off for months.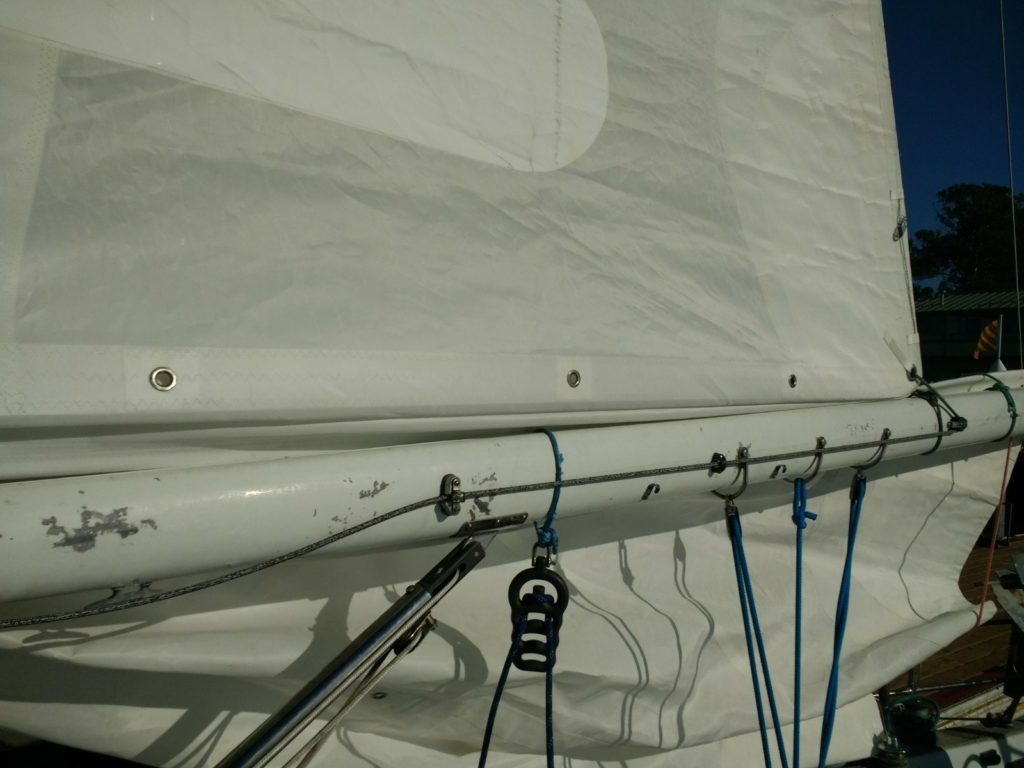 Also had my first harvest of sprouts – boat garden!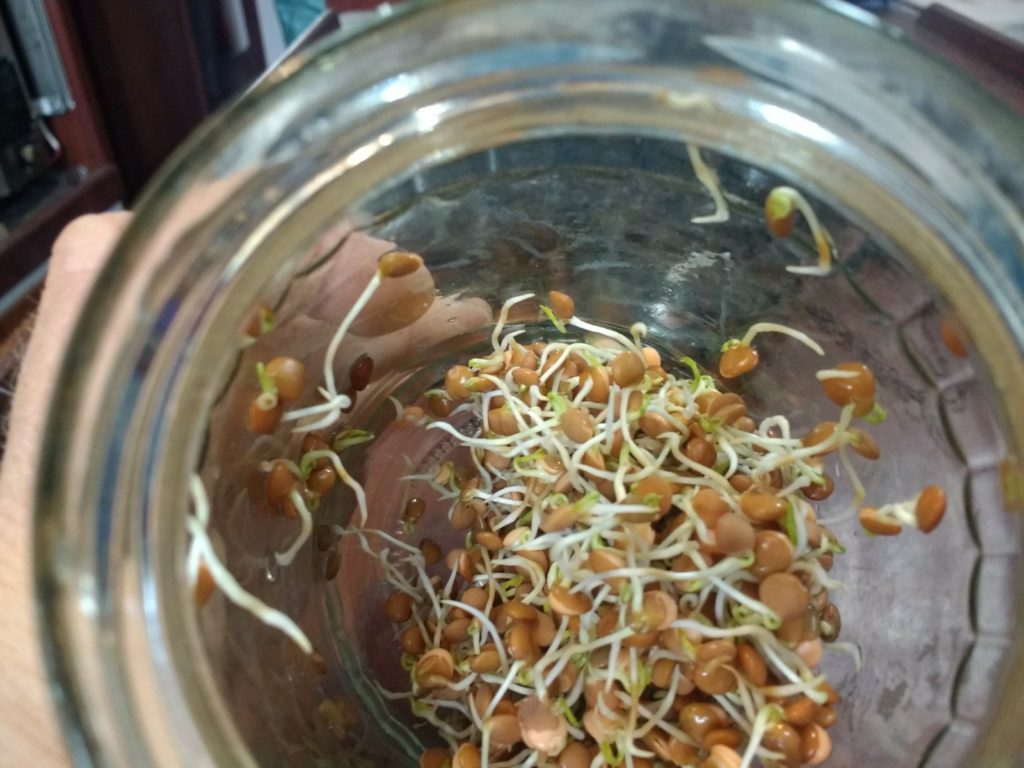 Eventually however, it was time to go so I left at 2pm so I could hit Point Conception around midnight.
Point Conception is basically a big bit of land jutting into the ocean, and the point where the weather changes rather drastically and a bunch of currents meet. So it's known for rather appalling conditions, which is why the prevailing knowledge is to hit it at midnight when the seas will be a bit lower.
Unfortunately, on the way there I felt reallllly sick – I guess in the week I'd been at Morro Bay my body had resorted to it's previous minuscule tolerance to motion. I ended up turning on the engine as that helped the motion a little bit – with the wind from directly behind, gudge tends to corkscrew a bit through the waves, barf city. It was a pretty miserable 10 hours until I got to point conception, where I anchored at Cojo Anchorage (which is more a tiny nook in some cliffs than a real anchorage) which provided some shelter from the swell though it was still pretty swelly.
The water was soooo clear though, and there were massive shoals of some kind of 6″ long fish which was cool! Going to sleep to the sound of breakers was a bit of a trip though…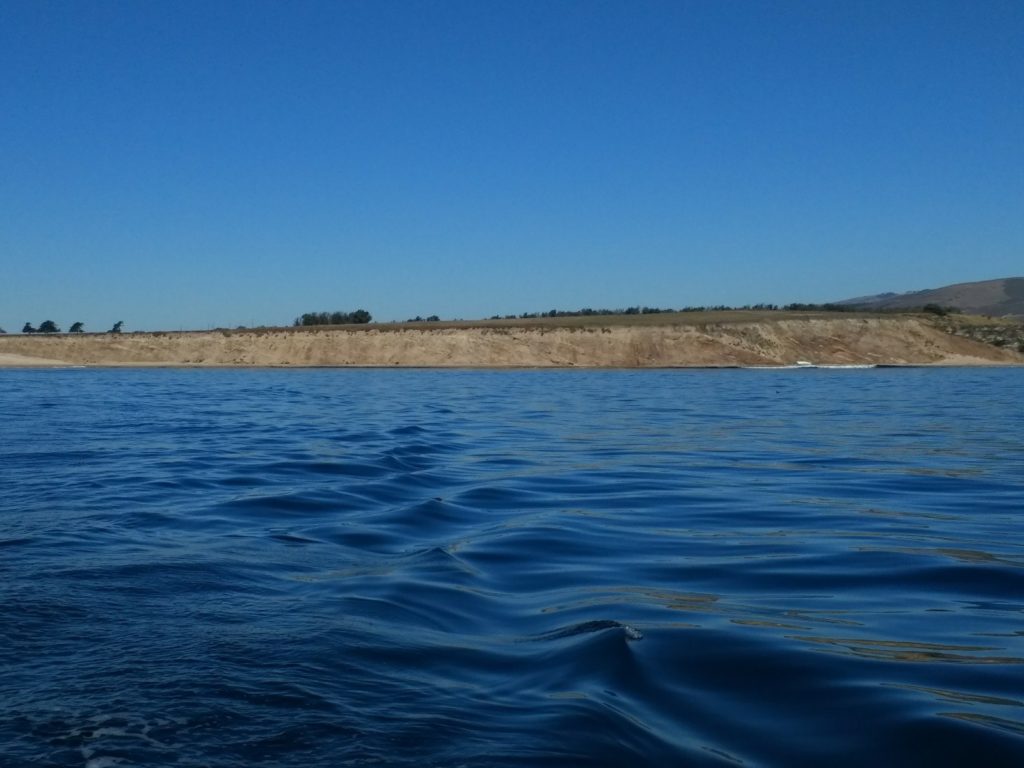 The next day I decided to head for Santa Barbara instead of the channel islands as there was a weird thumping noise from the prop, and my alt had stopped producing full power (again). I spent that night anchored outside the breakwater in the swells (not super comfortable) and then went into dock the next day. I had coffee that morning with one of the liveaboards at the marina who was a really nice lady, though I feel not having really slept for 2 days and feeling ill for most of that I wasn't really in the best state for socialising being a grubby, twitchy mess.
I then proceeded to lose the main halyard inside the mast immediately afterwards – meaning I spent the rest of the day climbing all the way up the mast THREE TIMES to fish a wire through to rerun the line. Not my favourite thing to do at ALL!
Santa Barbara is really pretty and full of tanned, slim, healthy beautiful people which kinda makes me feel like a pale northern troll but OH WELL. It's also a ton warmer here than north of Conception – the difference is amazing. I'm actually too hot now (yes I am a whinging brit and no I'm never satisfied)
Here till at least monday when the alt shop opens so I can get my alt looked at – and then (hopefully, finally) the channel islands!
I feel that having rounded point conception the hard bit of the trip is all done and the rest will be margaritas and smooth downwind sailing in warm breezes. We shall see.