We hung out at Los Muertos for a week, waiting for weather. It's a nice place, but us and the other eight or so boats in the bay were all rather on edge, waiting to hear what would happen. The morning HF net brought more news of closures every day, so we were getting worried in case we got stuck there.
On about the fourth day I got a message – my old company was offering me a summer position again, for a really decent wage and for four months.
The day before we left, a sailboat tried to get towards La Paz but got intercepted by a Navel vessel and told to head back to Los Muertos bay. This later turned out to be for the long holiday weekend (which is HUGE in Mexico, so much travel) but you can imagine it didn't do much to reassure everyone.
Two days later we decided to give it a go, and headed off (after switching off our AIS, just in case). We got about halfway up the channel, and then had a chat about what to do next. My great job offer, combined with the fact we were both a bit worried about being stuck in a foreign country during a pandemic that would case widespread food insecurity and pain to the local communities (a lot of the economy is based on tourism) and with some news of the odd boat being attacked, we decided the best thing to do would be to head back to Canada, Liz to Victoria where her friends and job prospects were, and me to Ottawa, where my job was.
With the decision finally made, we made reservations at a boatyard and cranked on the engine to get to the La Paz area before dark and got into a nearby anchorage before dark.
The next day we got up early and got hauled out – a process involving driving the boat ONTO a submerged trailer, helped by a man in a snorkel and then being pulled up a hill by an old tractor.
Pretty nerve-racking to say the least.
We were then manoeuvred into position, a very very tight squeeze, with around an inch on both sides. Gulp.
And there we were left.
I went with being hauled out rather than leaving in a marina because my bottom paint (2 year old PNW paint) is NOT doing great as you can see. The green is the previous coat, where the black has worn off. The rudder is even worse, it's down to the base coat in a lot of areas! By hauling out now, I get to save some money when I return.
We had booked a guy to take us to Los Cabo airport (the only place flights were still leaving from) the day after tomorrow, so that gave us one and a half days to get everything sorted. I had a mild panic the next day when my flight got cancelled, but I managed to rebook to Montreal instead, which is a 2 hour drive from Ottawa.
The next day was a TON of work, involving getting rid of anything that wasn't in a can (we gave it to the dockyard workers who were super happy to have it – they haven't had much work recently and it's getting harder to feed their families – pretty humbling and I feel very lucky), taking the canned goods, putting them in plastic and then in either the hammocks or other raised surfaces to prevent rust, removing all the sails, removing a lot of the expensive lines, etc etc etc.
Finally we were done, and the next day got picked up and driven to the airport. I slept a lot of the way – I was so tired.
Cabo airport was eery, with virtually no one in it.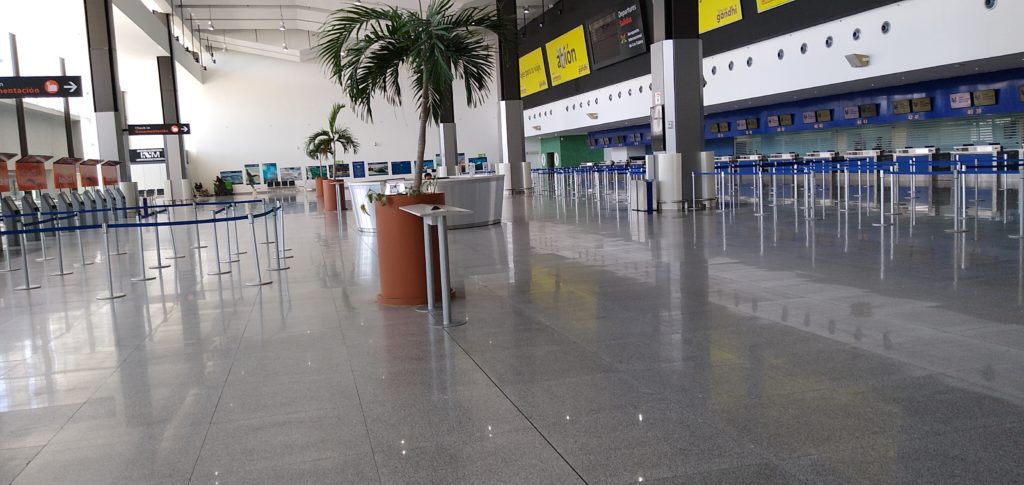 My flight out of Cabo had 3 other people on it, so I got to sit in the emergency exit row. Score.
I had to change at LA, and had a 6 hour wait. Luckily Liz, although on a different flight was also changing there so we got to hang out a bit more before I had to get on my flight which wasn't very full, so I got a row seat all to myself.
LA also didn't have many people there
The next change was at Philadelphia and another long layover – another six hours. This was a bit busier than the other two airports but still pretty deserted.
Finally I arrived at Montreal and had to wait three hours for the greyhound bus to take me to Ottawa. Again, it wasn't busy and there was enough room to make sure everyone was separated by a row in between each person. I made it to my AirBNB (there is a mandatory 2 week quarantine for new arrivals to Canada) after 30 hours of travelling, and jumped in the shower and then bed.
I'll be in Ottawa for at least the next four months and I'm not sure what will happen after that so this blog is going to slow down for the next while – I'll suspend Patreon payments as well, as you won't be getting your monies worth!
It feels good to be back in Canada, and I hope everyone is staying safe! I'm going to be climbing the walls for the next two weeks – maybe I'll even get around to editing some videos that I always talk about doing!